Minneapolis to London: an intern's experience at the 2019 Trust Conference
November 14, 2019 | Inside Thomson Reuters
Minneapolis to London: An Intern's Experience at the 2019 Trust Conference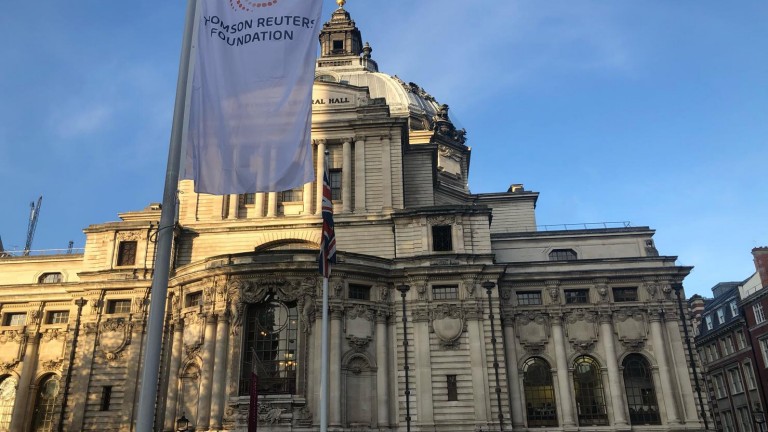 Sophia Christianson
Eagan, MN
Summer 2019 Demand Generation Digital Marketing Intern
www.linkedin.com/in/sophia-christianson

Hi everyone! I am a Demand Generation Marketing Intern at the Minneapolis-St. Paul (MSP) campus. I am a rising senior (or fourth year) at the University of Minnesota studying Marketing and Non-Profit Management. I have always been curious about the for-profit and non-profit aspects of business, and the Thomson Reuters Foundation (TRF) seemed to be the perfect way to merge my two interests.

The TRF is based out of the London office, and because I am an intern across the world in a completely different department, I wasn't sure if I would be able to reach out to a contact. Luckily, my manager put me in contact with the Senior Communications Manager for TRF and we were able to have a great phone call. Everyone's willingness to help each other is one of the many reasons I love #workingatTR (https://www.linkedin.com/feed/hashtag/workingattr/). I was able to ask TRF's Senior Communications Manager questions about the work the TRF does, fundraising efforts, her role & focus at the TRF and their annual Trust Conference.
I have always been curious about the for-profit and non-profit aspects of business, and the Thomson Reuters Foundation (TRF) seemed to be the perfect way to merge my two interests.

Since 2013, the TRF has organized the Trust Conference in London. This year it is focuses on "creating a fairer economic system for those left behind, with a focus on modern-day slavery, women and girls, radicalization, and the human impact of climate change" and "closing civil society space, exploring the relationship between tech and human rights, as well as news and democracy". I was immediately interested in attending. I had no idea a conference like this existed, and it seemed like a perfect opportunity for me.

I was determined to attend the conference, but there were a few problems. The first, it was in London, UK. I was going to have to buy a plane ticket and a conference ticket, which was going to be tough for my student bank account to handle. I also did not know if I could miss class. I did some research and found a professional development grant that my university awards for opportunities just like this. I could subsidize my conference attendance, and my class absences would be excused because the grant makes the conference a university-approved event. I emailed each of my professors about the possibility that I would be missing class and called the department of student affairs to ensure the grant was still open to applicants. Once everything was lined up on my end, I applied for the grant and crossed my fingers!

I am happy to say that I was awarded the grant and will be attending the conference in London on November 13th-14th! I am so incredibly excited for this opportunity to hear from activists, philanthropists, and business leaders from around the world about their work and strategies to combat inequality in the global economy. I am planning on meeting with the Senior Communications Manager while in London, which is extremely exciting! I also cannot wait to learn more about the TRF and the causes it shines a light on to support people around the world. I am passionate about each of the topics that will be discussed and know that the conference will be beneficial professionally and personally as I continue to shape what I want my career path to look like.

Please follow me on LinkedIn – I'll be sharing my experience in London in November!
Careers blog subscription
Sign up to receive new posts by email
Interested in joining our team?
Take a look at our current job opportunities or sign up for our Talent Network to stay informed about news, events, and opportunities at Thomson Reuters.