For those law firms looking to craft an ESG strategy for the benefit of themselves and their clients, this simple starter kit may be a good place to begin
The growing importance of environmental, social, and governance (ESG) analysis in the business world cannot be overstated. As investors and the public increasingly demand companies prioritize ESG factors, their outside law firms must adapt and integrate these practices into their operations as well. In fact, ESG stakeholder assessment and materiality assessment is becoming more essential for law firms to allow them to better identify material issues.
In the context of sustainability and business models, the materiality matrix, which is the key outcome from a materiality assessment, has emerged as a critical tool for assessing and measuring the impact of sustainability-oriented business models on various stakeholder groups. Originating from the financial accounting and legal spheres, the concept of materiality focuses on identifying what is relevant and important.
Interviews and surveys are fantastic tools for collecting data and understanding stakeholders' views on the importance, potential impact, and market expectations of each issue as part of a stakeholder feedback process — and it's an important recurring step in creating and executing an ESG strategy. By juxtaposing sustainability aspects from both the company's and stakeholders' perspectives, the materiality matrix aims to match and align both viewpoints, facilitating a more comprehensive understanding of the sustainability impact of business models and strategies.
The output of this exercise, however, is where some concerns often arise. How should firm leaders approach analysis on elements that all appear equally valid? How do they avoid tensions between societal and business interests? Fearing the results of the analysis and potentially alienating internal or external stakeholders has unfortunately meant that some law firms choose to not explore the issue at all.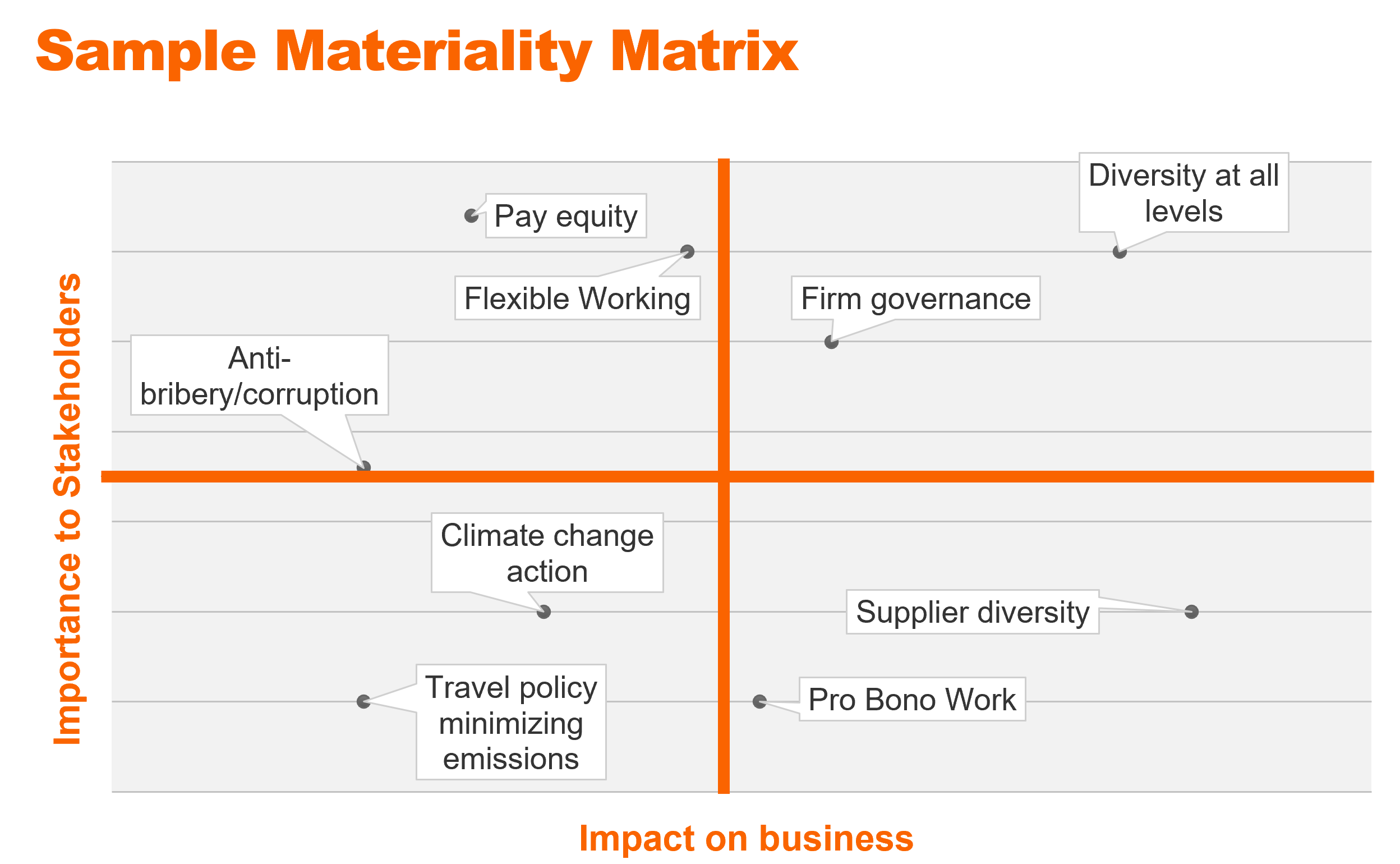 Every law firm experiences tensions between topics that are material, according to one perspective but not the other. To navigate these potential issues, firms should approach tensions between organizational goals as a topic that should be explored rather than eliminated. This approach can help firms identify potential win-win scenarios and areas where trade-offs need to be made between organizational performance and societal impact.
This is the lens through which analyzing these ESG topics should be approached: Rather than focusing on tensions, firms would instead create clarity with and for whom firms are creating value. A materiality matrix visualizes easy wins in the top, right-hand quadrant (see the matrix above) where organizational and stakeholder or societal interests are aligned. This does not mean the other quadrants are irrelevant. The point of the analysis is not to discard topics that fall into other quadrants but to contextualize where these topics are situated at this moment in time.
By examining the other quadrants, firm leaders can see which topics are important to stakeholders; and while not rated as highly in terms of organizational goals, these topics might still be easy to pick up or can be addressed down the line. In this sense, firms can approach the analysis with the intention to produce information to determine how they will address all identified issues, with the quadrants indicating timelines and resources needed for addressing these issues rather than assigning them a generic low- or high-priority label.
During analysis, firm leaders are by no means restricted to creating just one materiality matrix. They can compare the priorities of different stakeholder groups — such as clients; different internal groups, such as associates and partners; as well as competitors — against organizational priorities to get a clearer picture of each group's view. This way firms can ensure that each group is given equal attention in the analysis rather than having the view of smaller groups lost in the larger matrix.
Creating more than one matrix also ensures that firms can continually keep track of those groups for which firms are creating value and for those that firms will looking to work with in relation to any actions taken on this analysis. This also helps keep the matrix simple and uncluttered.
Further, transparency and disclosure play significant roles in the analysis of any ESG issue that is considered most important after consultation with stakeholders. By openly sharing the results of their materiality assessment, law firms can foster honest conversations with stakeholders about the challenges they face and potential solutions. This transparency can help prevent accusations of selective disclosure while promoting a genuine commitment to sustainable development. By being transparent about these tensions, law firms can engage in collaborative conversations with stakeholders about their struggles and potential solutions.
By embracing the complexity and tensions inherent in ESG analysis and facing these head-on, firms can gain valuable insights into their sustainability challenges. A well-executed ESG materiality assessment can help firms prioritize substantive action on sustainable development, ultimately contributing to long-term financial performance and societal prosperity.
---
You can download a starter kit for law firms on conducting an ESG materiality assessment by filling out the form below:
Facebook
Twitter
Linkedin