Law firms in the United Kingdom were riding high at the beginning of last year, but an uncertain global economy shook that confidence by year's end, according to a new report
While those buyers of legal services who are based in the United Kingdom started 2022 on an optimistic note, forecasting increased spending in most areas, the second half of last year saw this optimism quickly fade as geo-political and economic uncertainty took its toll.
To understand this development further, the Thomson Reuters Institute has released its 2023 State of the U.K. Legal Market report, highlighting the current condition of the legal marketplace for both buyers and providers of legal services in the U.K.
For many U.K. law firms, this potential reduction in legal demand coincided with a period of increased competition among their peers. In fact, nearly half of all legal clients added law firms to their roster of advisers during the year, according to our research. The report, based largely on interviews conducted with U.K.-based senior buyers of legal services, further found that it's becoming harder for many law firms to differentiate themselves, with a good deal of legal work being commoditized into standard packages in which price is the main differentiator. This is a bit of a reversion to the mature market for legal services compared to what had been experienced prior to 2020.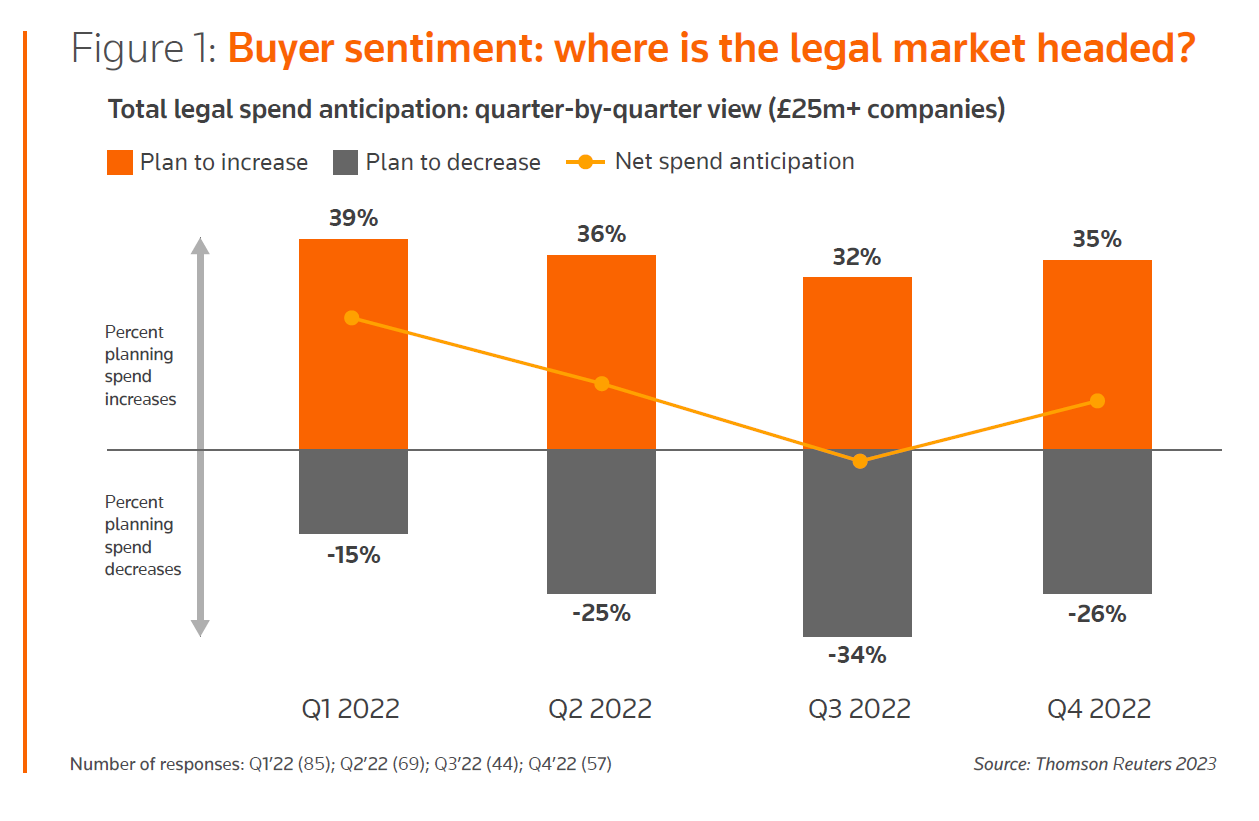 At the same time, U.K. law firms have been feeling an additional competitive pinch as a result of aggressive investments made by law firms based in the United States that are looking to expand their operations in the U.K. in order to grow their share of the market in the U.K. and Europe. The result of these efforts remains to be seen, however, as U.S.-based law firm operating in the U.K. tend to rely heavily on transactional practices, which have struggled of late, while U.K.-based law firms tend to rely on a more complete suite of client service offerings.
Further complicating the competitive landscape, according to the report, is that U.K. clients are looking to keep more work in-house, as part of a drive for efficiency and cost savings. That is not to say that there will not be work for law firms and other external legal advisers; however, it will be crucial for legal service providers in the U.K. market to understand clearly what it is that clients want and expect and then adapt their services accordingly.
---
---
The current reliance on competitive pricing advantage seems likely to prove insufficient for many U.K. law firms. Indeed, the efforts of these firms to ensure they have the necessary expertise in all relevant areas will likely leave clients looking for greater value. Price advantage can easily be lost as firms look to become more competitive and comprehensive expertise becomes a given for most firms.
Rather, in the U.K. (more so than in many other regions of the world), clients are focusing on the quality of the whole relationship with their advisers rather than just individual factors. In a major shift over the past 10 years, the historical reputation of a law firm is no longer enough to keep it top-of-mind in the market. That is not to say that reputation is unimportant, rather, it is simply becoming less influential as factors such as legal expertise demonstrated by specialist knowledge and the commercial viability of advice provided to the client become more critical in clients' minds.
The message of the report is clear: Firms need to re-consider how they present and deliver value to their clients. The key lies in understanding and meeting client needs — both in the context of the general counsels' departmental responsibilities but also in the company's broader strategic goals. In short, law firms need to demonstrate that they can act not just as a legal adviser but also as a business partner.
Many firms will say they do this already — and of course, some do. However, the evidence suggests that clients have a narrower and more limited perception of what law firms currently are offering. For those firms that can act as both legal adviser and business partner, the potential outcome could be lucrative. Some 35% of buyers of legal services in the U.K. anticipate that their overall legal spend will increase in the coming year, compared to just 26% who anticipate a spending decrease.
Increasingly, as the report denotes, clients are looking to send more of their legal spend to those law firms where the whole of the relationship between lawyer and client is one in which value is discussed, defined, and delivered.
Facebook
Twitter
Linkedin