Cushman & Wakefield report cites lawyers & staff seeking more work flexibility & higher tech spending as factors
The legal industry has long understood the need for faster, more tech-enabled, and less costly delivery of legal services. For almost as long, the industry has resisted undertaking the necessary changes to make that happen.
Then, along came the pandemic.
In what became a massive beta-testing of remote working, rapid technology adoption, and immediate flexibility, law firms underwent dramatic change over the past year — indeed, some of the very changes they've long considered and long delayed. Now, more firms are looking into how much of this change will become the permanent way they do business going forward, pandemic or no. Among the first changes? Real estate.
"Based on the polls we've done, we are showing that the legal sector will be downsizing its real estate needs on average 10% to 30% — and in some cases, 40% to 50%," says Sherry Cushman, Vice Chair and Executive Managing Director of Cushman & Wakefield, the global commercial real estate services firm. "We're already seeing it — and our clients are already asking for it."
Cushman says she spends every single day on the phone with global leaders of law firms, COOs, and other firm clients. "The legal industry is facing a quandary unlike anything I've seen in my career before," she adds.
Based on the data the firm released in its annual "Global Law Office Impact Study" and several subsequent reports such as the firm's "Bright Insight" legal sector benchmark survey, Cushman's assessment looks to be spot on. Overall, the study predicted a 50% growth in business office vacancy by mid-2022 worldwide, resulting in a vacancy rate of around 15%. And in the U.S., the numbers are likely to be higher, with the vacancy rate topping out at around 18%, says Rebecca Rockey, Head of Economic Analysis & Forecasting in Global Research at Cushman.
"The U.S. came in to the COVID era at a 13.1% vacancy," Rockey explains, adding that when Cushman published its study in mid-2020, peak vacancy was 17.6% for the U.S. "We now think it could peak at 17.8% compared to what we thought about six months ago."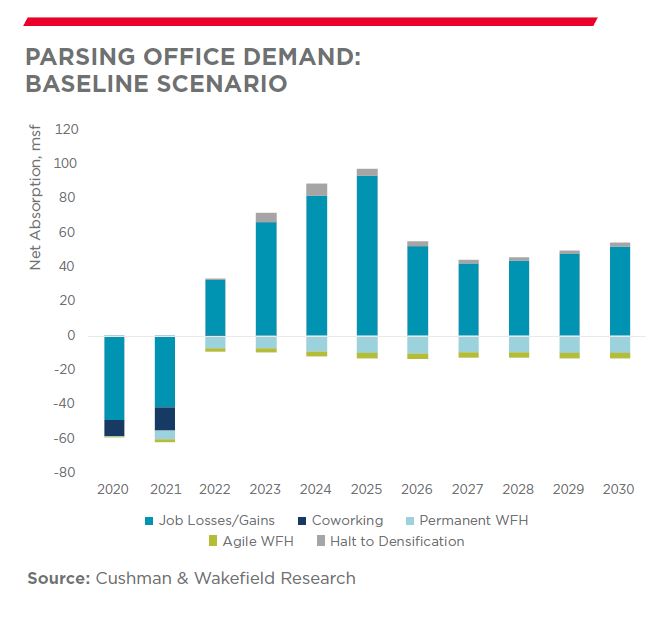 And for law firms, the numbers are even more pronounced. "You can't compare a law firm to corporations," Cushman says. "They're just their own unique grade." She cites a recent live poll Cushman & Wakefield conducted of 700 U.S. law firms at the end of October, in which 93% of responding firms said they were make changes in their workplace, with 24% describing those changes as "drastic."
Indeed, what's happening with law firms is no less than a complete reconfiguring of how they plan to house themselves once they figure out other external factors like how many staffers and how many lawyers want to continue working from home. "We think these are really exciting times, and we think there's going to be massive amounts of restructuring in legal markets all around the globe that will give participants the chance to actually right-size and correct an industry that needed some correction," Cushman says.
Factors pushing law firms to act
Underscoring this dramatic shift are three factors unique to law firms that leaders are now mulling over, Cushman explains. First, law firms are taking a very close evaluation of their legal staff, because firm leaders are seeing how many of those workers want to keep some elements of remote working. "Firm leaders are looking at employee surveys and seeing these high percentages, as much as 70% to 80% of staff, saying they would like to continue working from home," she says, adding that these employees list a variety of reasons, and it's not only that staffers will save a lot of money and time by eliminating their daily commute or cut costs on factors like clothing, car insurance, and other items. "But they're also enjoying working at home now."
Second, and a huge influence on the first factor, is how many lawyers will return, since it will be that number that dictates staff support requirements. Yet, here too, there doesn't seem to be any desire to return to the previous normal. "Surprisingly, it's the partners who want to return less than the associates — but neither want to return to an office five days a week," Cushman explains, adding that, on average, partners are saying they want to work in the office just two or three days a week, and associates are saying between three and four days a week.
These two factors dovetail directly into the third major driver in all this: The expected increase in needed technology spending to facilitate permanent remote and flexible workers. "So, all of a sudden, firm leaders begin looking at these attitudes on returning to the office, and they're looking at technology costs that in many cases are going to double in the coming years."
Currently, real estate is the second-largest fixed expense that law firms face, behind salaries. Technology spending is third — for now, Cushman says. "But profit margins are so tight in the legal sector, that if law firms take a couple of percentage points out of real estate spending and pop it over to the technology area, there's a very good chance that technology will become number two as a percentage of fixed expenses."
These concerns over the return (or not) of staff and lawyers to the office and the expected rise in technology costs are driving a re-conceptualizing among law firms in how they will manage their real estate footprint going forward. Already the numbers and the early movers are indicating that dramatic change is afoot.
"I think that we're seeing leaders of law firms — now, after they got over the paranoia, the fear, and the confusion that kept their heads spinning the first six months of the pandemic — look at this situation as an amazing opportunity," Cushman says.
---
This is first in series of blog posts that will examine how law firms are rethinking their real estate and staffing issues and what some are doing to create legal workplaces best suited to the future.
Facebook
Twitter
Linkedin