The Delta model for lawyers was created to address gaps in personal effectiveness skills, like emotional intelligence & other characteristics clients want
Many legal experts say the legal industry is at an inflection point because the pace of change is being driven by many factors — technology, client demand, disaggregation of matter workflow, the rise of Millennials approaching mid-career status, and the faster pace of business in general.
The fact that technology spend by law firms continues to be a primary area of investment underscores the fact that the pace of change is continuing to accelerate with the ongoing rise of big data and workflow technology that are greatly influencing how lawyering gets done. Moreover, combined with big unstructured data, artificial intelligence (AI) is creating opportunities to analyze siloed data sets to gain insights in numerous new ways.
The Rise of AI and EI
With the rise of AI, we are also seeing an increase in the demand for Emotional Intelligence (EI), which is the human side of lawyering. Our working definition of EI is:
Self-awareness, self-regulation (organizing & managing self); and
Empathy — the ability to be aware of the emotions of the people they interact with for effective relationship-building and conflict resolution.
With the pace of change and the center of power shifting to the buyers of legal services, the demand for improvements in how lawyers relate to clients has increased. And increased EI makes for better lawyers to act as trusted advisers for clients.
The "I" to the "T" to the Delta-Shaped Lawyer Competency Model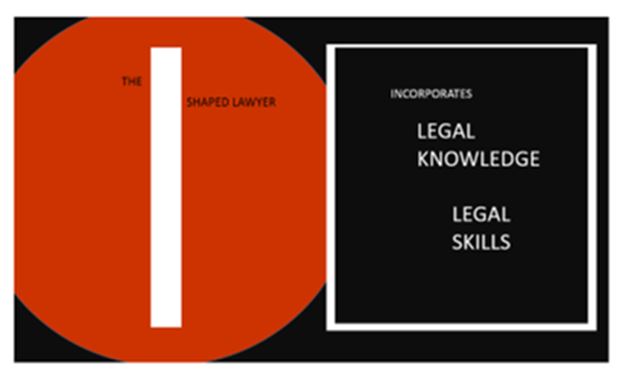 For a long time, good lawyering could be adequately done using an "I-shaped" competency model, which shows the legal knowledge and skills that are learned in law school. Before the 2000s, this was the primary skills that were in demand.
Then, following the financial crisis and with the influence of new legal technology, things started to change. Enter the "T-shaped lawyer competency model in 2014, created by Amani Smathers.
The base of the "T" were the legal skills and knowledge learned in law school and the horizontal part of the "T" were the areas of technology and workflow changes that were mainstreamed in how legal work is completed. These competencies included such key factors as design thinking, data analytics, technology, project management, and the use of business tools.
However, there was not a model that met two ongoing challenges: i) clients' demand for better relationship management, underscored by the need for emotional intelligence; and ii) how to empirically measure these qualities.
Enter the Delta Model
The Delta-shaped lawyer was conceived to address these gaps that are now seen as personal effectiveness skills in the model below. We included EI and other professionalism topics, such as character and other competencies that clients were saying they wanted anecdotally. Then, we sought to run it through an intense validation process.
Phase 1 of our modeling experiment included conversations with researchers and academics who had done previous lawyer competency research — Bill Henderson, Professor and Stephen F. Burns Chair on the Legal Profession at Indiana University's Maurer School of Law; Alli Gerkman, Senior Director of the Institute for the Advancement of the American Legal System at the University of Denver; and Jae Um, Director of Pricing Strategy at Baker McKenzie.
At the end of 2018, we embarked on Phase 2 of our research, conducting interviews with practitioners on the client-side as buyers of legal services and leaders from law firm talent functions to validate the model and prioritize competencies.
Based on Phase 2, this is what the model looks like now:
 What We Learned
Our insights gained from the interviews were surprising in some ways and not so surprising in others. Our hypothesis that personal effectiveness skills were equally important for a successful 21stcentury lawyer as were the skills obtained in law school was not only true, but as some practitioners stated, it was even more important. Indeed, 50% of the top 10 competencies named by our interviewees were classified in the area of personal effectiveness skills. Based on the interviews:
92% named "Relationship Management" as a top 10 competency. To underscore the point of relationship management, an in-house lawyer to whom we spoke stated: "Even when you are an in-house lawyer, you are still in client service, which I don't think people realize. I still have clients and they get paid by the same company — they don't pay you."
83% named "Communication" as a top 10 competency, particularly knowing your audience. In fact, the Chief Human Resources Officer of an AmLaw 200 law firm indicated that it's a top development area for the firm, framing communication as "understanding your audience and what is right for a particular client or a particular partner that a lawyer works with."
 75% named "EI" as a top 10 competency. A professional development director in an AmLaw 200 law firm said that the self-management part of EI is really critical. "Self-management is key, and the ability [for any lawyer] to take responsibility for their own behaviors and for their own wellbeing" at any level is a top 10 competency.
66% named "entrepreneurial mindset" as a top 10 competency. An in-house lawyer we spoke with provided her view of what this looks like by the willingness of a person to put "their hand up and say, 'I see a problem and I have an idea of how to solve it' or 'I heard of this really great tool.'"
Our findings in the area of data and technology were more surprising. More specifically, the discussion around technology was not so much about having expertise in technology but rather "understanding technology tools and knowing when to use them," which is why we renamed the right-hand side of the triangle "Business & Operations", changing it from "Process, Data, & Technology". Further, 83% of our interviewees named "project management" as a top 10 competency, and 67% of them named "business fundamentals" as a top 10 competency. Only 50% of our interviewees named "data analytics" a top 10 competency.
Finally, it was no surprise that the skills learned in law school made it into the top 10 as well. Based on our interviews, we separated legal subject matter expertise because there was a view held by many of those we interviewed that staying current on the law and practice areas of expertise were critical for a successful lawyer in the 21st century. At least 25% of our interviewees stated that skills listed under "The Law" — the bottom part of the Delta — are top 10 competencies.
To sum up the value of the Delta Model, one law firm professional development leader indicated that "it took [us] three years to development our lawyer competency model. Having something to either adopt or start from and deviate from is very valuable."
---
Our Delta Model team is comprised of Alyson Carrell, Assistant Dean of Law & Technology Initiatives at Northwestern Pritzker School of Law; Shellie Reid, Access to Justice Fellow at the Legal Services of Northern Virginia; Caitlin "Cat" Moon, Director of Innovation Design in the Program in Law and Innovation at Vanderbilt Law School; and Gabriel Teninbaum, Director of the Institute on Law Practice Technology & Innovation at Suffolk University Law School.
Facebook
Twitter
Linkedin