Law firms in Australia have weathered the global pandemic relatively well, avoiding the market downturn that negatively impacted so many law firms in other regions
A combination of a pandemic-induced regional housing boom, an active M&A market and government spending on infrastructure projects allowed Australian firms to continue their growth trajectory from 2019. Indeed, that growth in key metrics reached levels that met, and in many cases, exceeded those seen in other legal markets across the globe.
Yet, as the Greek philosopher Heraclitus is credited with saying, "the only constant in life is change." And the change that has been the most noticeable among Australian law firms has been the change of lawyers between law firms. First reported last August in the "2021 Australia: State of the Legal Market" report from the Thomson Reuters Institute, comparing the trend of monthly partner moves to the five-year average of partner moves shows a high level of volatility among the country's largest law firms. This continued into the first half of the 2022 financial year (FY 2022), which ran from July-December 2021. In July 2021, partner moves vastly exceeded the five-year monthly average, indicating a high degree of lateral movement to kickstart the new financial year.
But for the balance of the period through December, lateral partner moves kept pace with and sometimes even lagged the five-year average. July's fast start mellowed to the point that by the end of December, total partner moves trailed the five-year average. This is due in part to the uncertainty of lockdowns that affected business flows.
The same trend of volatility can be noted when looking at the gender diversity of these lateral partner movements. Of the 109 partners who switched firms, 47 were women while 62 were men. But much of the differential between genders is due to the large numbers of men compared to women in law firm partnerships, noting that the recent survey of the largest law firms in Australia reveals only 30% of partners are women and only 16% of equity partners at Australia's 160 law firms are female.
---
As partner payouts grow, partners with a mobile book of business may well seek greener pastures at firms that have shown stronger potential for higher future payouts, particularly partners in transactional practices.
---
Lateral partner moves varied by practice area as well. Cumulatively through December, banking & finance saw the largest number of lateral partner moves with 14 total, followed closely by corporate & commercial with 13 moves, and disputes and M&A with 12 apiece. The high concentration of transactional partner moves is likely a reflection of the high legal demand in transactional practices. As was reported in the Thomson Reuters Institute's "Australian Legal Market Midyear Update," M&A, banking & finance and corporate practices all saw double-digit growth in demand during the first half of FY 2022, driven in part by high volumes in merger schemes and announced IPOs.
The trend toward team acquisitions continues to shape the war for talent in the Australian legal market. While FY 2021 saw a total of 50 teams switching allegiance – accounting for 33 of last financial year's partner moves. The first half of FY 2022 saw a more modest 12 teams switching firms, but this accounted for 22 of the partner movements during this period. Team acquisitions kicked off to a hot start in FY 2023 with four teams, accounting for 10 partners, switching banners in July 2022.

There are a few explanations behind these lateral trends in Australia. First, Perth saw the closure of a longtime stalwart law firm Kott Gunning, which shut its doors in December 2021. Not surprisingly, many former Kott Gunning partners transitioned their teams to other firms. At the same time, two firms, Hall & Wilcox and Holding Redlich, each announced expansions into Adelaide and Canberra, respectively, driven by different strategic intent.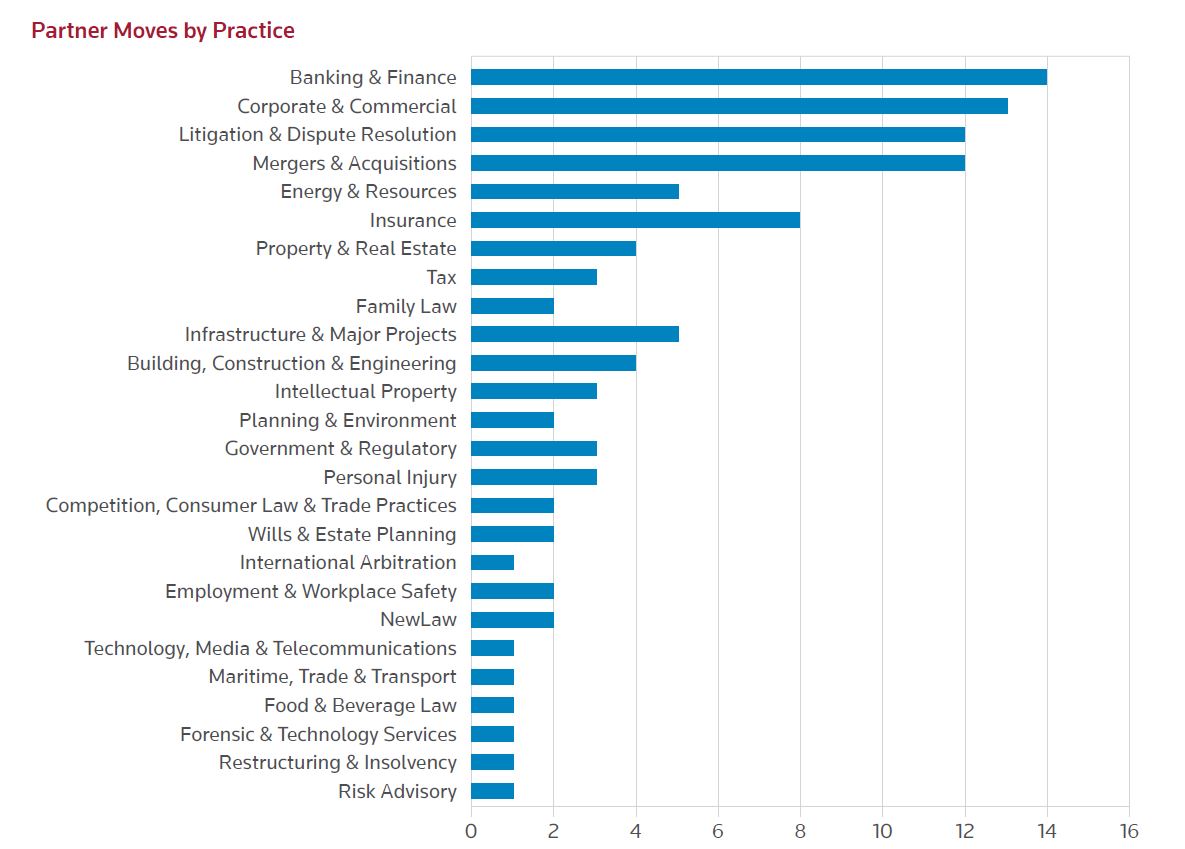 In fact, both firms were among the busiest lateral partner recruiters, with Hall & Wilcox adding six lateral partners and Holding Redlich adding five over the first half of FY 2022. Corrs was setting the pace for lateral partner recruitment in the first half of FY 2022 with the addition of 10 new partners. Other active lateral partner recruiters include Hamilton Locke (five partners), Keypoint Law (five partners), and Mills Oakley (five partners).
Hall & Wilcox also took top honors for most female lateral partners recruited with four of its new partners being women. Holding Redlich similarly saw a large percentage (40%) of its lateral hires being female partners. Ashurst added three new female partners to their ranks, placing them among the most active firms for female partner recruitment.
As partner payouts grow, partners with a mobile book of business may well seek greener pastures at firms that have shown stronger potential for higher future payouts, particularly partners in transactional practices. Additionally, as was noted in the "Australia: State of the Legal Market" report, there is a strong and growing international draw for legal talent as large law firms in the US and the UK increase competition for talent, leading to the potential of expatriation for some of Australia's best legal minds.
Facebook
Twitter
Linkedin