As law firms recover post-pandemic, there will be a debate over how much work is going be done in the typical office building & what occupancy costs will be
Like a massive wave, the insecurity and instability that has marked much of the global business world throughout 2020 is likely to leave a drastically altered landscape as it ebbs.
The 2021 Report on the State of the Legal Market — published in January by Thomson Reuters Institute and the Center on Ethics and the Legal Profession at Georgetown University Law Center — noted that even "as 2020 ended, uncertainty persists as to the length of the pandemic-related disruptions and how many months it is likely to be before firms can return to 'normal' operations. There is also considerable speculation as to what 'normal' operations will be, even in a post-pandemic world."
Indeed, the report raises the important issue of whether 2020 may in retrospect be seen as an important inflection point for the redesign of the delivery of legal services on a broader scale. And a large part of redesigning this delivery is determining is how much of that work and operations are going be done in the typical office building, the domain of law firms pre-pandemic. Another aspect of the report detailed 2020's strong financial performance among large law firms, which was tied to the cost savings firms experienced on the overhead side of the expenditure ledger, especially in cost areas such as offices, marketing and business development, and recruiting.
One area of investment where many expected to see a reduction in spend is occupancy, given the dynamics of the pandemic and rapid rise of remote working. However, in 2020, the average law firm still saw expenditures in this area grow by 0.8% on average, due to the long-term nature of contracts in the real estate space. Discussions with experts around this trend seem to gravitate toward the analogy that "changing the trajectory of occupancy is like turning around the Titanic, slow and frankly, frightening."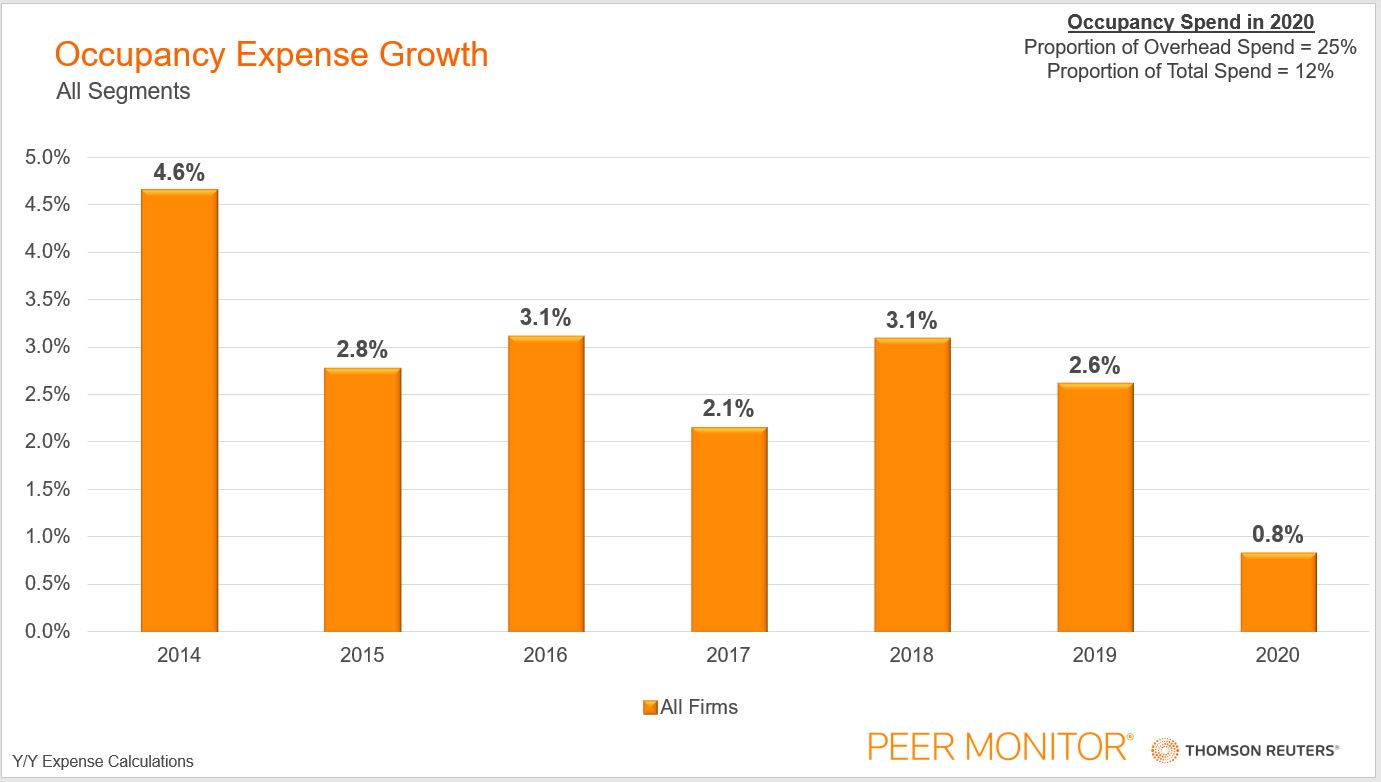 Interestingly, 2020 did mark a six-year low for the average firm's growth in this area, as shown above. This suggests that the lucky few firms that were able to negotiate these lease agreements in 2020 settled on the side of reducing spend or investment, if all other firms remained constant or were locked into leases. Steering into our previous Titanic allusion, 2020 occupancy growth looks like it could be the tip of the iceberg in what could be a period in which firms continue to reimagine how office space will be used going forward.
Reinvesting found funds
Further, if 2020 is any clue to the future, it looks like more firms are likely to reduce the significance occupancy holds currently embedded in their cost structure, especially if less lawyers are in those office on a day-to-day basis. This a one of the largest expenses on a law firm's balance sheet, making up 25% of the overhead and 12% of the total expenditure on average, and reducing occupancy opens the door for these firms to allocate newly freed resources if they so choose.
And that brings us back to the latest State of the Legal Market report. If we look into where law firms might invest those recovered occupancy costs, it may be difficult to envision because any cost savings from a change will most likely be put into a multitude of different areas. However, as the report shows, even in a year where most discretionary spend was scrutinized or greatly reduced, one overhead category that maintained spend and actually saw the most growth in 2020 was Technology spend.
The average firm grew Technology expenditures on by 3.7% in 2020, while no other expense category grew by more than 1% by year's end. Another hint to how crucial this investment is for firms, especially as they transition to a post-pandemic world? Technology has already shown its ability to help streamline remote work, creating greater efficiency and allowing for similar levels of productivity as in the office.
---
Facebook
Twitter
Linkedin