In the second quarter, the Thomson Reuters' Law Firm Financial Index (LFFI) fell for the fourth straight quarter, injecting a cautionary note into where law firm performance may be heading
For the fourth consecutive quarter, the Law Firm Financial Index (LFFI) has headed downward, highlighting the longest slide and lowest score in the Index's history. Given this second quarter number, it would be easy to diagnose the legal industry with a case of general infirmity. Fortunately, closer inspection reveals a more nuanced perspective and offers reasons for optimism tempered by caution.
Key Takeaways in Q2:
Transactional practice growth slowed and was not counterbalanced by non-transactional practices picking up in Q2.

Slowed demand growth allowed increasing expenses to pull the LFFI score down.

Rates, realization, and technology investment all showed strong signs of future growth.
The second quarter's score, which fell to 36, was weighed down heavily by increasing expenses, specifically in year-over-year overhead growth. Unsurprisingly, a return to in-office work has pushed these figures further upward, relative to the baseline set in Q2 2021. Another contributing factor may also be inflation, as all categories of overhead expenses saw growth. Along the same lines, direct expenses continued to rise, albeit at a slower pace as associate compensation growth eased off the throttle a bit.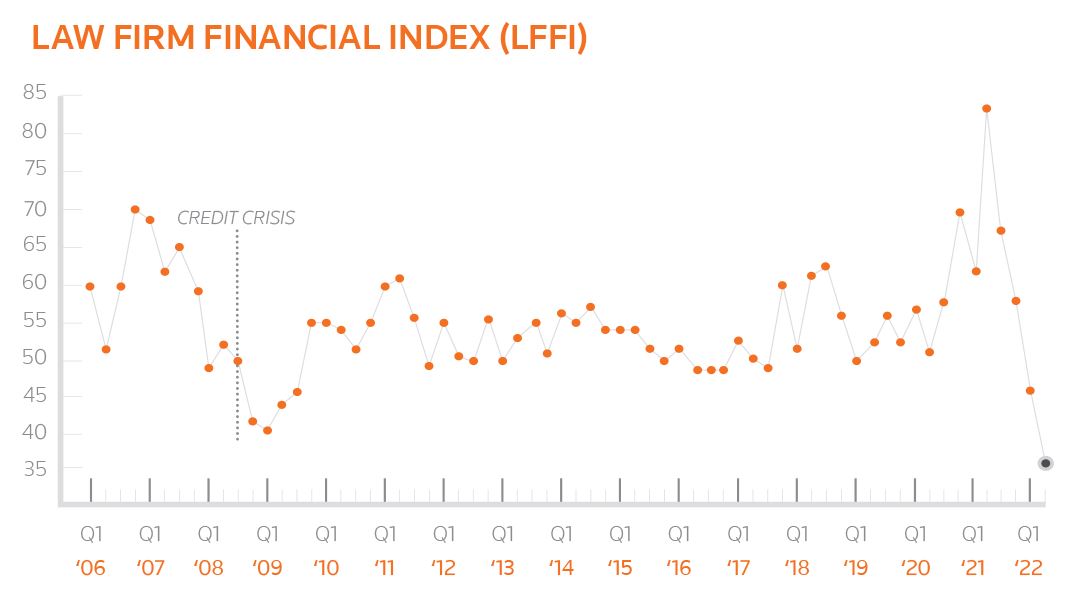 Unfortunately, Q2 demand growth was not able to outpace expenses as it had in past quarters. Previously, transactional practices — corporate general, mergers & acquisitions (M&A), real estate and tax — had driven demand growth and compensated for contracting non-transactional practice demand. This quarter saw transactional practice demand slow, and as a result, overall demand shrank.
The Law Firm Financial Index is a rebranded version of the Peer Monitor Index (PMI), which Thomson Reuters has published quarterly since 2006. While the fundamental methodology to determine the Index score remains unchanged, the new name reflects an effort to incorporate additional insights to give the Index score further context. Like the former PMI, the LFFI is a composite score, representing the quarter-over-quarter change in drivers of law firm profitability, which includes rates, demand, productivity, and expenses. Positive factors driving firm profitability will produce a higher score.
Areas of growth shine through
Despite the poor indicators described above, the industry at large is not showing signs of structural instability. Worked rate growth was solid, and rate realization improved. Another area that continued to shine was technology spending, which grew at its fastest pace in nearly a decade. Given that IT hardware and services are normally a deflationary market, this is particularly telling of the legal industry's well-being. This acceleration in investments suggests that firms are keeping their long-term health in mind rather than nursing the bruises of struggling revenue growth in Q2.
More than ever, firms have an opportunity to find a sustainable middle ground for profitability. For a period of almost two years before Q1 2022, many law firms saw increasing profits per lawyer; now, however, that demand has slowed, and quarter-to-quarter profitability growth has reversed.
This quarter's LFFI score serves as a warning to firms that while some areas are trending in a positive direction, firms risk closing out the year in a weaker position than they did last year. Now, with five months to go in 2022, these warning signs should be viewed with extreme interest.
---
You can download the full Q2 2022 Law Firm Financial Index Report below
Facebook
Twitter
Linkedin