The Law Firm Financial Index, a key measurement of law firm performance, increased sharply in Q2, due to several critical factors that could favor law firms throughout the rest of 2023
Law firms are continuing to rebound from their recent lows according to the most recent Thomson Reuters Institute's Law Firm Financial Index (LFFI), which increased significantly in the second quarter of this year. Indeed, the LFFI reached its highest score in more than a year and is quickly approaching the average score posted by the Index since its inception.
The recovery can be attributed to various factors that favored law firms in Q2. Notably, firms witnessed a surge in revenue-generating activities, including an uptick in worked rates and growing demand for counter-cyclical legal work.
Key takeaways in Q2
The report showed several important developments that contributed to this rebound, including:
The LFFI score continued its upward trend in the second quarter, ending with the highest mark in more than a year.
Higher demand in counter-cyclical practice areas — particularly bankruptcy and litigation — have played a significant role in supporting law firms' recovery and offsetting the decline in transactional practices.
Law firms have adopted diverse strategies to better navigate their ongoing challenges, with Midsize law firms focusing on expanding their workforce to gain market share, Am Law 100 firms emphasizing expense control and efficiency, and Am Law Second Hundred firms attempting to find a Goldilocks zone between the two.
In the first quarter of the year, worked rates achieved historic levels, indicating a substantial turnaround from the previous year's stagnation. This growth continued to accelerate in Q2, signifying positive momentum.
The rise of counter-cyclical practices has also been instrumental in supporting law firms. Bankruptcy demand experienced significant growth, as did labor & employment practices; however, the most significant boost came from litigation, which effectively offset declines in demand for transactional practices. This boom in litigation may be attributed to both the counter-cyclical environment and perhaps the resolution of pandemic-related cases in the court system.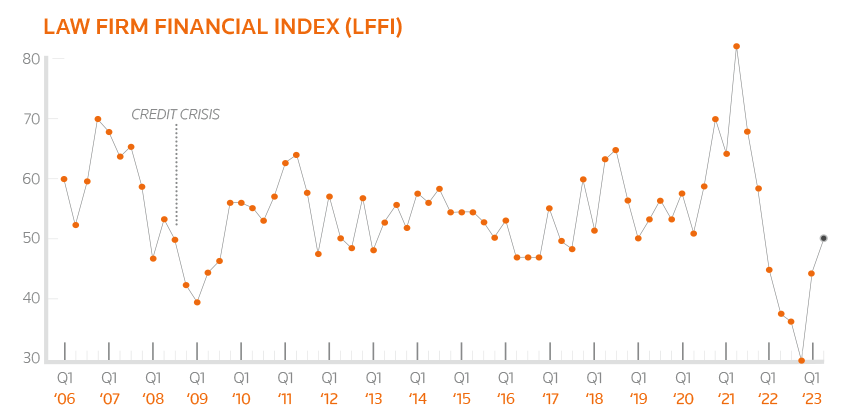 Despite these positive developments, the legal industry continues to face productivity challenges. Productivity in Q2 experienced a drop, although it was less severe compared to previous quarters.
In terms of expenses, the overall trend indicates some improvement in Q2. Overall overhead expenses have remained a concern even as the pace of increases has slowed, providing some relief compared to previous periods. Categories of expenses within overhead that were significantly impacted by pandemic and return-to-office strategies have slowed considerably as well, but firms' core overhead expenses continue to provide a challenge.
So far law firms have demonstrated adaptability and employed various strategies to navigate the decline in transactional demand and the rise in expenses. These strategies have yielded positive outcomes for Midsize and Am Law 100 firms, whereas Am Law Second Hundred firms continue to face greater difficulties in achieving desirable results.
The trend of fees worked growth outpacing total expense growth in Q2 is encouraging, hinting at the possibility of sustainable profitability for law firms in the near future.
---
For detailed figures and graphics, fill out the form below to receive a full copy of the "Thomson Reuters Institute's Q2 LFFI Report":
Facebook
Twitter
Linkedin