At the recent Marketing Partner Forum, one of the overarching themes was how law firms can become more client-focused & put the needs of the client first
KEY BISCAYNE, Fla. — While it's no secret that managing a law practice in today's rapidly evolving business climate can be challenging, for marketing and business development leaders, those challenges come in all shapes and sizes. Yet, whether the focus is on improving client service, instituting more effective pricing strategies, incubating new firm practices, or establishing high-performing teams, these challenges can become significant opportunities if approached in the right manner – with clients always at the center.
That was the overarching theme of the recent 27th Annual Marketing Partner Forum where hundreds of the senior-most legal and marketing business development leaders across the law profession spent three days in deep discussion of critical law firm marketing strategies and client-oriented trends that are greatly impacting the business of law.
The following are some of the key takeaways from this year's event, all designed to help marketing and business development professionals align their strategic focus across their respective firms.
Creating a Client-First Culture
While it seems cliché in today's business landscape to say that creating a client-first culture is paramount to any law firm's success — the truth is, it is a critical component. Despite this, many reports suggest that law firms overall are still slow to act. Experts at this year's Forum echoed this sentiment throughout the conference, whether discussing the best way to bring in the right talent, launch new practice areas, or maintain effective communication between clients and the firm.
During a workshop focused on incubating new firm practices, Deborah Farone, of Farone Advisors noted that establishing client-focused firms require a shift in mindset. "Client-first firms ensure each and every member of their team's first thought is 'Will this improve my client's experience?' versus 'Will this improve things for our firm?'" Farone said, adding that understanding the two are not mutually exclusive.
That thinking was reiterated by Dan Haley, General Counsel & Corporate Secretary at Sprinkr, during another panel discussion that focused on how firms can best scale and perform for clients. "If you don't know your client's needs and aren't personalizing your offerings to them, it's not helpful, it's harmful," Haley said.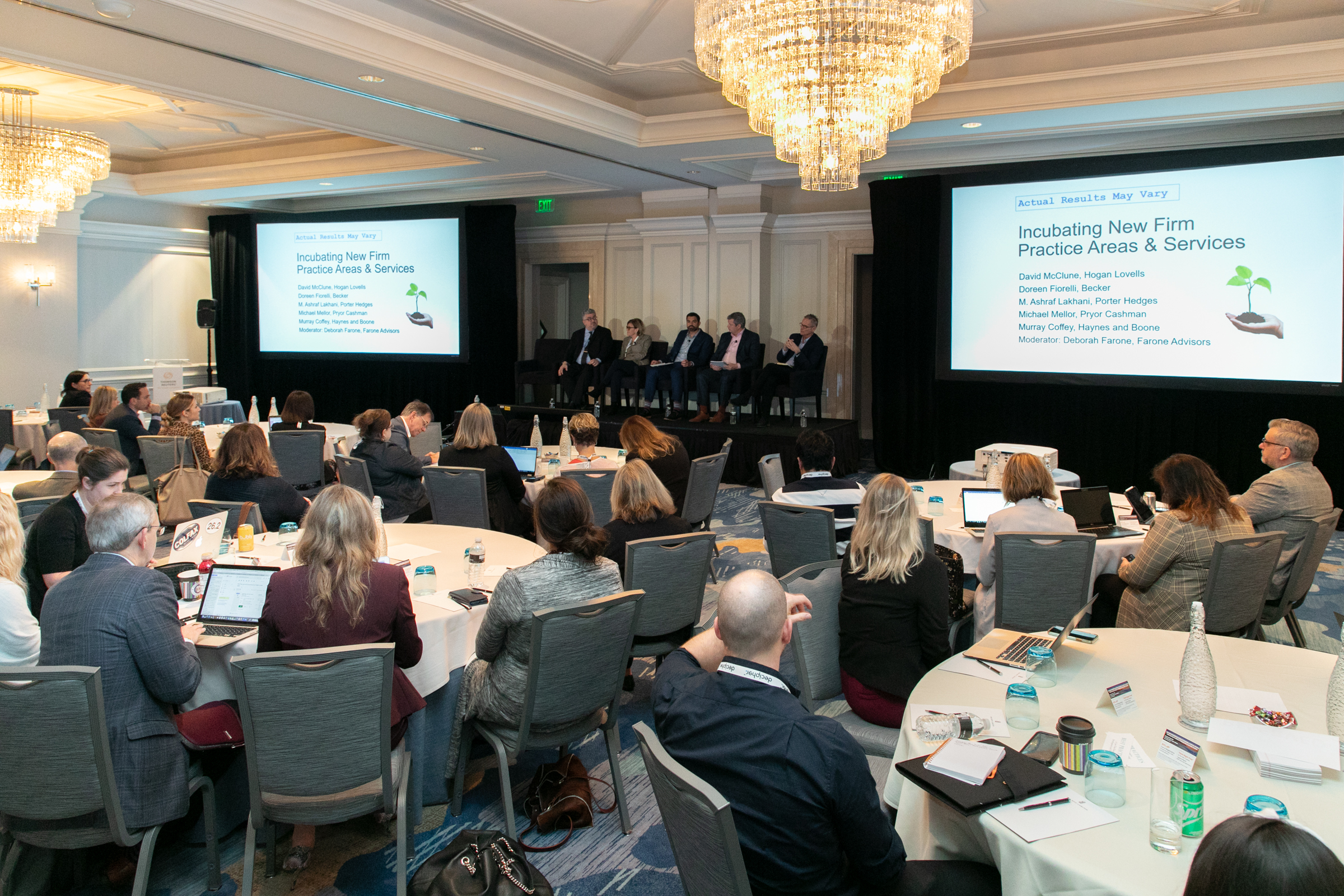 Other much-discussed trends on the topic of client-focused firms included the art of communication and ensuring the firm/client relationship always remains personal and open. And, the use of technology for modern case and project management, to better help centralize information and ensure it's available to teams. This allows firms to showcase their innovation to clients and ultimately, take the work off the client's shoulders.
Utilizing Data & Analytics Across the Firm
Nearly every session, regardless of topic, mentioned the importance of data and analytics to law firm best practices. To compete more effectively, provide the best client service, and retain key accounts, law firms must have the mechanisms in place for culling and utilizing the information at hand.
Take law firm pricing, for example. While many firms are still trying to figure out how they pool their data and, better yet, how they analyze it to glean insights needed to effectively update pricing functions, 77% of session attendees said they're not confident that the data they currently have access to is helpful.
Another critical area where firms can use data and analytics is client retention, as another panel discussed. By leveraging predictive analytics, firms can more accurately anticipate client attrition and identify early warning signs for at-risk accounts.
Despite the fact not all firms have solid data mining mechanisms in place, the good news is that becoming more data-reliant is not a difficult task, according to conference panelist Matthew N. Beekhuizen, Chief Pricing Officer at Greenberg Traurig. "The runway to a firm that has no data to a firm that does is not that long," Beekhuizen explained. "Every firm can build or buy intake systems to code, store, cull, and analyze data — even if at a fundamental level, every firm should be looking at this."
Andrew J. Cook, Director of Data Analytics at Ogletree, Deakins, Nash, Smoak & Stewart agreed, noting that every law firm should "know their data better than their client does and use it to their competitive advantage. If they don't, someone else will."
Hiring for the Future
Another overarching theme of the Forum was the race to acquire the best legal talent. While finding the best candidate to market a firm's unique values, traditional experiences and skills are and will remain significant factors, it's becoming even more important for firms to use more prescriptive methods for screening those candidates before making a decision.
At one Forum panel, hiring experts cited the practices of the NFL and other major sporting leagues, describing that when the big leagues make a draft pick, scouts and coaches will have completed months — if not years — of careful research. And this research into a given prospect reaches into both the tangible (athleticism, statistics, height & weight) and intangible (work ethic, coachability, and comportment) assets of the player.
Law firms should consider a similar approach, looking at both hard skills (experience, education, and interview skills) and soft skills (emotional intelligence, client service acumen, and personal drive), if they want to improve their hiring success rates.
Adding more thorough reference checks into the mix, establishing a panel interview process, and doing more due diligence on candidates overall, was a common thread across all these conversations.
This post was written by Andrea Cousens of Thomson Reuters Communications.
---
Facebook
Twitter
Linkedin