Technology has offered us the opportunity to expand our networks, access better tools, and work remotely — and that means we can redesign our office space
For decades, the commercial office was known as the workplace, defined by the primary activity of the day: work. People had to be physically present to access colleagues, tools, and technology.
Fast forward to today, and technology has given us the opportunity to expand our networks, access better tools, and work just about anywhere. While many industries slowly were shifting to this model before the pandemic, the lockdown and quarantines of the past year forced workers out of their routines and offices, requiring them to work wherever they could plug in and access Wi-Fi.
Looking ahead, what does our current reality mean for the conventional workplace, and what value does the office bring to firms? Firms are evaluating what strategies to explore so they can benefit from reduced costs, while also positioning their assets to adapt to change, attract and retain talent, and promote community. There isn't a single strategy that will work for every firm, but strong drivers such as humanistic needs, the pace of change, and the power of place should be considered when planning and evaluating the future office.
Creating a place that builds culture
During the last year, attorneys have been adapting to a new working reality and proving they can be productive and effective at home. Meanwhile, firm leadership has been assessing their vacant offices and questioning the future real estate picture. Further, leadership has started asking the big questions: Will attorneys and staff want to come back and if so, why, when, and under what circumstances?
While many believe the answer is yes, many also think there will have to be a new framework of behaviors and expectations for that to happen. Our basic need for human interaction, our desire for new experiences, and our dependence on relationships for emotional, physical, and professional well-being highlight the value of being together. The office isn't a place to just get the work done — it plays a key role in providing an environment that inspires collaboration and enriches culture.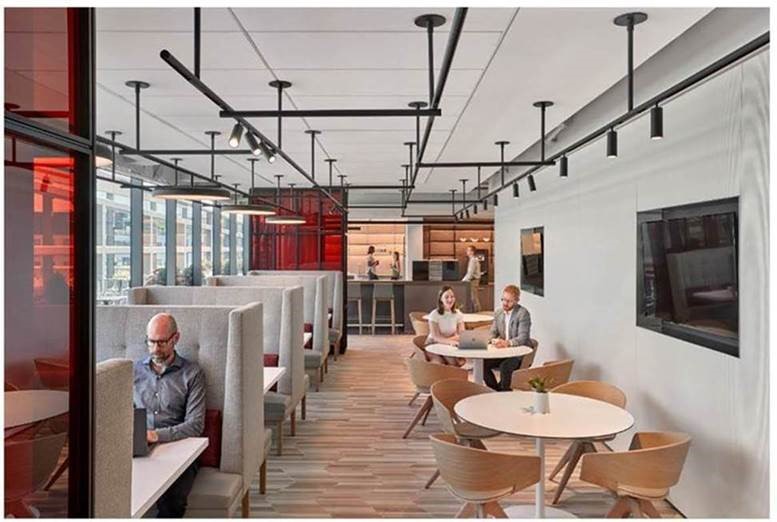 Indeed, firm culture is a critical factor in attracting and retaining top talent — talent that ultimately delivers on a firm's purpose and drives business performance.
Planning insight
The post-pandemic workplace should focus on aspects of the office that will entice people back. Therefore, the office paradigm must shift and transform from a place one has to be to a place one wants to be. Here are some steps to make that happen:
Spaces should be designed for flexibility and multi-modal behaviors and activities. People will likely come to the office to connect with others, attend meetings, and collaborate with teams. Designing spaces that can adapt to the number and size of meetings will provide flexibility around fluctuating demand and space requirements.
Amenities that make life easier and enrich workers' experiences also will have an impact on enticing people back to the workplace. The conveniences of a relaxed environment with places to retreat and access to outdoor spaces will be the new expectation.
Capitalizing on technology's full potential
The pandemic was a catalyst to embrace technology in new ways. The ability to access documents instantly, connect with others virtually, and collaborate with teams and clients globally were positive shifts and outcomes of 2020. The success of mobile work has workers and their employers questioning the need for physical space. And when technology is coupled with an effective workplace that brings bright minds and people together, it is the combined power of the two that can drive better performance and enrich the office experience.
Planning insight
Technology can challenge traditional ideas around how and why people use spaces, but it can also offer immersive experiences, enhance productivity, and mitigate risk. Here's some ideas:
Offices and meeting rooms will require technology to provide seamless integration and connectivity to support the hybrid workplace. Workers' expectation to be connected, see, and be seen will require embedded technology in both individual and collaborative spaces to support people working in the office and working remotely.
Using technology to seamlessly reserve spaces will support mobile work strategies. People will want confidence that they will have a place to sit or meet when coming into the office.
Paper space will make way for people space. Reducing hard copy storage to electronic files supports mobile work, reduces the time to "track down a file," and diminishes the risk of lost records. Further, underutilized interior spaces can be converted into effective spaces that support the work process, such as meeting spaces, war rooms, and interior offices.
Designing for resilience, not a pandemic
Midway through 2020, I was presenting to the executive leadership team of a global law firm. The leadership team was grappling with how the office design should change to address the COVID-19 pandemic. The managing partner chimed in to challenge the discussion, saying: "We need to build a space the attracts our people and our clients to the office. A place that inspires and brings joy. If we have another pandemic, we will go home. Let's not design for a pandemic, but for the future — a resilient and vibrant place."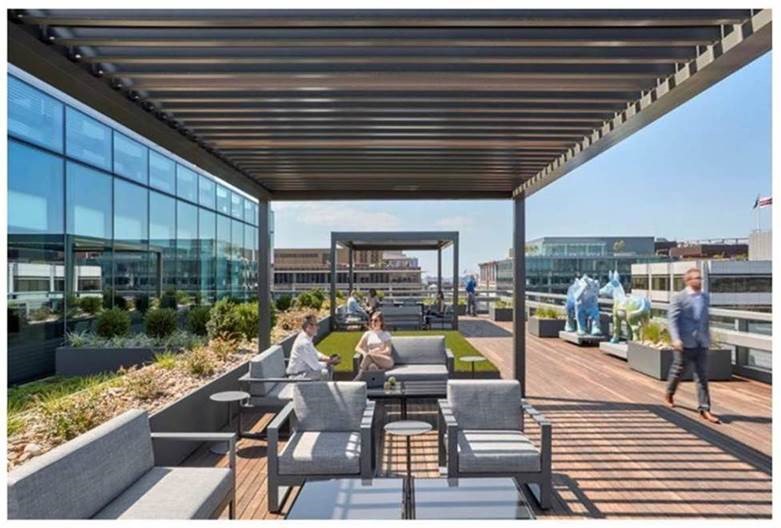 The words emboldened the group to think beyond today. Sharing that sentiment has inspired many firms to explore new planning strategies that offer more flexibility for change — change that is undefined but certain.
Planning insight
Space types should serve a variety of roles, functions, and needs. Universal modules should be a key planning principle, reinforced by modular furniture and technology. Spaces types that are not built for titles but instead for functions, support shifts in business, growth and attrition, planning adjacencies, and the evolution of mobile work. For example:
Single-size offices typically net more offices per floor and more perimeter offices. The universal office reduces the need and cost to move attorneys due to changes in title or promotion. Further, this strategy reduces the cost of tearing down walls to convert spaces in the future to smaller or larger offices.
Spaces designed for paper today will be repurposed for people in the future. Planning modules that can address adapting ratios, shifts in mobile working and outsourcing, and the transition to digital are important considerations for the evolving support spaces.
The workplace of tomorrow has the opportunity to enrich experiences, foster innovation, and growth, and strengthen a firm's community. Our collective experience during the pandemic has shown that we can free ourselves from old habits and embrace new ways of working that offer us more flexibility and resilience as we face inevitable changes.
Facebook
Twitter
Linkedin