The Thomson Reuters Institute's newly published "2023 State of the Corporate Law Department" report examines what law department leaders are seeing as key priorities for this year
While "Do more with less" has become a near eye-roll-inducing cliché among corporate law departments, it also remains a daily reality for many corporate general counsel and a frequent topic of conversation among in-house legal professionals in general.
Indeed, it is a very apropos conversation. The Thomson Reuters Institute has found that 65% of corporate law departments are experiencing increasing matter volumes, while 59% are dealing with flat if not decreasing budgets. This, and much more analytical data has been compiled into the just-published 2023 State of the Corporate Law Department report, which examines how corporate law departments, by and large, are managing these pressures to control outside counsel costs while anticipate increasing legal spend across practices, global regions, and industry sectors.
The report also delves into such topics as what law department leaders see as their main priorities, developing trends in corporate legal spend, and what strategies leaders are pursuing for 2023 and beyond. The findings in this report are the results of 1,569 interviews conducted throughout 2022 with professionals from corporate law departments within companies that have more than $1 billion in global revenue.
---
---
Key findings in the report
Some of the critical developments and trends noted in the report include:
Compliance with changing global regulatory developments has become the top priority for many law departments
Managing and mitigating their companies' overall risk and cost is a key component to departments' broader cost-control strategies
Overall, far more law departments anticipate an increase in their legal spend in the coming year than anticipate their spend to decrease
Increased legal spend is a common trend across nearly every global region, key practice area, and industry sector
There is growing evidence that corporate law departments are shifting work among outside law firms as a way of managing costs
While exact best practices remain a work in progress, most corporate law departments globally have settled on some form of hybrid work arrangements for their staff
Identifying global priorities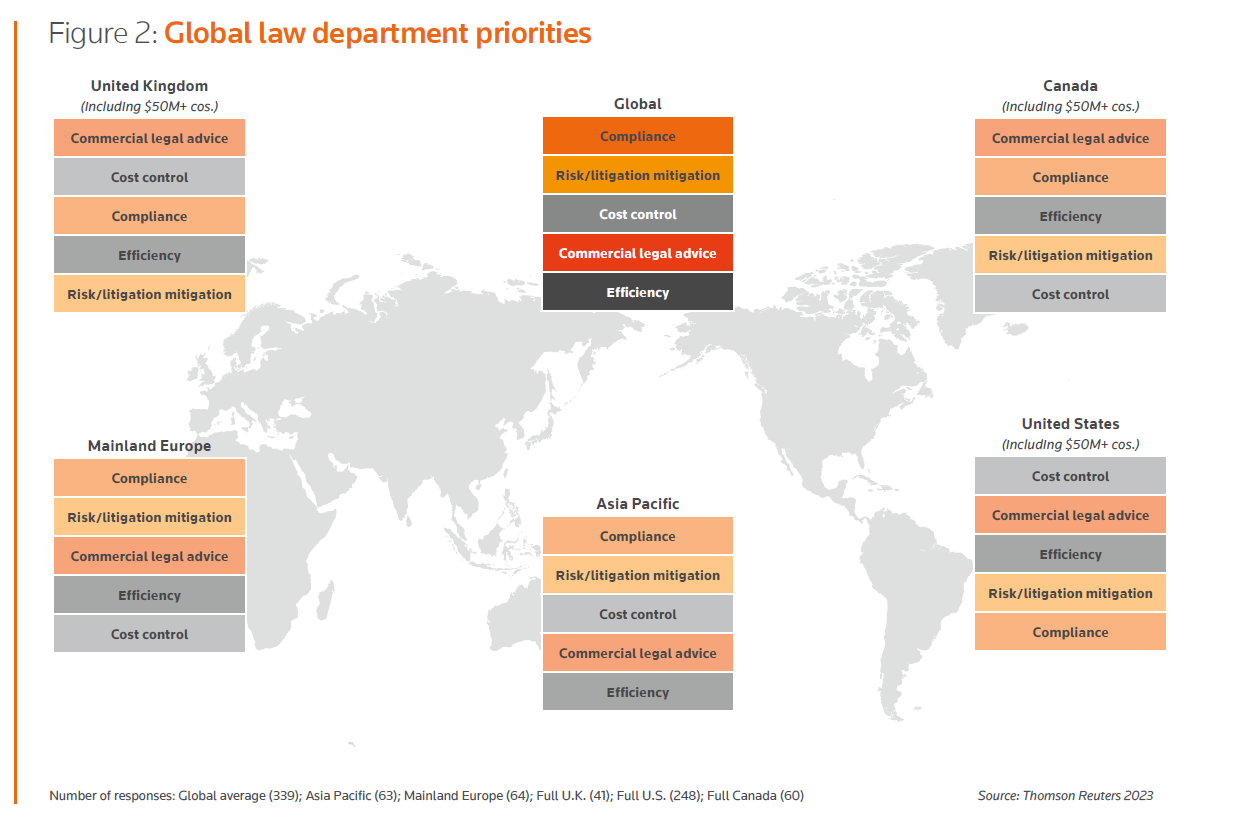 In their own words: What law department leaders are saying about their departments' mission
"Always keep focusing on longevity and consolidating objectives, avoiding high risks, for any business sector or activity. So, the highest strategic contribution is to see the opportunities, limit risks, and diversify the scope of action."
— Energy company from Mainland Europe
 "To provide practical legal and commercial support to a growing business."
— Transportation company from the U.K.
"To promote the growth in the business, which involves implementing technological solutions to some of the challenges around labor and others, and so dealing with those, supporting the clients in that manner is one of our main priorities."
— Hospitality company from the U.S.
Facebook
Twitter
Linkedin