A new report reveals that corporate legal department lawyers view generative AI's potential similarly to their law firm peers, although adoption remains in early phases
Generative artificial intelligence (AI) tools such as ChatGPT have a future with corporate attorneys, who believe that such tools can and should be leveraged for legal work — although adoption still isn't widespread and may be dependent on how legal departments are able to address the tools' perceived risks.
A recent survey has found that those in corporate law departments are largely optimistic about the potential for generative AI and programs such as ChatGPT in performing both legal and non-legal work.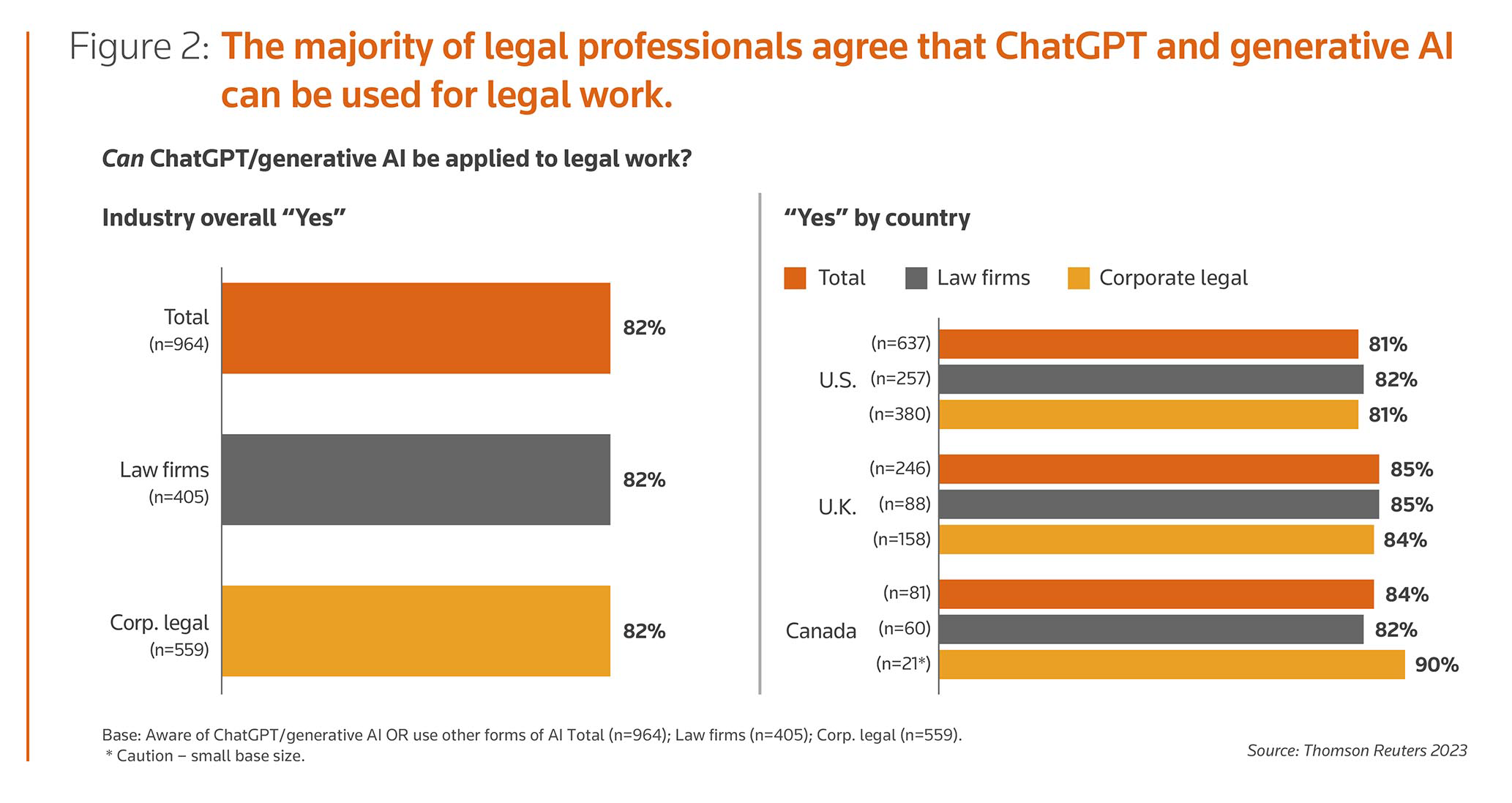 In total, 82% of respondents say generative AI can be applied to legal work, while 54% believe it should be applied to legal work, roughly the same rate as their law firm counterparts. Similarly, 70% believe these tools should be applied to non-legal work as well.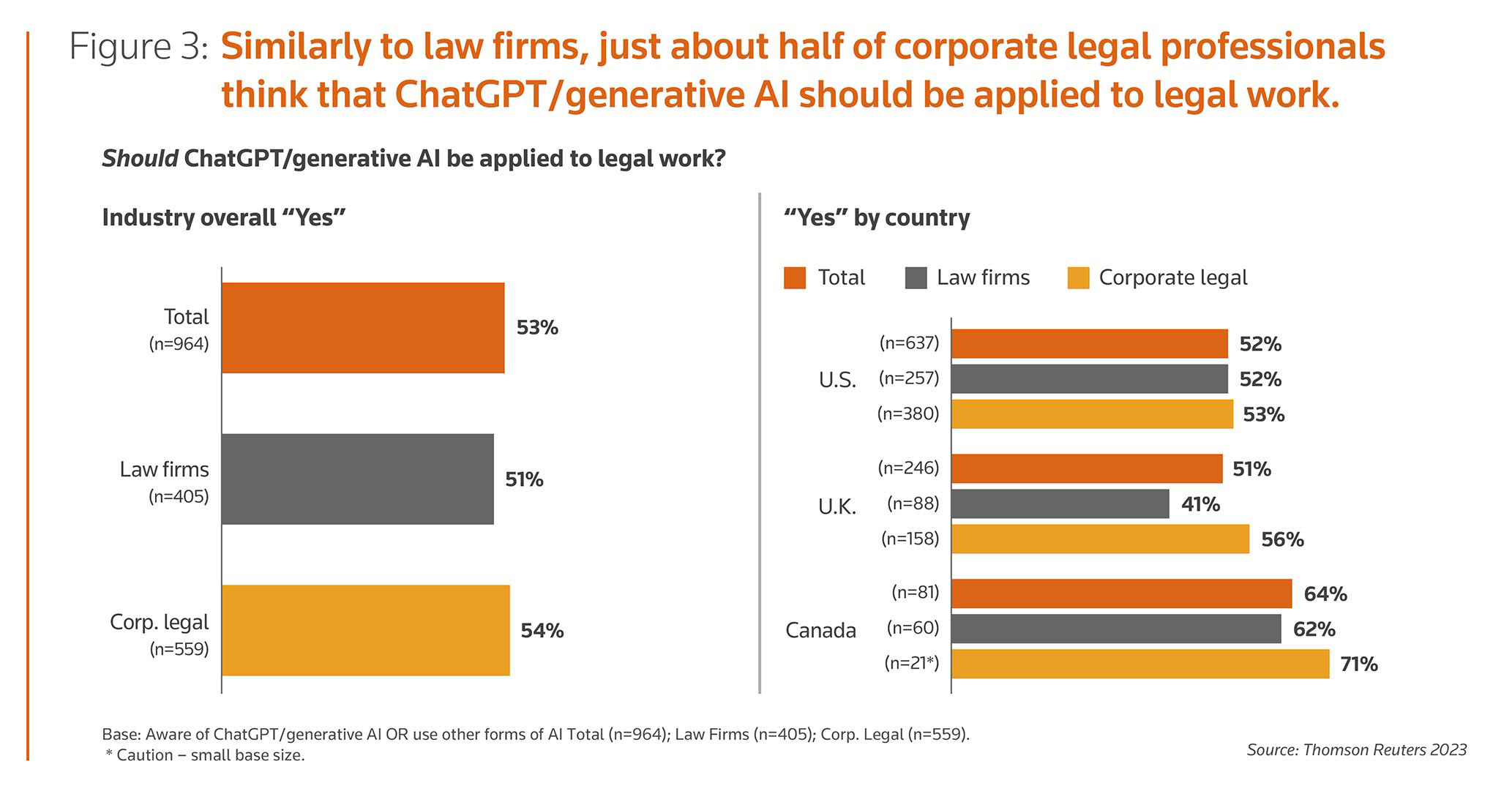 The survey, conducted in late April by the Thomson Reuters Institute, gathered insight from more than 580 respondent lawyers and legal professionals within corporate law departments in the United States, United Kingdom, and Canada. The survey forms the basis of a new report, ChatGPT and Generative AI within Corporate Law Departments, which takes a deep look at the evolving attitudes towards generative AI and ChatGPT within departments, measuring awareness and adoption of the technology as well as lawyers' views on its potential risks.
The report — which pairs with an earlier report done by the Thomson Reuters Institute, ChatGPT and Generative AI within Law Firms — also reveals several key findings that show not only how corporate law departments are approaching their ChatGPT and generative AI plans, but how those plans differ from law firms, and what legal departments want out their law firm partners' generative AI use. These findings include:
Higher awareness and willingness to apply — Corporate law department leaders surveyed generally had high awareness of ChatGPT and generative AI, with 95% of respondents saying they had either heard of or read about ChatGPT or generative AI. That is higher than the awareness among law firm leaders, of whom 91% said they had either heard of or read about ChatGPT or generative AI.
More comfort with using the technologies — Only a small number of corporate law departments (11%) said they are already using or planning to use ChatGPT and generative AI in their legal operations; however, this was again significantly higher compared to use or planned use by law firm respondents (5%). Among those respondents who said they're already using or planning to use ChatGPT and generative AI in their operations, 19% of both corporate legal and law firm respondents say they are already using these technologies on a wide-scale basis.
Acknowledgement of the risks involved — Three-quarters of corporate law professionals say they have risk concerns surrounding use of ChatGPT and generative AI, mostly in areas of accuracy, privacy, confidentiality, and security. Further, about one-quarter of respondents said they have received warnings from their companies about ChatGPT and generative AI usage for their work, but only 10% reported ChatGPT and generative AI had been banned at their companies. Many of the objections over AI use in legal work acknowledged the importance of human touch and expertise in the legal profession, the uniqueness and complexity of legal issues, the need for supervision and review of AI-generated materials, as well as ethical considerations and the perception by some that the technology may not be fully ready yet for appropriate use in legal.
Even with the potential risks, general counsel and others are actively preparing for a potentially major change in how work is done. "We're not shutting our eyes to this," says one senior legal officer at a large corporation. "We're working on a solution that would work for us."
And awareness of generative AI's potential is likely to spur acceptance and usage, even in the usually reticent legal profession. "Before ChatGPT, technological advancement in legal software has been pretty incremental, but now it appears poised to take big steps toward something significant," says Gunter Eren, General Counsel in Research & Development at the Business Innovation Centre of Konica Minolta in the U.K.
---
Facebook
Twitter
Linkedin