As companies face more pressure to collect and report data around their Scope 3 emissions, more engagement with supply chains and internal IT will be necessary
The requirement for Scope 3 disclosures is likely to rise with incentives from governments, regulatory bodies, and corporate policies. Although the number of companies currently engaging in their Scope 3 emissions remains limited at present, those that have already disclosed their Scope 3 emissions will now need to focus on improving the accuracy of their data and the quality of their reporting.
The necessity to focus on Scope 3 emissions, in particular, is evident from the Reuters Insight Sustainability Survey 2022, which surveyed senior sustainability practitioners and C-Suite executives. Results showed that 79% of respondents were concerned with their Scope 3 emissions, demonstrating an incentive for companies to invest in improving their emissions data. This increased concern, in part, is because of growing pressure from investors for further granularity in disclosures but also from internal pressure from corporate boards to make more informed decisions.
Likewise, addressing Scope 3 data accuracy sits within the top three of organizations' priorities as it requires engaging with their supply chains, aids in the reduction of organizations' climate or carbon impacts (in other words, their decarbonization efforts), and enables further granularity within sustainability reports.
Scope 3 data, however, is difficult to collate as it requires gathering data outside of the company's four walls. By concentrating on improving the data quality of Scope 3 emissions, organizations can move toward achieving their net-zero transition plans as well as developing the credibility of their reporting and disclosures.
Enhancing supplier engagement is one way to tackle the Scope 3 data challenge by using a spend-based approach, using questionnaires, or calculating emissions by product. Whatever the method, enforcing supplier engagement as a condition of business and the use of contract clauses to mandate data collection can ensure organizations maintain continued dialogue with the intention to improve data quality and reporting.
The challenge does not stop there, however. Achieving sustainable supplier engagement also requires a number of stages which begins with confirming a unanimous commitment within the organization and with the collaboration and cooperation of all internal teams. Investing in data management improvements as part of supplier engagement will also ease the resource burden of aggregating and reporting Scope 3 emissions. Yet, 54% of those currently engaging in their Scope 3 emissions were using a manual process, including using Excel spreadsheets, according to a Reuters Insight survey.
Manually gathering information, however, is not scalable and requires scarce resources and additional bandwidth on activities that are more easily automated. More than 50% of respondents who said they use a manual process to manage Scope 3 emissions described the process as being poor in all three categories of ease (57%), effectiveness (52%), and efficiency (52%).
Management of Scope 3 data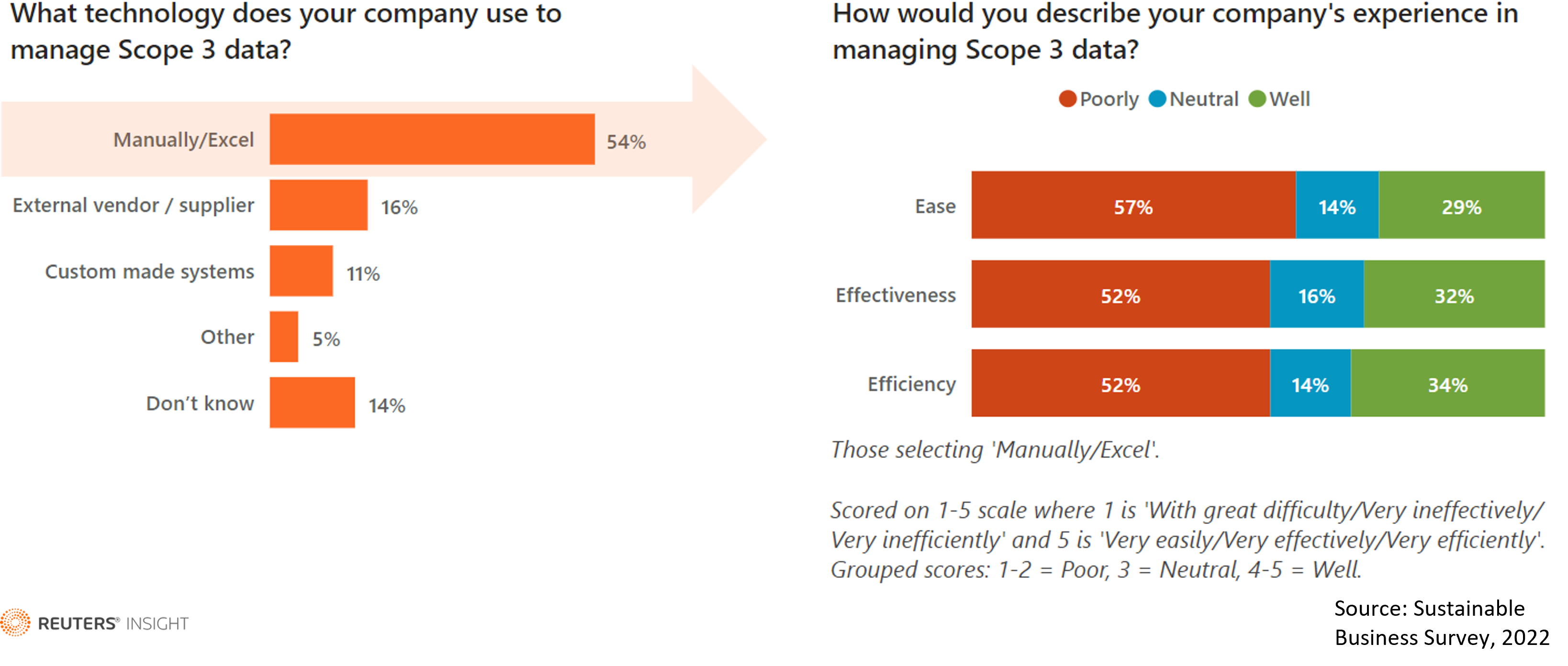 Still, there is investment taking place. In fact, the top three technologies in which Scope 3-engaged organizations already are investing include clean energy (67%), data analytics (44%), and more efficient IT solutions (37%). Although investing in clean energy technologies is more widespread in order to combat Scope 1 and 2 emissions, investing in data analytics and more efficient IT solutions contribute towards the overall improvement in emissions measurement and reporting.
Since Scope 3 emissions are considered to be the most difficult emissions to accurately disclose, technology investment in this area will be especially beneficial to this category of emissions. Organizations' planned investment across the next 24 months follows a similar pattern, with analytics and more efficient IT solutions remaining within the top three investment areas.
Technology investment for those engaging with Scope 3 emissions
Organizations should determine which software works best for them to create a more streamlined process that reduces errors and further establishes traceability for audits in the future. Data platforms foster mutual benefit in streamlining the internal greenhouse gas (GHG) data management process for organizations, but they also helping other organizations to report on their Scope 3 emissions.
The ultimate aim to improve the quality of Scope 3 emissions data and reporting is likely to result in greater confidence within organizations, discouraging the trend of green-hushing, and preventing further greenwashing.
---
This is an abridged version of a report that was originally published on Reuters Insight Sustainable Business.
Facebook
Twitter
Linkedin