Managers who make regular check-ins with their associate lawyers can increase feelings of employee well-being while enhancing the firm's retention efforts
There are three pillars — Clarity, Control, and Support — that are key in maintaining lawyer well-being within law firms and each pillar has critical success factors that have been identified by lawyers, according to the latest research by Thomson Reuters Institute. What is interesting about this comprehensive view of well-being is that it encompasses other important areas that influence critical aspects of the associate experience, including retention and career progression, quality of feedback, and work flexibility.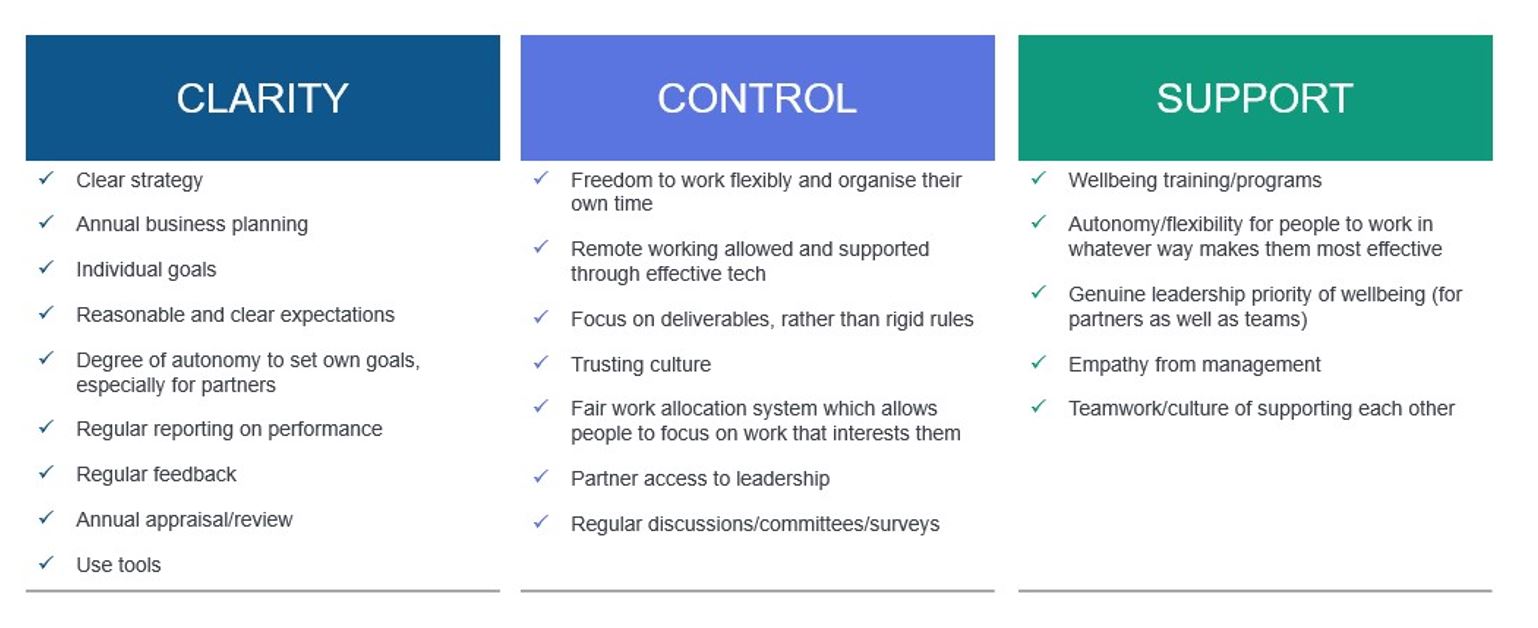 ​A clear strategy is a vital ingredient in a law firm's purpose and performance; and when it comes to employee well-being, having clarity on the firm's strategy and an understanding of how their work fits into the overall firm strategy reinforces an employee's own personal well-being and can help to retain those associates.
As owners and major revenue producers of the firm, partners have an outsized influence in how all three pillars are addressed in all associates' overall perception of the experiences, and therefore, in the retention of each lawyer. At a recent roundtable of law firm chief talent officers (CTOs), participants discussed how this perception in large part is framed through a series of regular one-on-one check-ins.
These check-ins became a requirement at the beginning of the pandemic, but now, these regular check-ins are expected by associates and have become a vital element of retention. Indeed, they are a key forum in which important elements of employee well-being are addressed, including:
substantive work expectations and feedback on the quality of completed work tasks (Clarity);
how the work fits into the context of the goals of the client and the firm (Clarity);
preferences around how, when, and where work gets done (Control);
a dialogue on what the employee's career and personal goals are (Clarity/Support); and
how the employee is feeling about the overall work experience at the firm (Support).
Not every one of these agenda items makes it into every check-in meeting, but over a period of one to three months, every item should be discussed at least once. Of course, substantive work will be part of the discussion at almost every meeting; while regular discussions of career and personal goals or how the employee is enjoying the work are addressed less frequently. Not discussing these topics at all, however, is a mistake because this forum is where a lot of trust-building occurs, which is a critical factor in Control and a necessity for positive perceptions of associates' feelings of value, respect, and sense of belonging.
However, challenges remain. For example, few partners are talking about elements that align with what strongly correlates to associate attrition, according to the research. These drivers of associate satisfaction include support from managers and the overall work culture.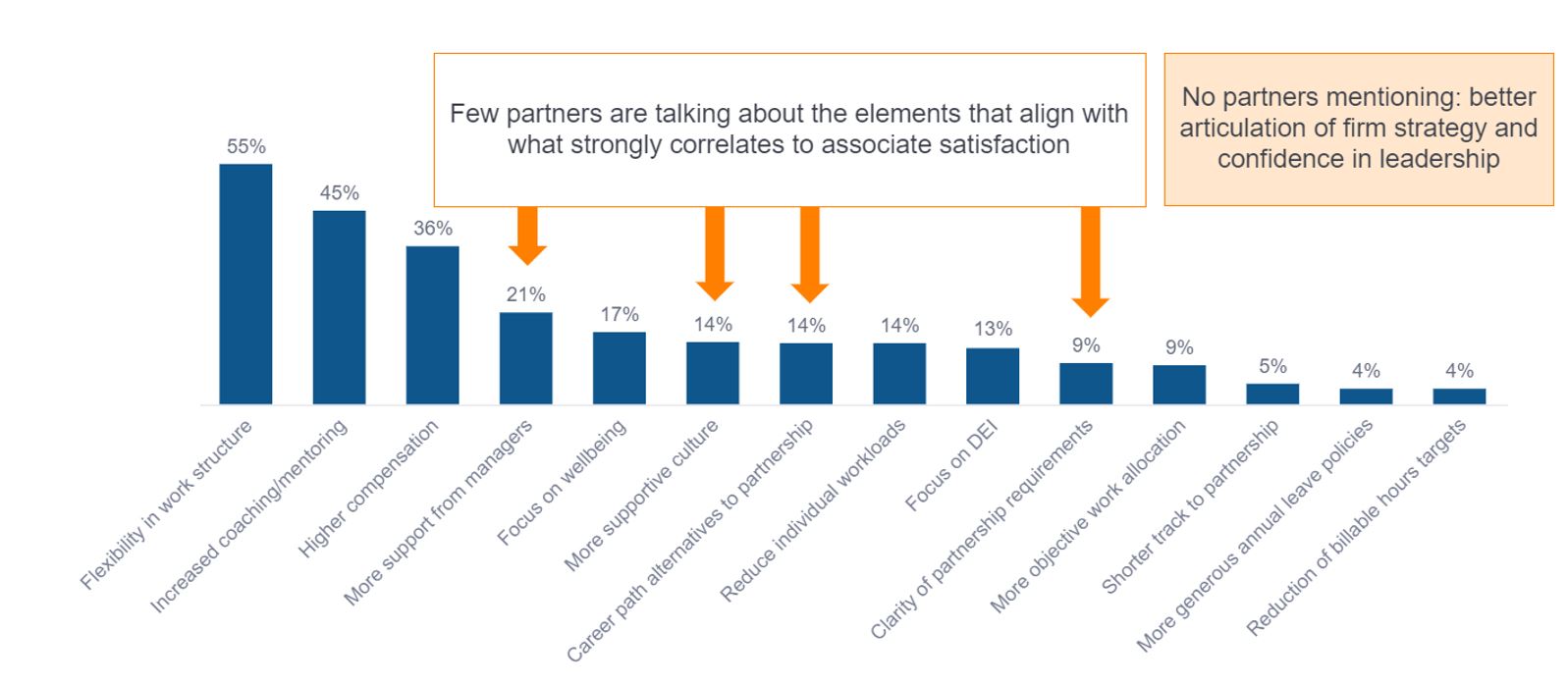 Moreover, the hybrid and remote nature of work today reinforces the need for improving perceptions of support through increased clarity. In particular, "remote working lawyers need more clarity so they can exercise the control," according to one CTO at the roundtable. Another said that "40% of the firm has joined in a remote way." And that means that "40% of associates do not have the same levels of understanding of their colleagues." This development demonstrates that such support gaps are more acute in hybrid work.
How to address support gaps
"More support from managers" was identified as a top gap in associate satisfaction; however, support is a broad term that can mean anything from wanting transparent steps on how to advance, needing direction to handle a sensitive client situation, desiring an increased understanding for a difficult personal situation, and wishing for a deeper appreciation for how an employee's day-to-day work fits into the larger purpose of the firm. Again, these are topics —all falling under either the Clarity or Support rubric — that are usually discussed in one-on-one meetings.
As members of the roundtable discussed, CTOs are leading the way in providing guidance to embed the kind of consistency and better discipline around these one-on-one meetings that could greatly maintain and improve association retention. Some potential best practices they suggested include:
Encourage partners to schedule recurring one-one-on check-ins — Creating a standing check-in meeting at a pre-defined date and time each week is one less item on the to-do list every week. It also communicates to the associate that they matter because they know they have a dedicated time slot each week with their work supervisors.
Improving effectiveness of supervisors by teaching them to have conversations about their life situation, strengths, and goals is a good way to improve the employee experience, promote engagement, and prevent burnout. Research found that successful managers should have one meaningful conversation per week with each team member, lasting about 15 to 30 minutes.
Create "job aids" — Tips sheets with guidance on how to enhance Clarity through discussions on strategy, purpose, performance, and feedback reviews are excellent tactical ways to reinforce consistency of experience across associates at the firm. Be specific in offering language for how to initiate and continue discussions involving goal-setting aligned with the firm's strategic goals (Clarity), performance feedback (Clarity), and what associates want out of their career (Clarity).
Give training on how to share context and give and receive feedback — One of the best ways to communicate a clear understanding of how an associate's work fits into the overall firm strategy is to give context for that work. During one-on-one meetings, when tasks are assigned, simply saying, "This piece of work helps the client by…" is a great way to start.
Performance and feedback conversations can instigate a lot of stress for both the givers and receivers of feedback but is vital for increasing Clarity. Training for partners on how to give feedback and for associates on how to receive it is a worthwhile firmwide investment, according to several CTOs who have led these activities.
The exchange of feedback as a give-and-take process requires trust and psychological safety. The act of engaging in the back-and-forth dialogue is the first key step in trust-building, and practicing the give-and-take approach also positively influences perceptions around having a more supportive culture.
Take a bottom-up approach to feedback — Driving any firmwide initiative across the partnership and practice areas in is a common challenge. To drive accountability in associate check-ins, one firm started doing upward evaluations and gathering feedback to institute more accountability.
Partners also need to play a role in promoting the well-being of associates, because they are on the front lines with their teams, supporting the emotional and psychological well-being of associates, heavily influencing the firm's culture, and navigating the challenges of hybrid work.  In this way, the regular check-in forum has become the nexus of associate retention.
---
You can learn how to help your firm refine its focus and direction through the use of wider research, here.
Facebook
Twitter
Linkedin