Traditionally, the typical pricing agreement between a client and a law firm involved the firm setting a rate, billing the client for the time spent, and then the client paying the bill. That's all changed now.
The Great Recession of 2007-'08 and its fallout saw the introduction of two relatively new concepts into the legal marketplace: the emergence of the alternative fee arrangement (AFA) and the rise of in-house legal operations or procurement professionals. Both of these developing forces increased the complexity of the relationship between clients and their outside law firms.
Very quickly, AFAs came to account for between 7% and 15% (with some firms exceeding 20%) of average firm revenues. Not surprisingly, both sides of the legal negotiation table quickly saw the need for experienced professionals to help shepherd these arrangements into being and ensure their success. The roles that evolved saw direct involvement in rate negotiations as well as strategic navigation of tools like reverse auctions, which clients sought to use aggressively to contain their legal spend. In recent years, the trend toward dedicated law firm legal operations professionals has only grown.
For many firms, this has resulted in fierce competition for experienced talent to lead firms' pricing functions. Compensation for these professionals has followed demand across the industry, from lead roles down to junior analysts.
Earlier in 2022, the True Value Partnering Institute – in collaboration with its partners, Rees Morrison at General Counsel Metrics, and the Thomson Reuters Institute – released an analysis of this phenomenon, which looked at legal pricing professional compensation, team composition, where the team fits into firm structure and how these professionals spend their time.
Total compensation for pricing professionals
According to our analysis, total compensation figures for pricing professionals within law firms span an understandably wide gamut, with a sharp uptick in the curve present among those chiefs and directors who are leading these functions.
Of course, averages only tell part of the story. For example, the difference between the lowest reported total compensation for a chief and the highest was a difference of almost $480,000.
Overall growth in compensation is also noteworthy. This same analysis conducted two years ago found that chief-level pricing officers were nearing $500,000 at the very top end of the range; now nearly every chief-level officer surveyed exceeded the $500,000 salary threshold.
Larger firms tend to pay more
The fact that larger law firms tend to pay their lead pricing professionals more would not come as a surprise to most observers, as that tends to be true of these firms across multiple job roles.
Full results further indicate that the largest firms also tend to have the largest variation in compensation to arrive at the median figure. Likely contributing to the difference is the fact that these top-tier firms are also more likely to not only have a robust and experienced pricing function, but also one comprised of highly experienced professionals who can command top-level compensation.
It has not been uncommon in the legal industry to see pricing leaders move from lower Am Law firms into higher-ranked firms as their careers progress with salaries increasing commensurately.
More years at a firm does not necessarily mean more money
As a corollary to the idea that compensation is not necessarily tied to a higher level of experience, the findings of the survey show that more experience with a given law firm is not necessarily a guarantee of higher compensation.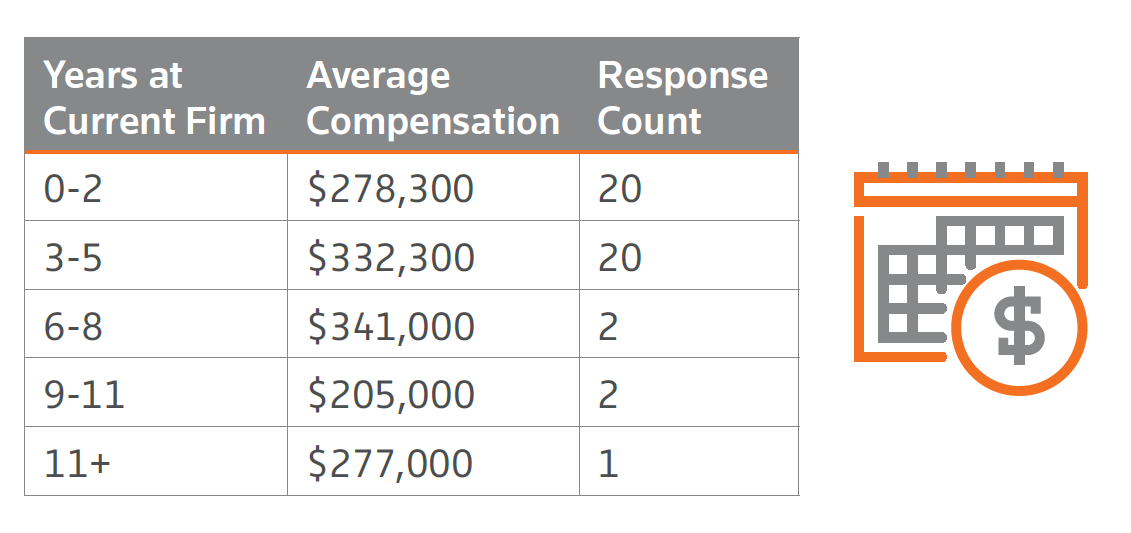 It's noteworthy that average compensation drops off significantly among those with nine or more years at their current firm. However, it must be noted that the number of responses drops significantly among those with six or more years of experience. This may be due to problems with sampling, but it's also possible that it is, frankly, hard to find a large number of professionals who have been with their current firm for more than five years.
For those who lead their firm's pricing function, fewer than five years in the role tends to be the rule rather than the exception. More than 50% of respondents say they've been with their current firm for fewer than five years; in fact, almost 25% report being with their current firm for less than 18 months.
This high level of mobility provides a very likely explanation for why average compensation is higher among less-tenured pricing leaders: Presumably a move to a new firm comes with a boost in compensation, particularly in the highly competitive market for legal pricing professionals.
How legal pricing professionals spend their time
Those who are unfamiliar with the role of a legal pricing team might be surprised to learn just how much of their day is spent in a client-facing capacity. Contrary to what many might think, the role is less about setting and enforcing firm billing rates and more about developing pricing structures and systems that create revenue and profit potential for the firm, reflect the scope of work involved in the matter and serve the interests of the client in terms of cost predictability and overall budget.
Among the top five activities in which lead pricing professionals spend their time, developing pricing options is, unsurprisingly, the top activity, with analysis and approval of pricing requests, evaluating historical client and matter performance, developing and embedding pricing systems, and negotiating directly with clients rounding out the top five.
To whom they report, and who reports to them
Most commonly, the lead pricing professional reports to either the firm's chief financial officer or chief operating officer. But examples can also be seen in which the pricing team reports through a head of practice management, innovation officer or client value head, or in some cases through the marketing function or even directly to the managing partner.
In terms of who reports to the lead pricing officer, team size and structure is another huge variable.
Even among pricing teams exclusively located within the United States, the size of the team can range widely, from as few as a team of one to as many as 15. The average pricing team consisted of 4.95 members. In terms of geographic responsibility, respondents were close to evenly split between those who said their team carried responsibility for pricing for both the US and international offices and those who said they carried responsibility for only US office locations.
A function whose need will grow
In the economic downturn brought on by the pandemic, pricing professionals played a key role in protecting law firms' paths to profitability and pricing integrity through strategies such as proactive offers for AFAs, strategic billing credit practices and pricing training for lawyers.
In the current market where clients are being pressured from all sides by forces ranging from inflation to their own corporate boards, law firm pricing professionals seem poised to jump to the forefront once again. The importance of budgets for legal matters, effective scoping of work, communication of client value, providing fee transparency and a potentially renewed client interest in AFAs will all require experienced professionals to lead law firm efforts to protect and grow profitability in a challenging market.
A common theme when talking with senior pricing leaders is the motto of "getting close to the money" with many pricing functions now involved in revenue assurance programs within their respective law firms, whether in a formal or informal capacity. These professionals are defending against discounts at the front end, and then following the money as it goes from being worked, to being billed and then collected. They are doing this to prevent revenue leakage, and thus, adding extra revenue and enhancing profit.
---
Facebook
Twitter
Linkedin