A new white paper from Thomson Reuters Institute surveys students, faculty, and administrators of law schools to find out their views of education during the pandemic.
This spring, the coronavirus pandemic changed the face of legal education across the country as law schools moved to bring instruction online. To better understand the response of law schools to this new reality, and to illuminate the challenges and opportunities they face in the coming semesters, the Thomson Reuters Institute sponsored a survey of 2,897 law school students, faculty, and administrators in August 2020.
The vast majority of students in the survey (89%) were taking classes entirely online when the survey was conducted. Overall, the survey found a high level of alignment between students, faculty, and administrators. This level of camaraderie was likely heightened by the necessity of responding to the pandemic.
---
You can access the full white paper, Law Schools and the Global Pandemic, from the Thomson Reuters Institute, here.
---
However, this fellowship broke down on some issues, demonstrating a disconnect between administrators, faculty, and students. For example, while students understand that faculty are doing the best they can in a difficult situation, they are nonetheless concerned about the value of the legal education that they are receiving online. Administrators also have much different expectations than students or faculty regarding a return to in-person classes.
In a new white paper that highlights the results of this survey, Law Schools and the Global Pandemic, the Thomson Reuters Institute also unearthed opportunities for law schools to take a step back and consider what the future of legal education might look like, given a newly accelerated acceptance of online instruction. Some key takeaways from the report include:
High levels of alignment — The shared priorities between students, faculty, and administration are perhaps the survey's most hopeful findings. While all three groups are struggling with technology and unpredictability in different ways, they generally agree on the biggest challenges, including engagement with classwork, issues of technology access, and learning and teaching environments.
Questioning the value of online education — A significant number of students (43%) are concerned about their ability to learn critical information remotely. "We are not getting the same quality of education, so we should not be paying even more for our education than we were last year," wrote one student respondent. When asked to rate the value for money of their law degree, 30% of students assigned it a low score; and that concern is shared by 21% of faculty and 16% of administrators.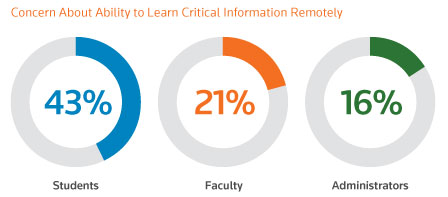 Unexpected Opportunities
The accelerated acceptance of online instruction brought by the pandemic is presenting the opportunity for law schools to both reconsider online learning as an opportunity and to re-evaluate their cost structures.
Online vs. in-person education — Administrators, faculty, and students are starting to see the promise of online learning. As one professor wrote: "The move to online learning has forced us to be innovative and flexible. I hope we can build on that. There are some courses that probably work just as well, if not better, online than in person. I'd like to see the option for that survive the return to normal."
Reexamining cost structures — Reimagining the delivery of legal education also offers the opportunity for schools to examine their cost structures. Online education isn't less expensive, at least in the beginning. To do it properly, teachers need to be trained and investments must be made in learning platforms and other technology. Over time, there is the chance that online learning may result in cost savings and that fewer faculty would be needed. "As professors create more content online, administrators will realize they can re-use this and need fewer of us," wrote one professor.
Looking ahead
There is no question that the cost of the COVID-19 pandemic has been unimaginably high. But the accompanying disruption has created real opportunities for law schools and their faculty and administrators. In responding to the pandemic by moving instruction online, law schools are making an unprecedented transition. They've learned new things about themselves, their students, and their faculty.
It's now everyone's responsibility to build on those insights to provide a model of law school education that prepares law students of today and tomorrow to compete in and shape the legal market of the future.
Facebook
Twitter
Linkedin