In recent years, the number of lawyers and technologists combining forces to develop new legal products through new startups has exploded
The legal services industry, by and large, has no Research & Development component. It's not in the nature of law firms to set aside resources to pursue innovation. But there is no shortage of legal R&D going on. In recent years, the number of lawyers and technologists combining forces to develop new legal products has exploded.
The map below describes just a fraction of the many legal tech startups active today, sorted by type of service or application. The map is derived from the Discover Legal Technology database hosted by CodeX, the Stanford Center for Legal Informatics. That database currently tracks 558 legal tech startups from around the world, and there are probably dozens if not hundreds that haven't been added yet.
---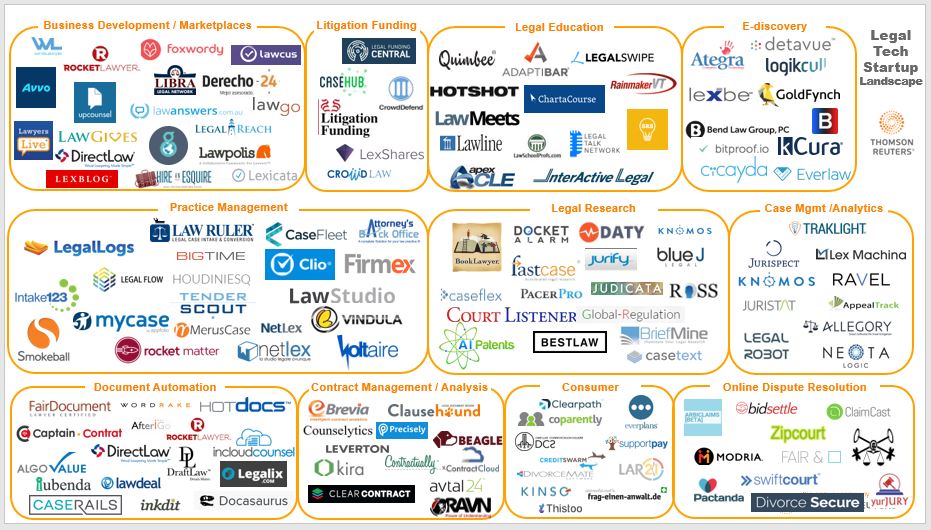 Click to enlarge the map, or for  for a downloadable copy, click here: Legal Tech Ecosystem
---
The Environment for Startups
This legal tech ecosystem has a number of characteristics:
It's Extremely Fragmented and Diverse
Global legal startups are banging away at legal markets on several different dimensions:
Applications — The map shows the diversity of legal applications that are addressed by legal tech startups: practice management, litigation analytics, legal research, legal marketplaces, document automation, contract lifecycle management, online dispute resolution and ediscovery among others. Virtually every corner of the legal world has a legal startup working to address some problem or need.
Markets — The companies represented here target a number of different customer and end-user markets: consumers, law firms, in-house law departments, courts, public agencies and law schools.
Technologies — Look at any marketplace that's being redefined by technology, and you'll see startups leveraging a handful of new technologies to make inroads. Legal tech is no exception — cognitive computing (including natural language processing, machine learning and expert systems), blockchain, cloud computing, visualization, big data analytics — all are represented here.
Geographies — There are big centers of legal tech startups in Silicon Valley, New York, Toronto and London, of course. But now these have been joined by additional tech-heavy clusters in places like Australia, Germany, Sweden, Finland, Estonia and Asia.
It's Subject to Hype Cycles
The more mysterious, the better. The legal media and especially the wider business media don't get too excited about things like practice management, document automation or contract analysis, even though these areas of the legal marketplace might be the low-hanging fruit. The media attention seems to be reserved for the sexier topics, like blockchain, smart contracts or machine learning. The phrase "robot lawyers" has appeared in dozens of headlines about the future impact of artificial intelligence (AI) in the law, regardless of how misleading that term is as a descriptor of how AI development in the legal profession is likely to play out.
Legal tech startups know this, and they trip over themselves in their efforts to position themselves as the next great AI play and legal industry disruptor. But do not be fooled; some of the more successful startups that are gaining real traction tend to be from the more mundane applications including practice management and legal staffing.
It's Rife with Caveats and Reality Checks
Legal tech "cannot change the laws of physics," as Scotty on Star Trek might put it. One of the reasons that the tech startup scene was so slow in coming to the legal market is that the market itself has some inherent limitations:
Law is not that big — Depending on how and what you measure, the global market for legal services is probably around $700 billion. That's not on the same scale of larger industries such as consumer media, agriculture, manufacturing and retail trade that entrepreneurs might otherwise choose to target with their innovative skills. On top of that, what we call the "legal market" is itself very fragmented, making each segment even smaller.
Many startups serve a subset of that small industry — There are legal startups serving specific practice areas, or targeted to a specific regulation or law. Scale is difficult to achieve.
But there are latent markets — The consumer and small business markets have traditionally been poorly served by the legal profession. Many of the startups on this map serve those markets. But there is a reason these markets have been poorly served — there's not a lot of money there. Legal startups need to re-think business models as well as technology in order to make a buck in those markets.
Legal markets are jurisdiction-specific — Every country has its own legal culture and regulations, as well as its own peculiar legal services industry. It is very difficult to build scale across jurisdictional boundaries in the legal market.
Law is highly regulated — Startups in the US, in particular, have often run afoul of a regulatory scheme that discourages innovation through two general bans — a ban on non-lawyer ownership of legal practices, and a ban on the unauthorized practice of law.
Even with those caveats and limitations, however, legal entrepreneurs still see that there are significant needs and problems in the industry that can be addressed with the right mix of technology, business model adaptation and execution.
So, Who Wins?
If you are betting on who will succeed, bet on areas where the problems and needs have the biggest scale, such as:
Large-scale processes with large data sets — Various forms of document reviews such as edicovery and M&A due diligence come to mind here. That kind of process and analysis used to be carried out by armies of law firm associates, but are increasingly being turned over to technology from legal startups.
Process efficiency — Any technology that takes days, hours, or minutes out of repeatable practices is a winner in this market — even if the traditional hourly billing model has been a barrier to that kind of efficiency improvements.
Regulatory compliance — Applications that automate the awareness of and, better yet, compliance with, the wide and growing range of regulations that face modern industries will be in high demand.
Contract lifecycle management — This area is especially ripe for innovation and the injection of technology. And many are working on it — from drafting, to data extraction and analysis, all the way to futuristic blockchain-based self-executing smart contracts. This will likely be a big area of innovation for years to come.
Watch This Space
This is the kind of view of a dynamic industry that will be out of date a week from now. And it goes without saying that it's incomplete — there are companies that could fit into that map, and arguably several additional categories or sub-categories that could be added, too.
Want to keep up? Watch this space. Indeed, others are watching, too — see Raymond Blijd's work on LegalComplex, for more recent developments, sources and updates.
Facebook
Twitter
Linkedin