Can a stack of sticky notes, a pen, and a blank wall revolutionize your firm's legal work? Kanban, a system for legal project management, may do just that
Can a stack of sticky notes, a pen, and a blank wall revolutionize your firm's legal work? Kanban, a visual system for legal project management, may do just that.
What is Kanban?
Kanban is part of Agile legal project management. Agile is a methodology that will deliver the value of a legal project very quickly and allow user to interactively manage new risks as those risk come up. As part of the Agile methodology, Kanban is a technique that can make your legal project delivery faster and more nimble. Since it is self-organized, it is easily adapted to your needs and can be extremely responsive to any changes as they occur. Because it is so flexible, it is very well suited to the dynamic nature of legal work.
This article will first review how a Kanban method works and then will review the advantages it offers to a legal practice and how firms can get started.
How it works
A Kanban is simple. To start, a Kanban board requires nothing more than a blank wall, some sticky notes, and some masking tape.
A basic Kanban board has three columns:
Pending Work — a list of all known tasks for a project;
Work In Progress — a list of tasks that are currently being worked upon; and
Completed Work — tasks that are done.
To get started:
Write each task on a sticky note;
Add all the tasks to the Pending Work column;
Assign tasks and move them to the Work in Progress column; and
Meet daily with the team to adjust the tasks and review progress.
Basic Kanban example: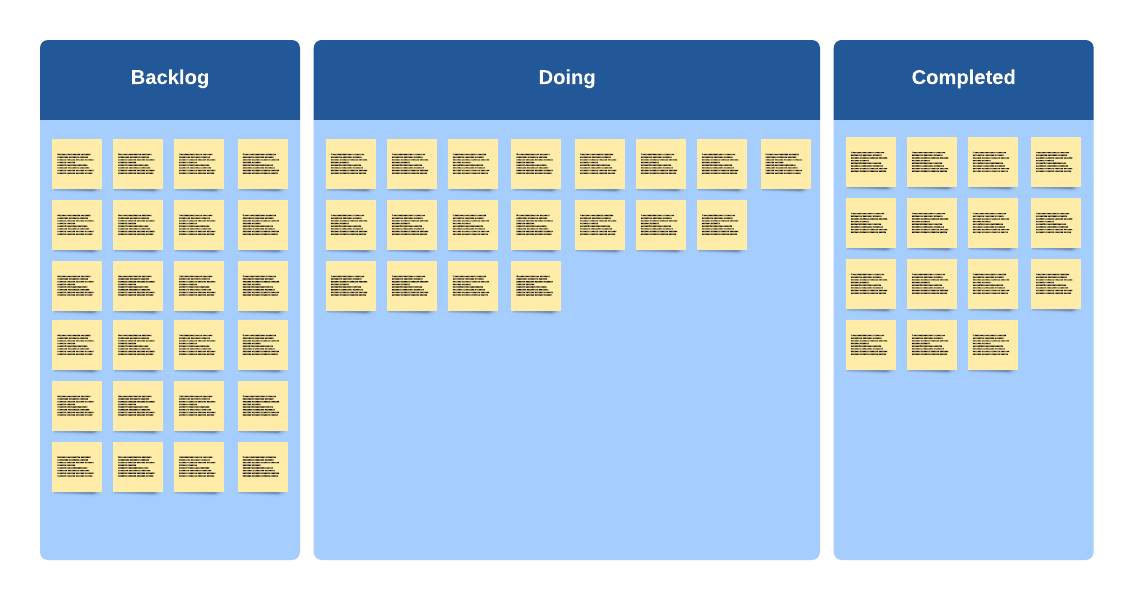 Growing your Kanban — Flexible & customizable
In practice, a Kanban board will rarely stay this simple as the above example. It will grow, adapt to your specific needs, and mature into an even better management tool.
To provide an example of how a Kanban can do that, let's grow our basic Kanban board (above) to the next level and tailor it for an acquisition project for an M&A practice group.
Advanced Kanban Example: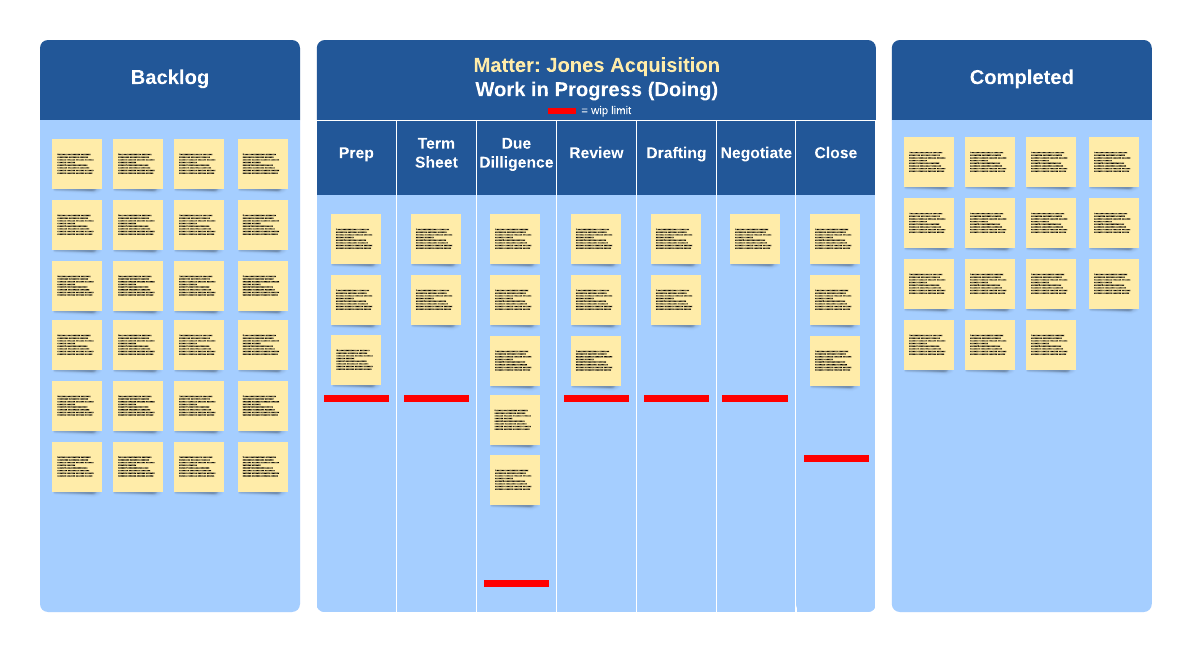 In the above Advanced Kanban example, the Work in Progress (WIP) column is divided up to better detail how a merger and acquisitions practice group might break down their workflow. This Kanban also shows how you can define a limit of how much of a certain kind of work can be done at one time (shown in red as WIP limit). Setting a limit on work can keep tasks flowing smoothly and help keep delivery on time.
Every law firm, every practice, and every client is different, so a more Advanced Kanban will be tailored differently for you.
Building a more mature Kanban
Over time and with practice, the Advanced Kanban (above) will mature. The mergers and acquisitions Kanban can be changed to show even more information about your client work process. Below is an example of how a more Mature Kanban might look:
Mature Kanban Example:
In the Mature Kanban example, additional columns have been added to show potential client work, the intake process, billing, and closure. This Mature Kanban also includes horizontal "swim" lanes to show work tasks for another related client matter. Color is used to differentiate between the two matters (yellow and green).
The structure of a Mature Kanban will grow, depending upon what you are trying to manage and at what level. It should be tailored to meet the needs of your practice and your clients. As such, it can be very flexible — your firm can create a Kanban for each practice team or for each client matter. How you shape it for your firm is wide open; however, your Kanban methodology must make sense for your firm, your partners, and your legal teams.
Benefits of legal Kanban
Like any good business owner, lawyers are not likely to embrace change unless it fits with how they work and brings real benefits. Of the various legal project management strategies that might be used by a law firm, a Kanban strategy can have the most tangible impact on lawyers' work.
It sounds almost too good to be true, but as an Agile legal project management method, the Kanban method is a well-regarded technique that will bring efficiency, agility, and speed to your legal projects. Using a well thought out Kanban board can also provide many other benefits, including:
Flexibility and agility — Daily meetings keep the project flexible as project bottlenecks or delays are quickly recognized and dealt with.
Transparency for partners — Partners and managers can easily see the bigger picture of how work is progressing.
Transparency for the whole project team — Each team member can also see the big picture, including more detailed insight into progress, workload, and obstructions.
Focus on delivery — A Kanban-style agile team is only focused on the work that's actively in progress.
Easy to learn — Kanban is simple to use and does not require a lot of training to get started.
Shorter meetings — Time spent in meetings will decrease and the meetings themselves will become more effective as team members become more experienced.
Adaptability — Because Kanban boards are so flexible and adaptable, they can dovetail with other legal project management tools your team may already be using.
Lowered risk — Risk can be limited as problems are quickly identified and changes are addressed.
Work process improvement — Project teams can easily identify duplicative or reusable work, evaluate the effectiveness of current work processes, and improve them.
Scalability — A Kanban can effectively work for legal matters large and small.
Getting started
Is it easy to do? Yes and no. A Kanban method is simple to start, but making a Kanban effective for your legal team requires some thought, effort, and planning. Here are some tips to getting off to a good start:
Management support — Support and input from firm partners is critical to understanding the method's requirements and having a successful Kanban.
Project team support — Kanban boards are an egalitarian process. Experienced project teams know your workflow, and their input and active participation are critical in building a Kanban that works well.
Start small and build bigger — Begin with a small group of people and do a trial Kanban to refine your process.
Plan, plan, and plan — To create a Kanban that works for your firm or practice group, think through your work process first. For example, what categories work best? What information do you want on the sticky notes? What work processes do you want to track?
Seek understanding — A Kanban board should be used daily by your project team so that the operations and customizations are clearly understood by all.
Don't buy software — To begin, start with a handful of sticky notes and a wall. Understand your needs, then look to find software that fits those needs.
Hire a consultant or a coach — Having an experienced expert guide your first steps is a shortcut to success. A good coach will listen to your needs and help you adapt Kanban to your legal team.
Kanban as change agent
Adapting to a Kanban method can be quite a challenge for legal project teams that may not be used to concentrating on iterative smaller projects, with daily status meetings that involve intense collaboration and constant communication. In this, a Kanban can be an agent of change within your firm. Because of how quickly it moves, a Kanban board can motivate team members to take responsibility, communicate more often, and work more quickly.
In today's fast-paced legal market where everything must be done faster and better, using a Kanban can help your practice group and your firm meet that need for clients. This is a competitive edge that can't be ignored.
Facebook
Twitter
Linkedin