In a new blog series, we will look at how corporate law departments can use metrics to better align with their own strategic priorities and those of their companies
At the onset of a new year, it's normal to reflect on the year behind us — what we have achieved or learned — and to set ambitious goals for the year ahead. Too often, however, these goals are unrealistic and remain unachieved for the remainder of the year. To counter this, experts recommend digging deep into the why for each goal you set in order to build a stronger commitment to it and enable a greater chance of reaching it.
In the corporate world, strategic priorities set the stage for this kind of goal setting. So where are corporate law departments focusing this year?
In our annual study of the legal market, we asked roughly 400 law department leaders to tell us about the key strategic objectives and challenges their departments were facing. We wanted to go beyond specific legal matters to help us understand where law department leaders are turning their focus in the year ahead.
We discerned four main areas on which department leaders indicated they were focused. These included providing an effective delivery of legal work, doing so efficiently, proactively safeguarding against risk, and investing in the talent development of the legal team for the long term.​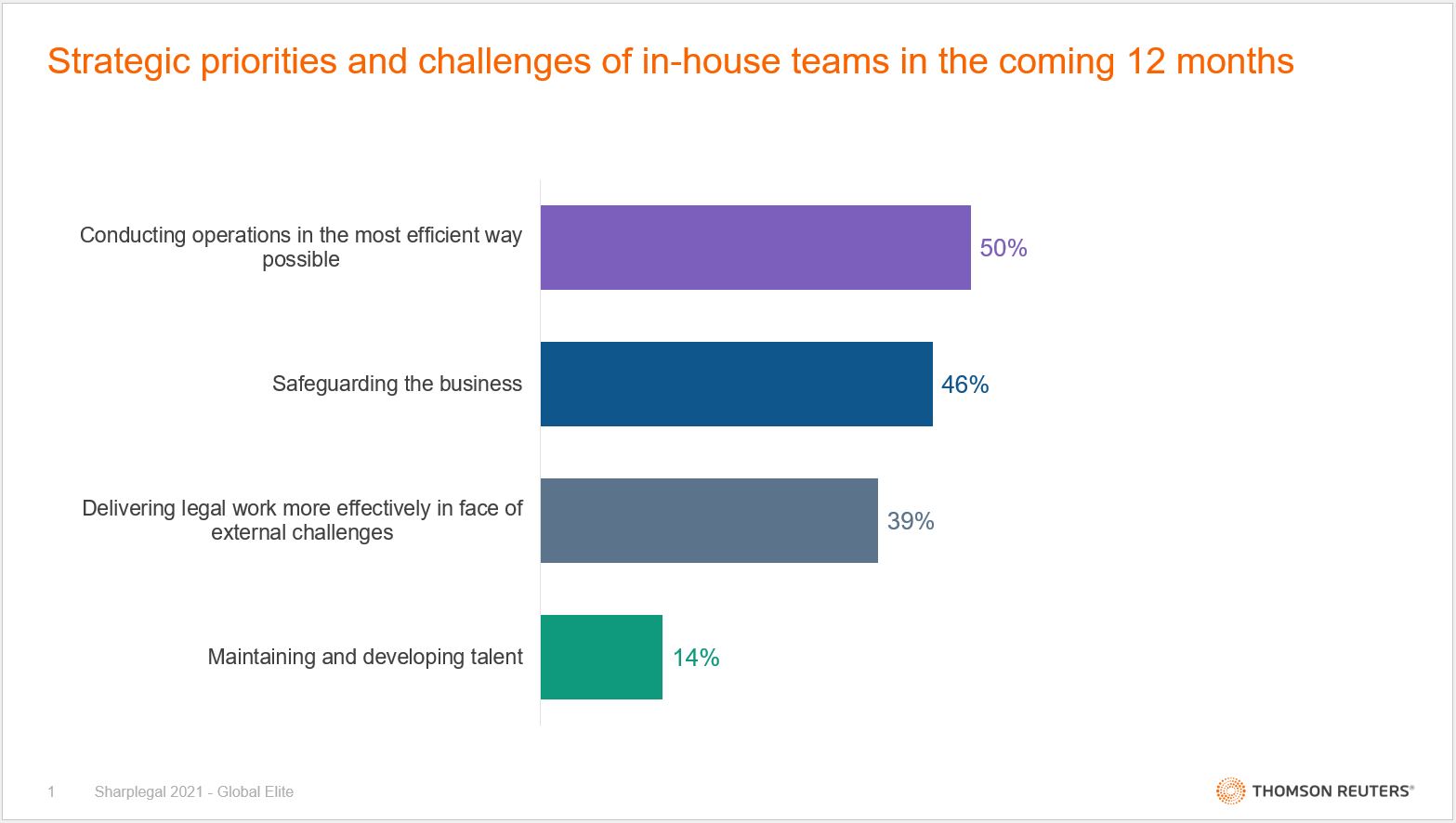 Efficiency of operations
Half (50%) of our law department respondents were clear that efficiency is their number one priority. This means managing the growing pressure from the business to handle or reduce costs without compromising the department's ability to deliver quality legal service even in the face of an increasing workload. For many, the pressure to do more with less has pushed them more quickly toward technology solutions and digitalizing operations while others focus on driving more efficient operations and processes.
One respondent cited the challenge of catching up with the digital era and modernizing how the department does its work. "I mean getting on board with e-billing, internal matter management systems — we really need to evolve to become more modern," they said. "Which often means just using the technology that's there that, but we aren't using."
Safeguarding the business from risk
Almost half (46%) of respondents said they are focused on protecting the organization from risk — much of which comes in the form of an almost constantly shifting regulatory and compliance landscape.
For a global corporation operating across many jurisdictions, the first question often is how to keep up with changing regulations across multiple geographies? And second, how to communicate the implications of those changes to the wider business?
Besides complex and changing regulations, many corporations are still dealing with the impact of the COVID-19 pandemic on their business, while others are trying to avoid the risk of litigation by anticipating and mitigating such risks preemptively. And of course, cybersecurity and data security are also high on the list of concerns for many law departments.
Safeguarding the business as a category of concern has increased the most since 2019, with the pandemic introducing risks that were not present two years ago.
"The challenge nowadays is, for lack of a better word, the regional regulatory madness," said one survey respondent who works in the law department at a retail company in Spain. "Every day there are new regional regulations, and we are the ones responsible for keeping the entire organization updated with each regulation because it affects us."
Effective delivery of legal work
The next most frequently mentioned area by more than one-third of respondents (39%) is how their law department can adapt to the new and dynamic set of external pressures to continue running the legal function as effectively as possible.
Some businesses found new growth opportunities in the pandemic. The digitalization of services due to remote working and lockdowns meant growth for a lot of tech companies, for example, so the big challenge facing their law departments is rapidly scaling the activity of the department itself.
Another area of focus is improving the level of integration between the law department and the rest of the business so that the department can become an enabler of the business's overall strategy.
Interestingly, factors relating to the effectiveness of the law department have been mentioned less often in 2021, but it is still a concern for about two-in-every-five department leaders as they seek to meet their companies' strategic goals and facilitate business growth.
"Because we just merged, [the challenge] is integration," said one department leader at a U.S.-based engineering company. "The current legal function in the two firms is critical, so supporting the day-to-day operation internally with basic needs of the organization, trying to understand what's needed, and then being responsive."
Talent development
The fourth area, mentioned by a smaller group (14%) is all about developing and retaining talent. As we experience the Great Resignation spurred on by much reflection by individuals on their position in life, at work, and in their careers, employers have been forced to think hard and long about their talent strategy and how best to attract, retain, and develop the right people and skills in-house for the longer term.
Talent is another issue that is occupying minds of general counsel more now than two years ago as the pandemic has transformed the way we work. Here, the priorities are to attract and retain high quality talent, to manage a transition to hybrid working as a more permanent feature of work life, and to ensure good collaboration across the team.
"Coming out of the pandemic there are people who are stepping back, moving away, and moving on, so retention and recruitment are the other priorities," said one survey respondent. "It has been a tough year in that regard — you're trying to keep the hearts and minds of people globally when you can't see them. I meet with them regularly, but the opportunism from other companies is taking its toll."
---
Next in this series: Mind the gap! The mismatch between what corporate law departments are trying to achieve and what they are measuring
Facebook
Twitter
Linkedin