In the latest Reuters Newsmaker interview, Spain's Prime Minister Pedro Sanchez made the case that Spain is well-positioned to help lead Europe out of the pandemic and into a more sustainable, ecologically sensible future
Though a meeting with President Joe Biden is not on his schedule, Spain's Prime Minister Pedro Sanchez is visiting the United States to meet with potential investors to sell them on the country's vision of becoming a sustainable and progressive leader in Europe.
Upon landing in New York, Sanchez said in a Reuters Newsmaker interview that he planned to visit business leaders in Los Angeles, San Francisco, and Silicon Valley in hopes of convincing them to invest in Spain's post-pandemic economic recovery.
Sanchez said he wants to raise $500 billion in private investments, which would be used to "transform and modernize" Spain's technological infrastructure and hasten the country's adoption of green policy initiatives — from renewable energy, electric cars, and charging stations to energy-efficient buildings, emission-friendly agriculture, and country-wide expansion of 5G.
"Spain is establishing a roadmap for recovery," Sanchez told Reuters Newsmaker. "Vaccination means economic rebound, but we have to understand that we cannot do the same thing as we did before the pandemic. We need to modernize our economy, and that is why I am here to talk to investors." Meetings with Blackrock, Netflix, and Zoom are planned, he acknowledged, as is a tour of Apple's headquarters in Cupertino, Calif.
A progressive political vision
A secondary purpose of Sanchez's visit is to persuade American business leaders — and perhaps other world leaders — that his progressive socialist government has the political vision and will to meet this pivotal moment in world history. In addition to the U.S. investment dollars he hopes to attract, Sanchez noted that the European Union will funnel $162 billion to Spain over the next six years, 48% of which will be devoted to Spain's ecological transition; 28% to digitization and technology; 10% to innovation; and roughly 7% to educational reform and vocational training.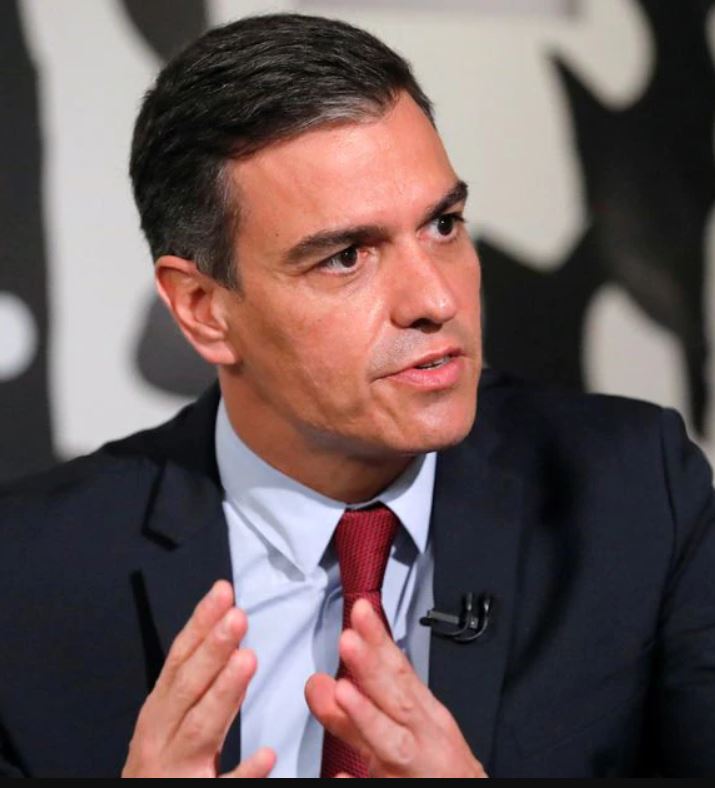 This degree of spending in so many critical sectors of Spanish society will no doubt be presented to U.S. investors as an historic opportunity. "We are entering in Spain a period of intense reform, the pace of which we haven't seen since the beginning of our democracy [in the 1970s]," Sanchez proudly proclaimed. Though Spain was hit early and hard by the pandemic, resulting in a 10.8% drop in GDP last year, Sanchez said the Spanish economy grew 2.5% last quarter and is projected to grow at a rate of 6% to 7% for the next couple of years.
In addition to a detailed framework for reform, Spain also has more economic momentum than most other countries, Sanchez added, because "we don't have a vaccination rejection movement in Spain" — an obvious dig at some U.S. citizens who refuse to get vaccinated. Spain's high degree of civic cooperation means 70% of the Spanish population will be vaccinated by the end of August, Sanchez said, adding that the country will begin vaccinating its youth very soon as well.
Opportunities in Spain
In his pitch to investors, Sanchez must walk a fine line between presenting Spain as a country that is simultaneously at the forefront of post-pandemic economic recovery and in urgent need of investment in technology, infrastructure, and education. For investors, the "opportunity" here is to help Spain accelerate its digital transformation and seed business opportunities that could be expanded to other parts of the world. "The U.S. understands the potential role we could play in Latin America," Sanchez said, "not only in Cuba but in Venezuela, Argentina, and Mexico."
And while the purpose of his trip is to woo U.S. investors, Sanchez is also taking this opportunity to speak to the rest of the developed world about the importance of aggressively addressing climate change, an issue on which he has staked his entire political future. "The fact is, climate change is with us, so we have to adapt and mitigate climate change's effects," Sanchez explained.
After rattling off a familiar list of green initiatives that progressives have been pushing for years, Sanchez also acknowledged that not everyone in the world is sold on such a rapid transformation of society, even though he clearly thinks they should be. "It's key that this transition has an inclusive perspective, not an elitist perspective," Sanchez said, adding that "it's important not to fear this transition, but to see that digitalization could create a very positive means to guarantee major prosperity for all."
A noble sentiment, to be sure, but one that runs headlong into such controversial ideas as the carbon border tax that the European Union plans to implement by 2026. Sanchez supports the border tax, saying "it's a matter of having a level playing field" for commerce with countries that aren't quite so concerned about their carbon emissions. But Sanchez also recognizes that a carbon tax could raise prices for gas and other commodities in the European Union, and said European leaders should consider subsidizing low-income people to prevent the carbon tax from exacerbating inequality.
The pitch for carbon-neutral socialism
In the U.S., Sanchez's basic sales pitch to investors is "if you scratch our back now, we'll scratch yours — later." It remains to be seen how successful that pitch will be, but Sanchez is a charismatic leader who knows how to sell Spain's version of carbon-neutral socialism to progressive-minded capitalists.
"We have the framework and public funds and political will" to help lead Europe and the rest of the world into the post-pandemic future, Sanchez insisted. He also intimated that his country's early pandemic struggles have made it better prepared than other countries to take on a leadership role in the post-pandemic world. "Spain showed during the pandemic a strong resilience, a strong capability to adapt ourselves to this new age that we are entering after the pandemic."
Of course, those capabilities will be a lot stronger if Sanchez can persuade investors to give him $500 billion.
California, here he comes.
Facebook
Twitter
Linkedin