A new report from the Thomson Reuters Institute and Tax Executives Institute finds many corporate tax departments lacking the infrastructure to take advantage of new technologies, but also a willingness and desire to change
Today's corporate tax departments are playing catch-up when it comes to technology. For example, many departments don't have a point person for technology strategy, budgets remain nebulous and perhaps not owned by the tax function, and training for personnel remains infrequent, if at all.
And yet, there is reason for hopefulness, those in corporate tax say, as they see a future with greater artificial intelligence (AI) adoption, increasing technology budgets and personnel, and overall climbing technology maturity throughout the department.
The Thomson Reuters Institute has partnered with Tax Executives Institute to release the new 2024 Corporate Tax Department Technology Report, that charts attitudes and usage of technology in today's corporate tax departments. Based off a survey of 171 corporate tax professionals in a variety of industries and company sizes, the report finds a corporate tax world with fledgling technology capabilities, but one that is also aware of its flaws and is looking to improve.
In total, many respondents believe their tax department is approaching technology from an immature standpoint. The majority of respondents categorize their department's technology maturity as either chaotic or reactive, designations that mean those departments may be using some databases or third-party software but are not fully integrating their technology within their workflow. Only 8%, meanwhile, view their department's tech maturity as optimized or predictive, meaning one that leverages analytics-driven decision-making and automated workflows.
This maturity posture reflects some of the other findings in the report, which reveal tax departments looking to upgrade technology, but not necessarily having the infrastructure to implement tech properly. Just half of respondent departments, for instance, reported having a dedicated person in charge of technology strategy. More than 80% said their departments were either somewhat competent or not competent with regards to technology. And only 57% said their department provides technology training to tax professionals.
Yet despite this current atmosphere, there are signs that corporate tax departments are looking to increase their technology usage. More than three-quarters (78%) of respondents said they expect an increase in their department's tech usage over the next 3 to 5 years, and about two-thirds said they expect tech budgets to rise over the same period. Technologies such as tax data management, tax workflow management, country-by-country reporting, and the use of tax analytics and key performance indicators (KPIs) are expected to grow in use by more than 10 percentage points over the next 12 months. And while just 4% of respondents said their departments are active users of AI today, 28% are exploring it, and 44% are considering its use.
Taken together, it's perhaps no surprise that most respondents feel positive about technology's impact on the corporate tax department of the future. In fact, when asked about their sentiment towards the future of tax technology, respondents had one dominant emotion above all others — hopeful.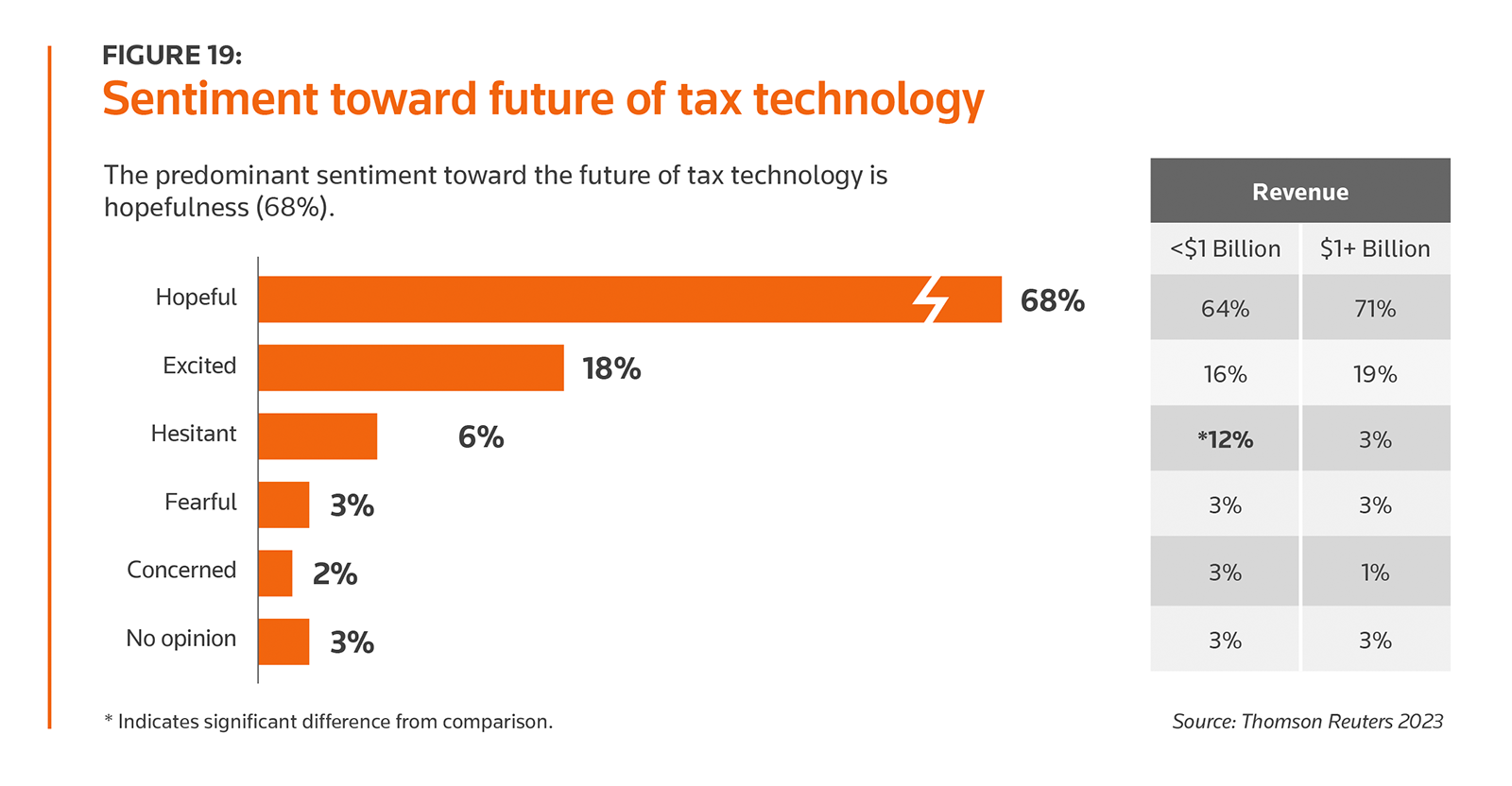 As a result, while many corporate tax departments many not have the infrastructure to institute next-generation technologies today, that may change in the future as technology's role within the department grows.
"I think AI is a great tool, but I think it's far too early to say that it's going to transform the tax department," explained one survey respondent. "Perhaps for a very large department with dozens of employees, but for a relatively small tax department, I think AI will provide more of an assistive function rather than a huge overhaul. I think technology adoption will only continue to grow, however, as generations become more accustomed to technology and its potential."
---
You can download a full copy of the 2024 Corporate Tax Department Technology Report, from the Thomson Reuters Institute and Tax Executive Institute by filling out the form below:
Facebook
Twitter
Linkedin