In the new "2023 Corporate Global Trade Survey Report" from the Thomson Reuters Institute, we look at the disruption and technological advancement in the global trade sector
How are companies prioritizing their trade strategies in the face of almost constant disruption — from inflation, rising costs, supply-chain shortages, international conflicts, regulatory changes, transportation issues, and much more?
In the new 2023 Corporate Global Trade Survey Report from the Thomson Reuters Institute, we examine that question along with the role technology plays in managing and mitigating the risks posed by an uncertain trade environment, especially as more companies gravitate toward cloud-based, networked systems and software that provide expanded visibility into — and control over — every aspect of the supply chain.
Now in its second year, the report offers global trade executives and managers a comprehensive, in-depth analysis of the many issues and trends driving decision-making about trade at companies around the world.
In addition to external factors affecting worldwide trade, the report also examines the persistent talent and skills gap in the corporate trade professions, especially when it comes to hiring people with both international trade experience and technical know-how. And in a new section this year, the survey offers a first glimpse at how global trade professionals are viewing the increased responsibilities associated with the burgeoning environmental, social & governance (ESG) movement in corporate reporting.
In compiling the report, the Thomson Reuters Institute surveyed more than 175 trade professionals from the United States, Canada, Mexico, the European Union, the United Kingdom, and Latin America. Most survey respondents were upper-level executives, directors, and managers involved in various areas of global trade, including operations, logistics, procurement, supply-chain management, and compliance.
Key findings
A few key findings of the 2023Corporate Global Trade Survey Report include:
Only 28% of the companies surveyed say they are currently affected by Russian sanctions — down from 39% in 2022.
62% of survey respondents rated "supply chain security and data protection" as their top technology priority in 2023, up from 54% in 2022.
65% of companies with more than $100 million in revenue say they are implementing technology upgrades to meet growing data and reporting demands.
88% of businesses collect information for ESG purposes from their suppliers at least once a year.
More than half (57%) of companies surveyed outsource some aspects of global trade or supply-chain management, mainly because they cannot find qualified people to fill key roles.
Insights and priorities
In addition to the latest data on issues and trends affecting global trade, the report contains a wealth of insights about how multinational corporations are responding to the myriad challenges they face.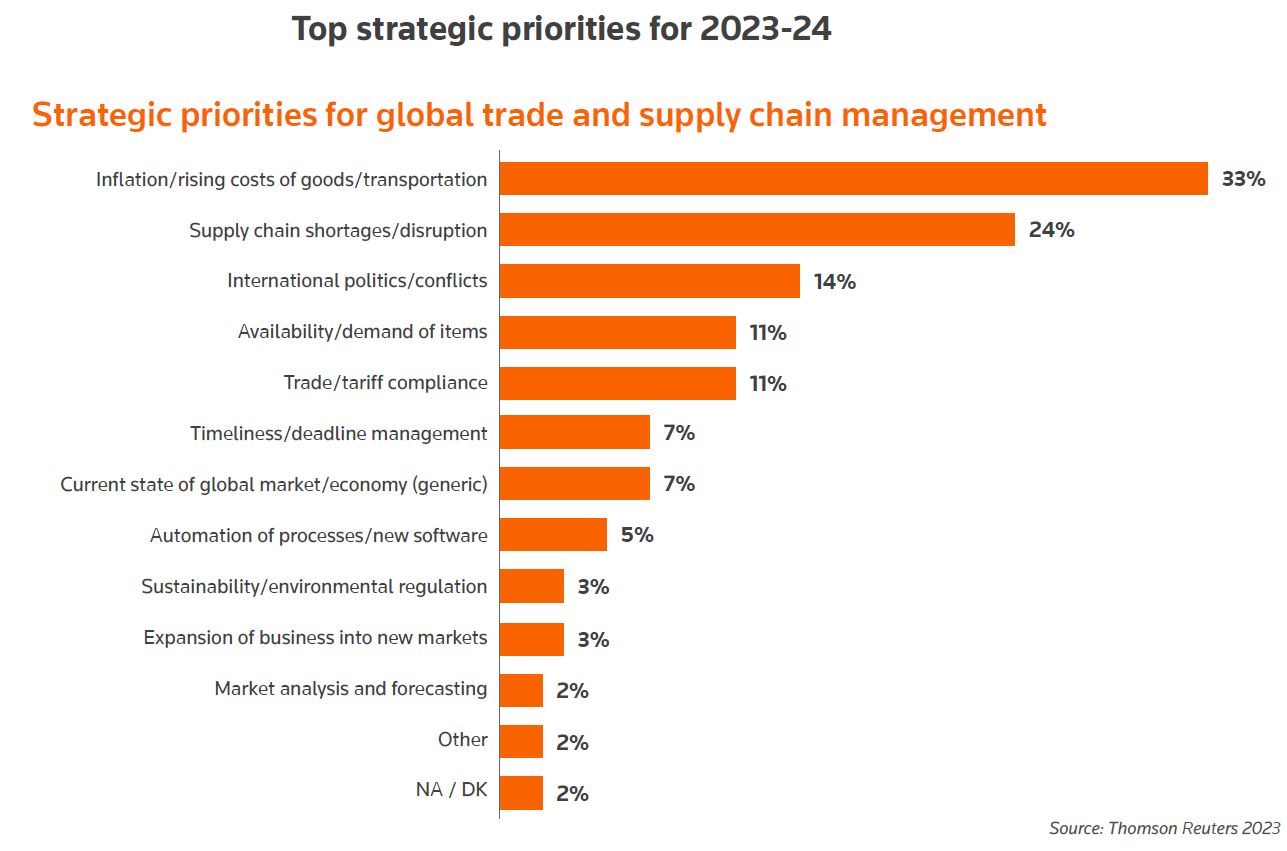 For example, the operation of modern supply chains requires at least some automation of key processes, and an awareness of how global trade management technologies can improve workflow efficiencies, provide greater supply-chain visibility, and generate business intelligence. In general, companies that have invested heavily in global trade technologies enjoy a competitive advantage over companies that haven't, so all companies must decide where their technology investment will have the most impact.
For corporate leaders weighing such decisions, the 2023 report contains up-to-date data and analysis about how companies of all sizes are prioritizing their investment in trade technology. The report also provides benchmarks that leaders can use to compare their own technological development with that of their competitors.
The same is true of ESG compliance — the report offers one of the first data-based inquiries into how and why companies are expanding their efforts to meet emerging environmental, labor, and human rights standards. More importantly, the report sheds light on how the gathering of ESG data — on labor practices, corruption, waste-management practices, carbon emissions, and more — is adding to the responsibilities shouldered by global trade professionals, as well as how trade professionals and companies of different sizes are prioritizing the time and energy that they put into ESG reporting.
Finally, the report examines how companies are changing their resourcing and recruitment strategies to address the ongoing skills gap in global trade jobs. Specifically, the report details the extent to which technology and outsourcing are being used to fill these perceived gaps, even as companies step up their efforts to recruit and train people for new roles that require both trade knowledge and technological acumen.
---
Facebook
Twitter
Linkedin