It's vital that law firms learn to run effectively as businesses & in the new "Small Law Firm Business Leaders Report", we examine how they're doing this
In today's legal market, it's vital that law firms learn to run effectively as businesses. Many are making strides in that direction, yet partners and business managers at small law firms are still likely to face challenges unique among participants in the legal marketplace.
Small law firms are more likely to adhere to an older model of law firm business management in which the various business functions within the firm are divided among the partners, creating a tension of duties. In these instances, the finance partner, library partner, marketing partner, and even managing partner must divide their attention between the sometimes dueling requirements of the business side and the partner side of their role.
This dichotomy often and understandably results in the partner side of the role prevailing because partners are compensated first and foremost as partners. The execution of the business side of their roles does not weigh as heavily on the scales of their personal success as do the number of hours they bill.
---
---
However, the business operations of the law firm cannot be neglected without consequence; even though, without an attorney's ability to practice law, the business of the law firm will fail because it will not make any money. Yet, equally true is that without effective business management, the attorney's practice of law will suffer and potentially fail, because they are unable to keep their practice operating.
For small law firms, particularly those with fewer than 50 attorneys, this can pose special challenges. Unlike their larger law firm counterparts, small law firms are more likely to lack robust business back offices to manage the firm's administrative affairs. Thus, the dichotomy of professional roles is made all the more acute.
Even prior to 2020, the responsibility for managing the business of law firms begin to shift away from partners and toward professionals specifically tasked with running the business, and it was these professionals we sought to speak to in the most recent Small Law Firm Business Leaders Report.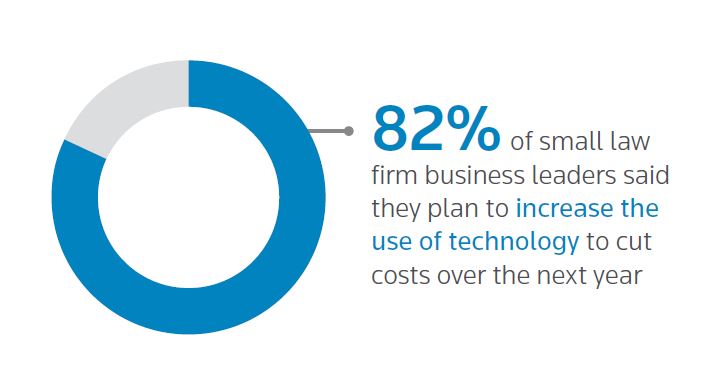 While not as common among smaller firms, these professionals play a vital role. They bring with them different experiences and viewpoints, which in turn offers them a different perspective on the state of the legal market and how to best meet today's challenges. Even small law firms that have not hired business professionals to manage their operations will benefit from the perspectives offered, as it is always worthwhile to seek out the perspective of experienced experts and professionals.
Understanding the business mindset
The Thomson Reuters Institute, in collaboration with our partners at the Georgetown Center on Ethics and the Legal Profession, and the Association of Legal Administrators, introduced the Small Law Firm Business Leaders Report to better understand the outlook and mindset of these professionals.
Some key findings from the report:
Economic concerns top the list of identified threats to profitability, but small law firm business leaders are also still keenly attentive to how their own staff members and attorneys perform.
Overall, firm business leaders are optimistic on their future outlooks, but are quite guarded in terms of future expenditures.
While controlling costs is a key concern for small law firms, such firms are hesitant to consider outsourcing many of their functions, with the exception of e-discovery and IT support services.
While many small law firms say they are looking for technology solutions and were planning to use or upgrade certain tech tools — such as matter management analytics, E-billing, document automation, and collaboration tools — to solve some of their strategic issues, other firms are still hesitant to adopt such solutions, leaving them at risk of falling behind.
Law firm business leaders say they feel empowered to drive change, but the majority also feel at least some degree of resistance from the partners at their firm toward changing their firm's legal service delivery model.
As we reported earlier this year in the State of U.S. Small Law Firms, today's small law firms face no small number of challenges. The business professionals running these firms certainly recognize that reality as part of the issues they must confront to help build and grow successful firms.
Facebook
Twitter
Linkedin