The idea of "doing more with less" has become a commonplace part of daily life among corporate GCs, but what can law firms do to help them?
The past five years have seen a great deal of change from developing technologies, evolving work practices, and a constantly shifting regulatory landscape around the globe. While high-impact technology improvements, including the development of generative artificial intelligence (AI), has gathered a lot of attention, we now will focus instead on our recent interviews with corporate general counsel (GCs) to understand how the evolving market conditions — rather than technological innovations — impact the responsibilities of GCs today.
A key indicator tracked by Thomson Reuters Market Insights is the health of the market; specifically, understanding on balance whether growth in corporate legal spend is likely. On the whole, GCs are incredibly adept at protecting their budget for legal spend, showing remarkable resilience during challenging market conditions, with very few fluctuations year-on-year while demonstrating positive signs of growth.
In the past five years, however, we have seen unprecedented challenges, in the shape of the global pandemic which caused huge swathes of the market in every region to shut down at various times. Despite this, the market recovered fairly quickly and retained a net positive level of spend optimism.
Since this impact, we also have noted that spend optimism levels have increased to heights not seen pre-pandemic, even as almost 70% of GCs report experiencing pressure from senior business leaders to control their legal costs, according to Market Insights data from Q1 2023.
This is the tricky situation GCs find themselves in, ensuring on one hand that their organization is supported with high-quality external legal counsel to manage risk posed from constantly changing market conditions, while on the other, doing so within the financial ambitions of their organization. To do this, there has been a notable shift in the drivers of favorability seen among the GC community over the past two years. And those external law firms and lawyers that are able to demonstrate an understanding of individual business needs and bring in wider commercial acumen to their legal advice are standing out more prominently in GCs' minds.
How can law firms help?
Law firms can support those clients that are facing this challenge by demonstrating added value within their client relationships. A key area in which law firms can stand-out in is by building into client conversations clear references to the tools, technology, and processes the firm already is utilizing to ensure efficiency is provided on work matters. This is an opportunity for law firms to lift the curtain, so to speak, and give a behind-the-scenes perspective to their clients. This could prove immensely useful, since ultimately clients don't know what they're not being told.
By engaging in conversations at this level, not only does the law firm build a sense of transparency and added value, but it simultaneously arms its clients with information that matters most to business leaders — the cost-benefit-risk analysis needed to make sound business decisions in line with an organization's risk threshold.
Many client organizations have a dedicated risk management team outside of the corporate legal team; however, this does not mean that GCs are sidelined from senior-level discussions on risk management.
In fact, at the end of 2022, key strategic priorities for corporate clients included compliance with regulatory changes as well as litigation prevention. The increased spend allocation over the past three years on regulatory legal support further emphasizes that GCs are closely in touch with identifying and mitigating risk.
This of course presents another area of opportunity in which law firms can support their clients to build greater value and long-term relationships. Indeed, roughly 70% of GCs in the market don't feel fully protected from risk despite many having risk mitigation in place, according to Market Insights data from Q2 2023.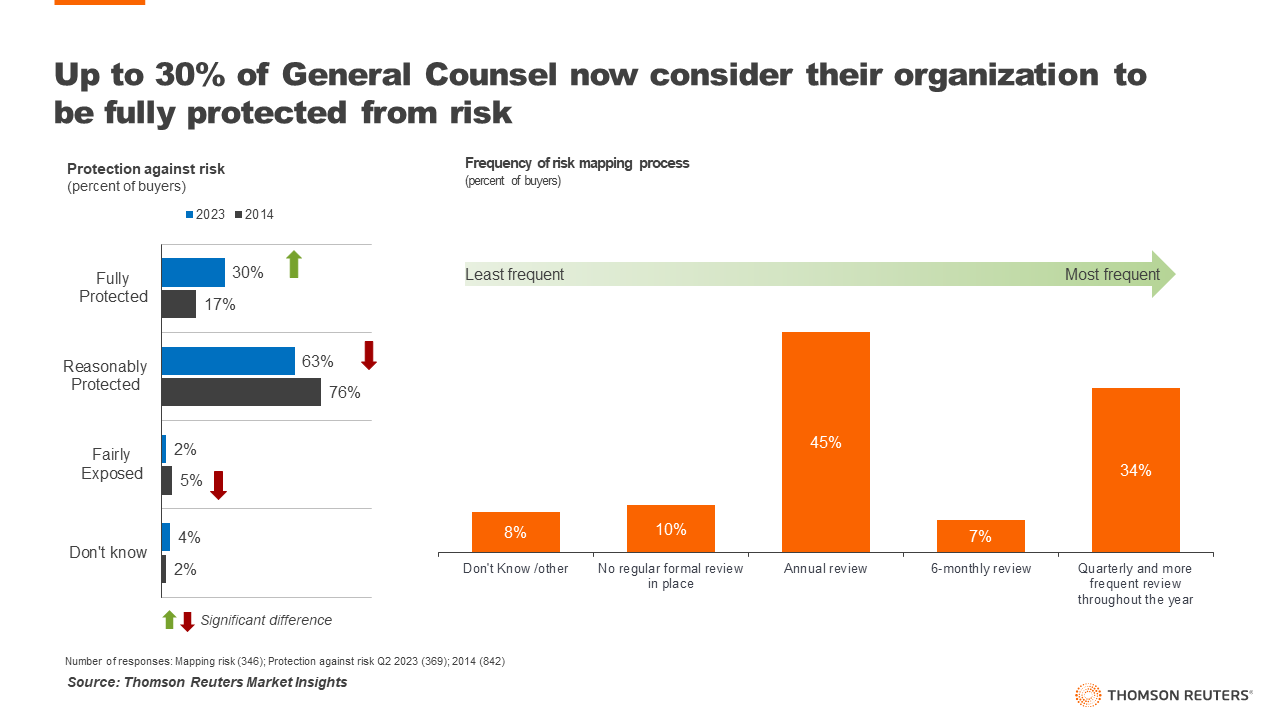 Tapping into clients' formal risk review processes offers another touch point to ensure a law firm's brand remains top of mind, especially when the very risks which you have been discussing with clients end up becoming their reality. While many clients undertake annual reviews of their risk, it's important to note that one-third of clients are conducting quarterly or even more frequent reviews of their risk.
Therefore, engaging with clients on risk management should not purely be viewed as a once-a-year opportunity, but rather an ongoing dialogue, while also giving firm lawyers a chance to bring their wider market knowledge on tools and technologies.
Differing levels of sophistication exist among client organizations around their risk management processes — from clients who design and run their own AI intelligence software, to those who have a methodology but no supporting tools or technology. Law firms who advise on alternative options that could be brought in-house to support GCs in tightening their risk management process will create client loyalty and demonstrate wider commercial acumen, which is a key driver of client favor.
Bringing in these wider commercial pieces and being conscious and considerate of the very real pressures organizations find themselves facing can go a long way to not only building strong relationships with GCs but ultimately supporting that privileged access to the corporate boardroom.
While law firms may view the GC as a gatekeeper to the C-suite, they can turn this paradigm on its head by understanding that increasing numbers of GCs feel less confident in their voice with the board. Those law firms that can work alongside their GC clients and make them look good in front of their board are more likely to see more doors open for the firm itself.
---
Facebook
Twitter
Linkedin