As law firms look to increase efficiency, lower costs, and improve their value proposition to clients, they are increasingly exploring outsourcing of support staff roles as a key option
In today's ever-evolving legal landscape, law firms are continuously exploring strategies to optimize their operations and improve efficiency. One notable trend that has gained significant traction in recent years is the increased outsourcing of support staff roles.
Indeed, key findings in the recently published Thomson Reuters Financial Insight's 2023 Staffing Ratio Survey shed light on the growing prevalence of outsourcing in the legal industry. And by examining the reasons behind this shift and the potential implications for outsourcing from emerging technologies such as artificial intelligence (AI), we can gain valuable insights into this evolving phenomenon.
The recent survey included responses from 61 law firms, of which 39% were Am Law 100 firms, 33% were Am Law Second Hundred firms, and 28% were Midsize law firms.
Growth of outsourcing
From this sample of firms, approximately two-thirds said they had outsourced at least one role in 2022, which is a slight increase from the previous year's report. Within this group however, about two-thirds said they witnessed an increase in their outsourcing compensation per lawyer or cost per lawyer (CPL), indicating that there is a growing trend of law firms outsourcing more staff and relying increasingly on external service providers to handle certain job functions relative to the lawyer headcount growth within the firm. What we observed from the law firms that outsource was a remarkable 6.3% increase in their outsourcing spend per lawyer in 2022, nearly in line with the historic growth rate of 6.8% (fastest growth in recent memory) witnessed in the previous year.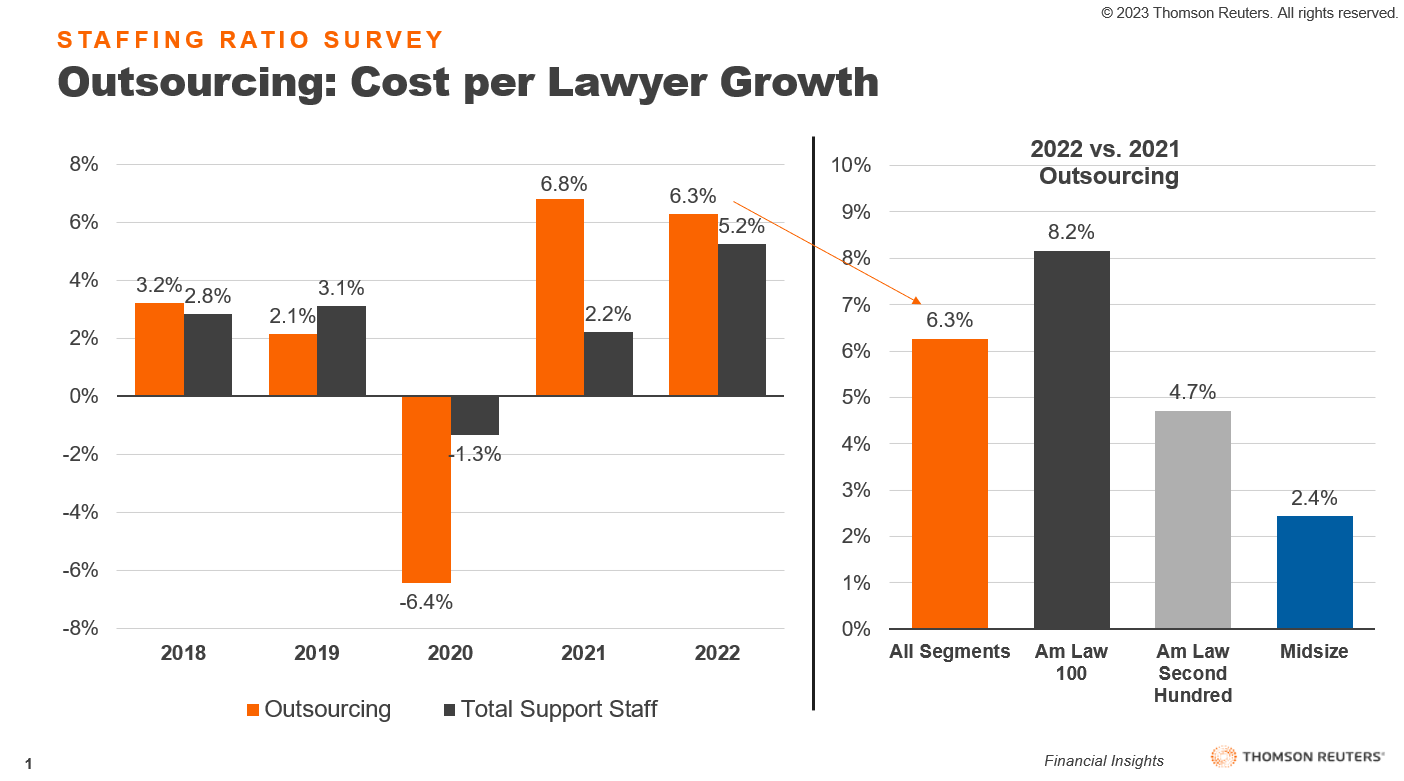 To place 2022's CPL growth in perspective we looked at outsourcing spend since 2018. On the left side of the chart shown above, we can split growth periods into three sections: in 2018 and 2019, outsourcing growth aligned with overall support staff growth, representing a period of relative normalcy; the next phase, 2020, saw firms enter pandemic-era levels of outsourcing spend, where growth sank far below support staff contractions during an increased period of discounts from outside vendors and reduced in-office operations; and in 2021, firms rebounded to more normal levels of operations, and outsourcing growth returned, aided from depressed baselines of the previous year.
In 2022, we saw outsourcing growth remain steady while simultaneously surpassing all total support staff compensation growth — a turnaround since the pandemic. What this suggests is that the upward trajectory of 2022 is not merely a baseline or rebound effect but rather a sustained trend reflecting the evolving staffing and outsourcing strategies adopted by many law firms.
Leading the way in this shift were Am Law 100 firms, which increased their outsourcing spending 8.2%. Both Am Law Second Hundred and Midsize law firms fell below the all-firm average; however, each segment's growth was an increase from the previous year's results, suggesting that even the firms that have been more cautious towards outsourcing are beginning to see the potential benefits.
Among those benefits, possible cost savings is one of the most apparent. A cost comparison between in-house and outsourced full-time equivalents (FTE) for the same role revealed an average savings of approximately $20,000 per FTE.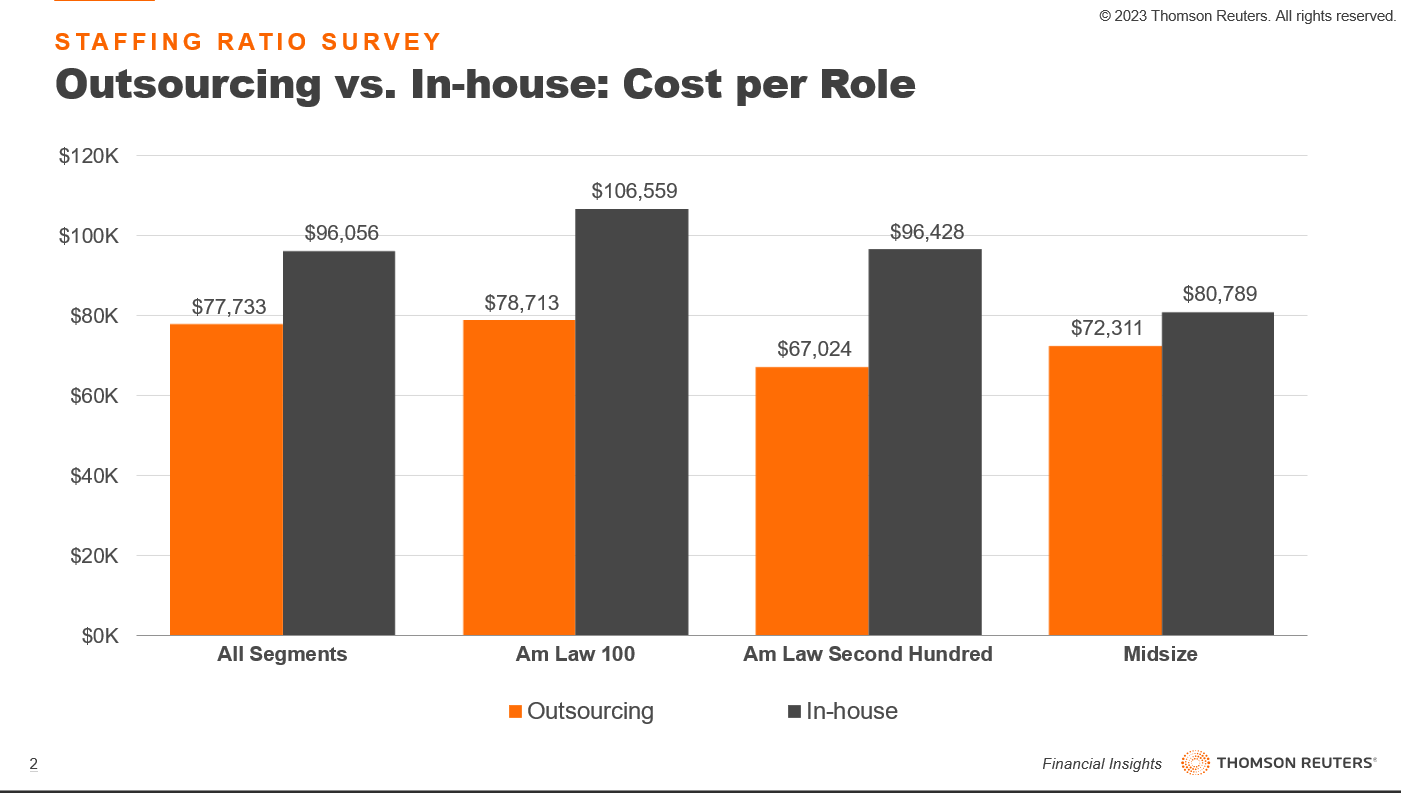 Further, these cost savings tend to be greater the more work that firms outsourced, which can be seen by the relatively greater savings realized by Am Law 100 and Second Hundred firms compared to their Midsize counterparts. Now, this may be a chicken-and-egg scenario where firms that outsource more do so because they are able to realize greater savings, or maybe these firms leverage economies of scale and see greater savings because they outsource more. Either way, there is a positive correlation between the extent of outsourcing and cost-effectiveness.
While the elevated growth seen this year in outsourcing does largely come from a financial perspective, the growth is also spurred by an increase in firms turning to vendors for their specialized expertise, their potential for scalability, and their access to technology. It will be interesting to see where this goes once generative AI fully enters the outsourcing picture.
AI implications of outsourcing
A recent survey conducted by the Thomson Reuters Institute examined the awareness, attitudes, and use of ChatGPT and generative AI in law firms. While the majority of respondents were aware of AI technologies and recognized their potential in legal and non-legal work, only 19% reported their firm's current usage of these technologies. This presents a significant opportunity for growth in AI adoption, particularly in areas most identified as potential uses cases such as knowledge management, back-office functions, and memo drafting.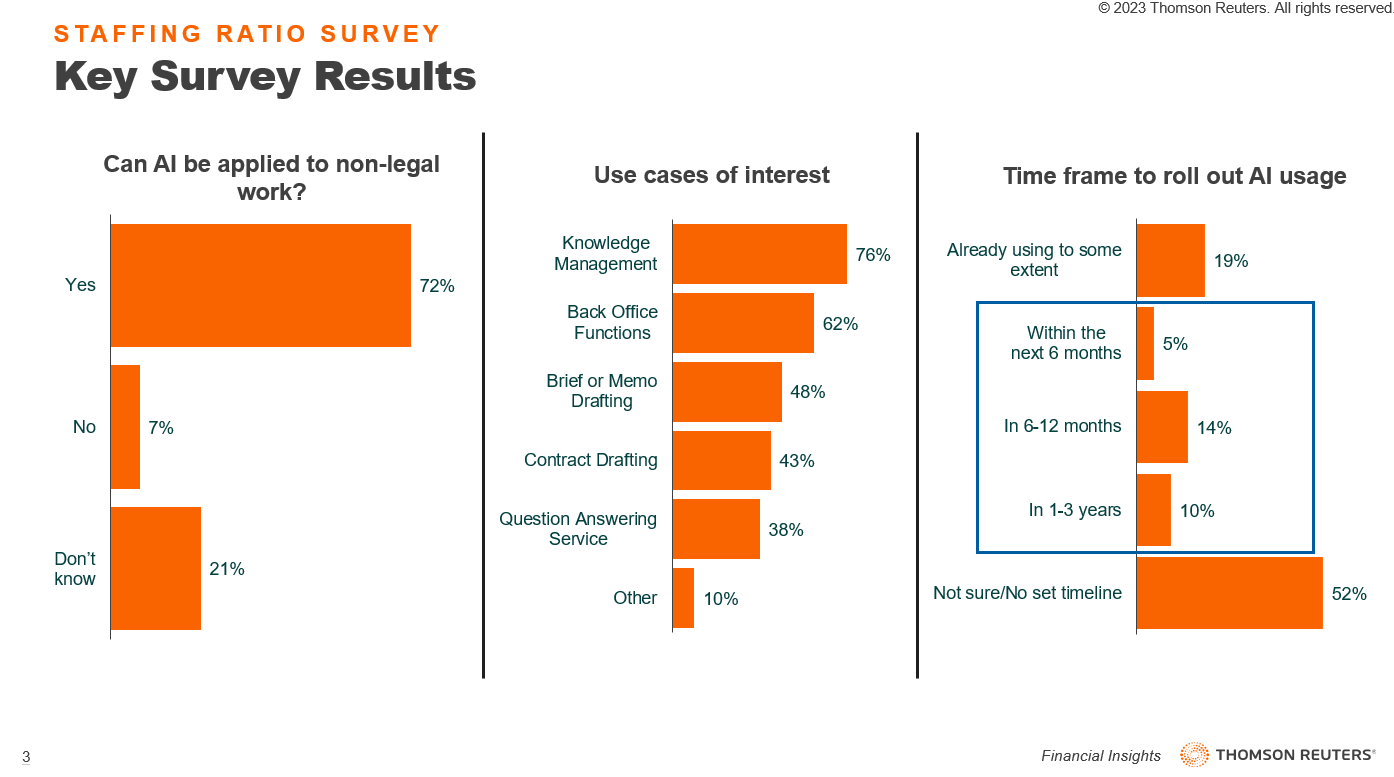 What this could mean for outsourcing is not fully known, but we may see highly sophisticated outside vendors moving ahead of the curve by positioning themselves to offer their expertise with generative AI at a cost-effective price with which law firms and in-house teams may not be able to compete.
Of the use cases that AI may best support, it may be that law firms (which have historically lagged in terms of technology adoption), increasingly turn to outside experts to execute these job functions. As of this year, we are seeing rapid growth in the Alternative Legal Services Providers sphere with one of the main drivers being that law firms have recognized a bottom-line benefit to turning to these highly specialized and cost-effective ALSPs for some of the more routine and time-consuming work.
Of course, the impact of AI on outsourced roles is not a question of if but rather of when. To get an approximation of this timeframe, we asked our generative AI survey respondents: "Within what time frame is your firm looking to roll out ChatGPT or generative AI usage?". While a majority said they weren't sure, a substantial amount said they are planning to roll out AI functionalities within the next three years. The 39% highlighted within the blue box gives us the greatest indication that the growth of AI-supported outsourced roles is likely to be more gradual, gaining speed as relationships between vendors and firms remain strong and trust in these technologies increase.
The increase in law firms' outsourcing of support staff roles aligns with a strategic shift towards optimizing operations, improving efficiency, and capitalizing on specialized services. With cost savings, increased AI adoption, and the potential for continued growth in the outsourcing landscape, law firms must carefully evaluate their outsourcing strategies to better leverage these transformative opportunities.
By partnering with expert vendors and embracing emerging technologies, law firms can streamline their operations, enhance productivity, and focus on delivering exceptional legal services to their clients.
---
To learn more about Financial Insight's "2023 Staffing Ratio" and to compare your firms' support staff headcount and compensation ratios to the market at large, click here.
Facebook
Twitter
Linkedin