Why did some law firms handle the recent global health crisis better than others? Our new "Pandemic Performers 2021" report sheds light on what top firms did to make the difference
Over the many months of the global pandemic, law firms adopted a wide range of strategies to stabilize their operations and increase the likelihood of financial success. Some firms, fearing a stark drop-off in demand, made deep cuts in expenses to better their chances of remaining profitable.
Other firms took a longer-term view, maintaining investment and hoping such investment would provide a competitive edge as the pandemic dragged on.
Thankfully, for most, the reality wasn't as bad as feared. Demand held up well, especially in the latter half of the year. With revenue per lawyer (RPL) remaining stable and cost per lawyer down, most firms ended up actually increasing their profitability for the year.
However, firm performance varied greatly, and the reasons for success or failure weren't the same at every firm. Some law firms achieved both revenue and profit growth, others saw their revenues shrink and profitability fall, and many more landed somewhere between these two poles.
But why? What factors allowed some firms to flourish even during one of the most catastrophic global crises in our lifetime?
To get to the heart of these questions, Thomson Reuters Institute launched the 2021 Pandemic Performers report, which was created by rigorously analyzing the proprietary datasets available in order to best identify what helped create the circumstances that enabled certain law firms to find financial success in the face of potential catastrophe.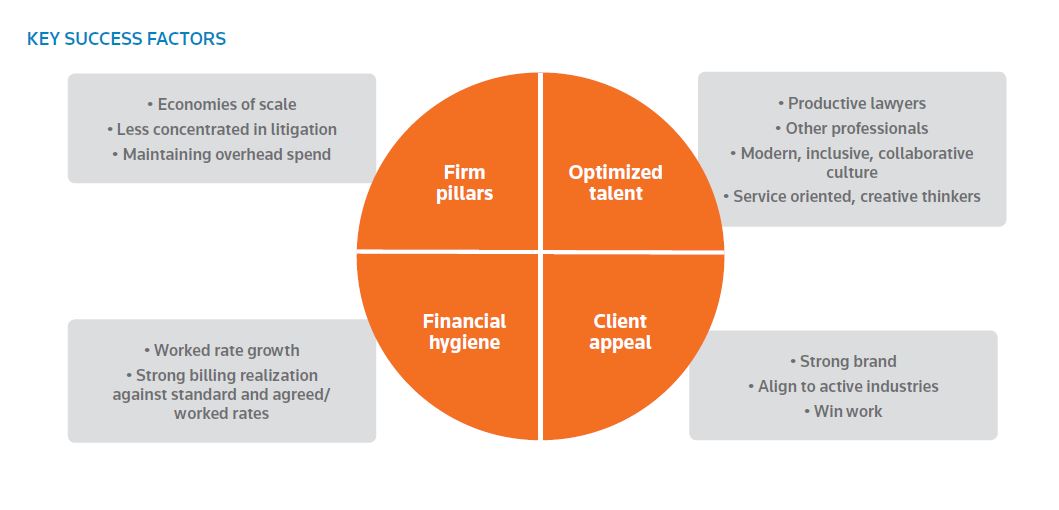 Those law firms that we identified as Pandemic Performers were those in the top quartile of firm performance, based on Revenue per Lawyer (RPL) growth. And by looking at other metrics that correlate well to RPL growth, our research suggests that these Pandemic Performers were more ready for this crisis in terms of culture and working practices.
Indeed, these Pandemic Performers were shown to be more resilient and able to leverage their scale, diversity, brand, and their support for their lawyers. These firms practiced good financial hygiene; and above all, they were more likely to take a long-term view.
The pandemic is, hopefully, a once-in-a-lifetime event. It is, however, quite unlikely that it will be the last crisis law firms will have to face. For those firms that want to remain or become resilient in the face of any future crisis, it is critical to explore how a long-term focus now on strengthening the firm in key areas can help.
The importance of this long-term focus is a pandemic-era lesson from which all law firms can benefit.
---
Download the full "Pandemic Performers 2021" report to learn all the lessons the pandemic performers had to teach law firms about their success through this past crisis:
Facebook
Twitter
Linkedin