Whether by choice or circumstance, the way many law firms are hiring has put them in very different positions in regard to legal demand and profitability
The recent Thomson Reuters Institute's Law Firm Financial Index for Q1 2023 suggested an industry in turnaround, clawing its way back towards profitability growth via a surging strength in counter-cyclical practices, which include those that succeed during periods of economic hardship, moving counter to the business cycle such as litigation, labor & employment, and bankruptcy.
At the same time, the law firms' recovery was bifurcated, with the Am Law 100 firms seeing a very different performance compared to the faster-growing Midsize firms.
One of the more intriguing aspects, only really touched on at the end of the LFFI report, is the future prospects of the segments. The Am Law 100 firms' decision to enact layoffs already signaled a sense that they do not expect a grand turnaround in demand for the near future (or at least one capable of withholding the expense burden of retaining talent). Midsize firms, on the other hand, are hiring at a significantly faster clip than other segments, with lawyer headcount growth of 4.9%, which is by far the fastest pace seen in the segment over the last decade.
What went undiscussed in the LFFI was how firms are positioning themselves in regard to the practices of their newly hired lawyers. If firms were expecting counter-cyclical demand to remain a dominant force within the market, one would expect them to hire lawyers specializing in these areas, rather than M&A or corporate transactional lawyers.
There is a caveat to all of this discussion that bears mentioning, however: Headcount may not be a leading indicator. It's entirely possible that what is going with these numbers is a reflection of the summer associate hiring season from last year. At that point, when firms were making their decisions on which practices to reinforce last year, transactional demand was far rosier.
It's akin to playing a game of poker in which you're betting on hands multiple rounds in advance. And those law firms with longer hiring cycles may be the victim of past decisions, forced to watch as practice areas they didn't focus on flourish while expensive transactional talent acquired multiple quarters ago goes underutilized.
However, there is ample evidence for the opposite argument. The rightsizing of Am Law 100 firms over the last few quarters suggests that firms are very much in control of their headcount and could deviate from their current strategies if they truly wished, either by cutting headcount, luring laterals, or hiring associates recently let go by other firms. After hiring and adjustments, this is where firms now stand.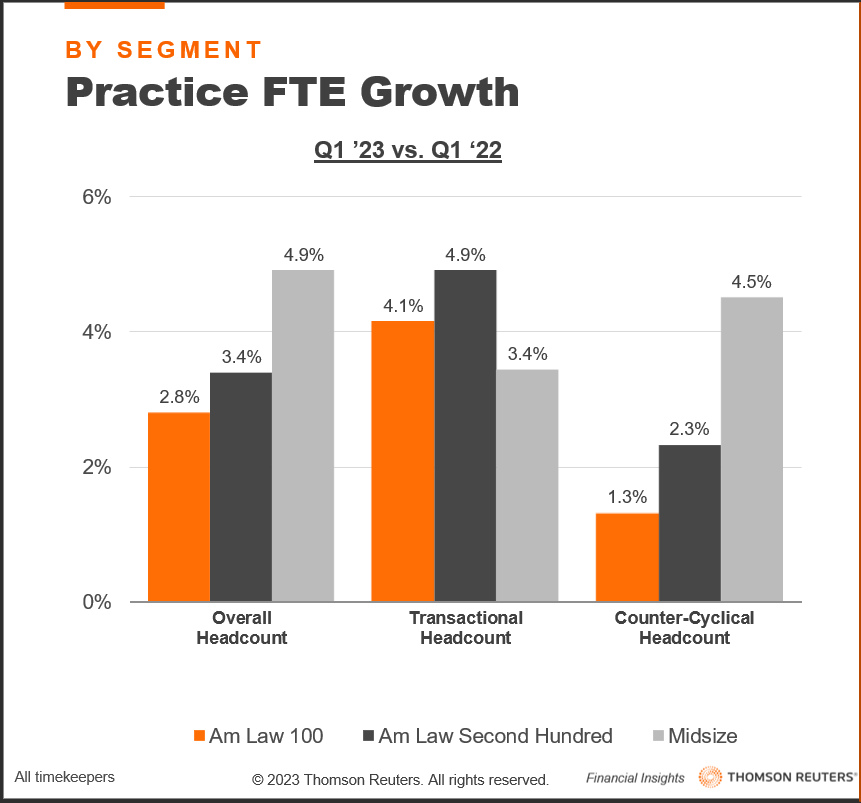 Am Law 100 firms are growing their overall headcount at the slowest rate in the industry yet are very focused on growing certain practices. Their transactional practices are growing headcount at an extremely rapid clip, faster than Midsize firms. At the same time, Am Law 100 firms are growing their counter-cyclical headcount at the slowest pace, less than half of their overall headcount rate. This is despite Am Law 100 firms growing counter-cyclical demand by 1.3% in Q1 2023 and transactional demand contracting by almost 5%, the opposite of their headcount strategies. What this translates to is that firms' transactional productivity is being challenged from both sides with hours per lawyer for transactional practices down 8.8%, compared to Q1 2022.
The hiring decisions of the Am Law 100 have resulted in a lot of very expensive talent sitting relatively idle. To succeed, the assumption behind this strategy is pretty simple: Counter-cyclical demand must be a short-lived fad, while transactional demand picks up sooner rather than later.
For Midsize firms, on the other hand, the hiring strategy is more broadly placed. These firms are achieving high full-time equivalent (FTE) growth in both transactional and counter-cyclical practice groups — in both cases at least matching the overall headcount growth of the other segments. What's interesting about Midsize firms is that their headcount growth is very broad, even on an individual practice level.
Indeed, Midsize headcount growth is aggressive across multiple major practices. The major practices of corporate general and litigation are growing at some of the fastest paces, but so are practices that don't fall into the transactional/counter-cyclical dynamic, such as IP – patent prosecution. At the same time, there is a heavy move towards those counter-cyclical practices, with growth in these practices more than twice that seen among Am Law 200 law firms.
Midsize firms seem to be positioning themselves for broad growth over the next few years, especially in the counter-cyclical spaces. Given the growing evidence for mobile demand — with large volumes of hours appearing to move from larger Am Law firms down to smaller Midsize firms — there is fair evidence for such a strategy among Midsize firms. Indeed, their leaders appear to believe that, in an industry where little-to-no demand growth is the norm, the prospects of regular intense demand growth must be fought for.
This is not a cost-free position however, as Midsize firms are bearing a hefty expense burden as a result of their actions. As shown by the above graphic from the LFFI report, Midsize firms' direct expense growth has proven to be very sticky, accelerating from 2021 in comparison to the Am Law 100 firms, which have notably cut back on their expenses by culling overall headcount. Because of the high expenses that Midsize firms are incurring, their profit performance has been far worse than the Am Law firms over the last 12 months. If the market turns against them — with transactional demand failing to make a return and the rise of counter-cyclical practices fizzling — Midsize firms may see profit headwinds for years to come. The revenues these firms have successfully won from clients ultimately may never find their way to partners.
The LFFI has begun its struggle back to more normal levels, with advantageous baselines likely to help firms recover over the next few quarters. Yet, given the way firms are positioning themselves from a headcount perspective, the scenarios in which everyone wins are increasingly few.
Facebook
Twitter
Linkedin