As we close out 2020, we continue our look at the changes the legal market endured in the past year, noting how Q2 was marked with a deep downturn in demand
While 2020 got off to a hot start in terms of legal demand growth and general market health, the legal market and society at large were in for a rude awakening in the second quarter. In fact, the first quarter ended with uncertainty on the horizon — the COVID-19 pandemic was by and large still in its infancy, and the extent that the U.S. and the rest of the world would be affected was at that time, yet unclear.
Early on in Q2 is when the lion's share of stay-at-home orders, court closures, and broader economic shutdowns took place in the United States, and consequently downturns in demand and expenditure within the legal industry followed apace.
By March, the uncertainty and rapid shutdowns that had taken place had slowed the economy dramatically in the second quarter. Legal demand, as measured by billable hours, took the brunt of the damage in this regard. The average U.S. law firm saw its demand decrease by 5.9% in the second quarter. Midsize law firms were most affected by the slowdown, with the average firm within this segment seeing demand declines of 6.7%.
In terms of practice-specific demand, the contractions were widespread. Litigation was particularly hamstrung by court shutdowns. Litigation, which is the largest practice by proportion of hours worked (28%), saw average demand contract by 7.5% in the second quarter. Corporate work, the second largest practice area, likewise declined by an average of 5.5%. Together, those two practices constitute more than half of all hours worked. While nearly all practices experienced contractions at this time as the economy struggled, Bankruptcy demand experienced the inverse and saw demand surge to the tune of 6.2% on average.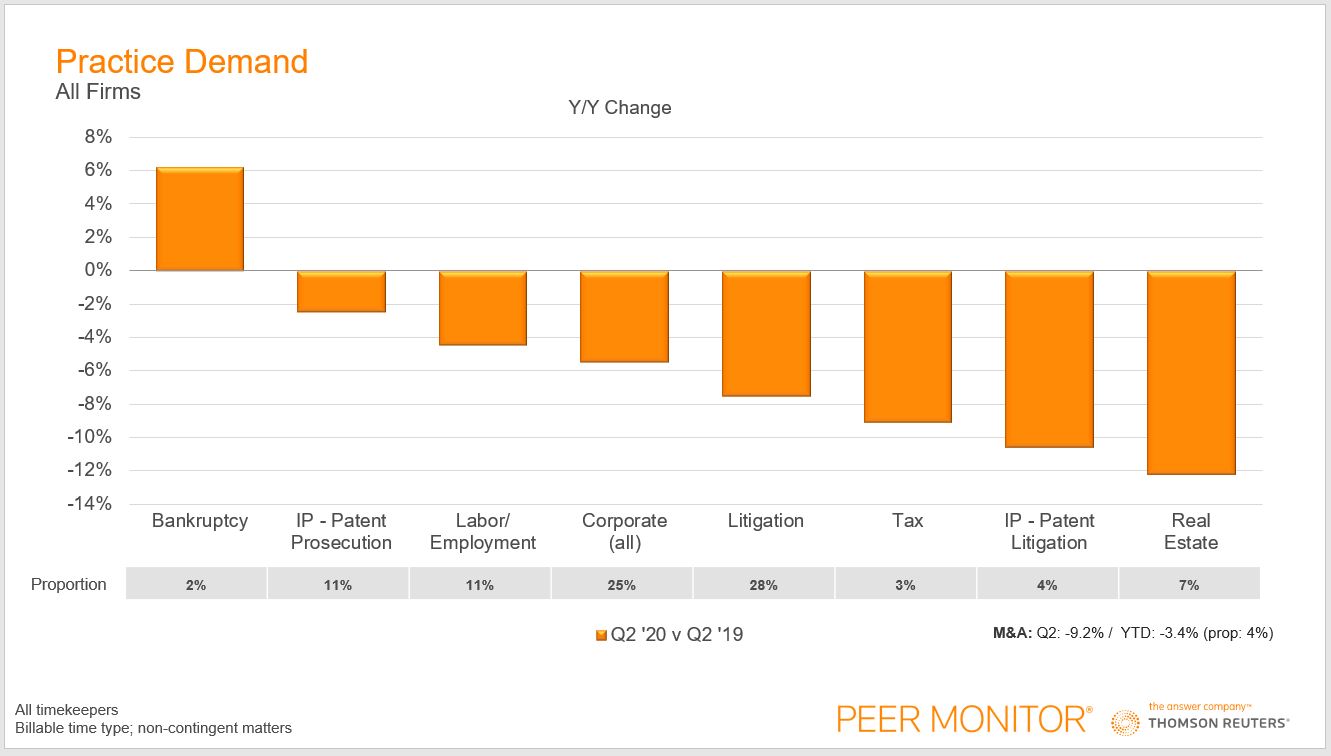 Like many so many others, a large portion of law firms were forced to rapidly adapt to work-from-home in keeping with local regulations. Lawyers and allied professionals alike were tasked with figuring out how to maintain business operations remotely, and workflow dynamics were deeply affected. Lawyer productivity, measured as the average amount of billable hours worked on a per lawyer basis, declined by 7.1%.
Moreover, firm partners worked a much larger proportion of hours in Q2 than they traditionally would have, which came at the expense of associates and non-lawyer fee-earners. While associates on average still worked more billable hours per day than their partner counterparts, the average billable hours worked per day decreased by 4.3% for the average equity partner and more than double that for the average associate.
The result was an all-time high in the average worked rate charged in the market, with worked rates in Q2 fully 5.2% higher than in the preceding year. These sky-high rates helped insulate many firms from the demand drop off, and fees worked (a proxy for revenue) declined by less than one percentage point in the quarter.
In response to demand contractions and uncertainty over the length and breadth of the pandemic's impact, law firms began to rapidly cut expenditures. Both direct (lawyer compensation) and overhead expenses (everything from office space to technology costs) saw declines; and while direct expenditure reductions were somewhat insulated by the government's Payroll Protection Program loans, overhead expenditures were sharply reduced.
In the second quarter, every overhead expenditure category saw a year-over-year decline. Some were simply the result of the current crisis, such as marketing and business development contractions that occurred largely in line with the widespread cancellation of travel and events, or office expenses dropping as firms transitioned away from the home office and into a remote working environment. Others were more surprising, such as a slight decrease in technology and occupancy, perhaps as many firms sought deferrals on outstanding invoices and rent payments until their future fortunes became clearer.
Overall, cuts to expenditures by and large were made to insulate firm profitability from a yet unknown amount of demand decline; and as we will see in later pieces in this series, these cuts were quite effective in that regard and were continued throughout the remainder of the year.
The second quarter truly marked the beginning of the legal industry's pandemic response, especially on the part of law firms. Many radical changes were instituted by law firm leaders in a considerably short period of time and resulted in a fair amount of turbulence throughout the quarter. While many law firms were able to adjust and find some amount of level footing, there were still many significant changes remaining on the horizon as firms faced Q3 and beyond.
Facebook
Twitter
Linkedin