Quarterly research highlights the increased attention that ESG issues hold among corporations, including areas of sustained growth among specific regions and sectors
Not surprisingly, environmental, social, and governance (ESG) factors are seeing increased importance in the context of corporate decision-making. These topics have seen a growing amount of attention in the legal space as well, indicating those professional service firms are more aware of the importance of ESG to their clients.
In the latest round of research from Thomson Reuters Market Insights, we attempt to provide a quantitative measure of this interest. The research presented here is part of a broader quarterly update that seeks to provide high-level insights on the state of the market as a whole, while also providing further segmentation based on region and work types.
During interviews with general counsel and legal decision-makers of global companies, survey respondents were asked: "Is a focus on ESG issues going to be high, medium or low priority for your organization as a whole in the coming 12 months?" This question was asked previously in a survey conducted in the first quarter of 2022, and so the recent iteration provides a benchmark to capture prospective changes in sentiment and movement around ESG. As noted below, we see that 66% of legal clients report that a focus on ESG issues is going to be a high priority for their organization in the coming 12 months.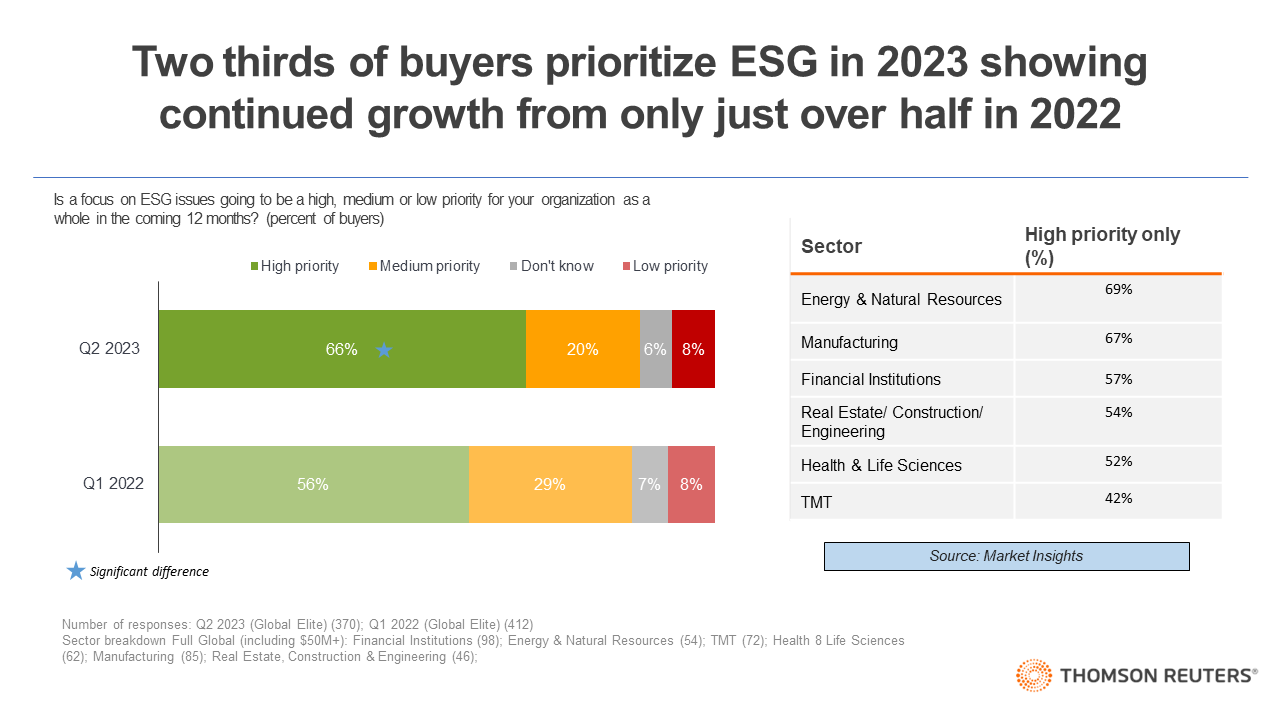 This is a 10-percentage point increase from the previous year, highlighting a prospective trend around this topic. Taking a more fine-grained analysis, we see that on a sector level, nearly 70% of clients from within the Energy & Natural Resources and Manufacturing sectors assign a high priority to ESG issues. Not only is this consistent with the results from the previous year, but it should be noted that five out of the six reported sectors saw more than half of the clients identify ESG as a high priority. This indicates that while there are a few sectors driving the growth in the most recent survey, ESG remains an important priority for clients across many work types in the legal market. As a result, those law firms engaged in conversation around this topic have the potential to capture existing market opportunities.
From a regional outlook, we see a similar set of metrics to the sector data, with the recent growth around ESG topics being driven by a few standout regions, specifically Asia Pacific (APAC) and Mainland Europe. Both of these regions saw increases of 13-percentage points and 23-percentage points, respectively, in those citing ESG as high-priority compared to the previous year. Law firms in the United Kingdom, however, continue to see about three-fourths of its clients list ESG as a high-priority, a similar position it held last year.
Although the disparity is a bit more present among regional clients, interest in ESG-related issues should not be seen as a region-specific trend. While some regions assign a higher level of priority to ESG-related issues compared to others, nearly all regions have either slightly increased or remained the same when it comes to their assignment of ESG-related issues as a high priority. This is an important metric, especially within the context of recent political and economic pressures, (as specifically seen in the North American region), which in some cases can limit the number of clients focused on ESG.
As mentioned earlier, given the wide scope that ESG entails in terms of the concerns and legal issues it involves, it's important to be able to drill down the specific areas within ESG that are relevant to clients and outline how this can drive expectations about the types of ESG-related advice that may be required from law firms.
To this end, survey respondents who were expecting to seek advice from law firms on ESG were further asked: "What specific types of ESG-related advice do you expect to require from law firms?" As expected, given the ongoing discussions around global climate change, environmental issues were cited by nearly 26% globally as a potential expectation of where advice would be needed. As one respondent noted: "Particularly on the environmental side and in regard to the policies that would apply to different territories. So, for example, within the E.U. [European Union] or how it may affect the U.S. and what we would write as an organization to have credibility for environmental policy."
One Chief Legal Officer even mentioned having a separate department in this area, noting that it exists "because we need to measure, it is all about measuring. I think it would be for help measuring carbon and methane reduction."
Environmental concerns top list
Regionally, concerns about the environment are cited as the top issue by clients in Asia Pacific and the U.S., with nearly one-third of APAC clients citing environmental issues as an expected ESG topic upon which they will seek advice. As one Chief Legal Officer from the APAC region responded: "We definitely can expect certain issues coming up because we are moving to a lot of environmentally friendly norms, so there's a possibility. Whether it could be contracting to get services, or it could be certain litigation to protect our interest."
Along with the environmental issues, concerns around regulatory work were also cited as a top expectation for clients seeking advice from law firms. While it was cited by 26% of respondents globally, regulatory issues were cited as a top area in both Mainland Europe and the U.K. with 43% of clients highlighting it in both regions. Given the evolving stages of regulation and the complexity of managing new developments, it's no surprise to see regulatory work being cited to that degree. Speaking on a potential regulatory policy, one Chief Legal Officer said: "If the new due diligence directive on ESG criteria, the European directive, will be implemented, then we will probably need advice on how to rearrange the obligations within the organization."
Overall, the ongoing conversation about ESG-related issues has shown that law firms should be paying special attention to the types of advice their clients are seeking around these issues. There is indeed a growing prioritization of ESG among corporate clients, with nearly two-thirds stating that a focus on ESG issues was a high priority for their organization in the coming year.
While this growth is concentrated more strongly in some regions and industry segments, ESG nonetheless remains a notable priority that is leading to new expectations from law firms in every regional market and sector.
Narrowing the focus of potential areas upon which clients are seeking guidance, such as environmental and regulatory issues, shouldn't distract law firms from the fact that ESG-related advice is an incredibly complex web of concerns that often includes several legal issues at one time.
As one Chief Legal Officer summed it up: "The important thing is sustainability, governance, and particularly in going into business with new countries, we want to always ensure that the business that we do overall impacts the country, the communities, and betters the environment. If our practices can do that, we strive for that."
---
Delve deeper into the latest ESG trends and create market-aligned strategies for sustainable growth based on current, unbiased competitive intelligence.
Facebook
Twitter
Linkedin