Even as the LFFI hit a record low in Q4 of 2022, there are some signs within the data that many law firms' fortunes could turn around in 2023
With last month's Q4 2022 Thomson Reuters Law Firm Financial Index (LFFI), we noted how the LFFI recorded its worst score in the index's history, and further, what part historically low lawyer productivity may have played in that.
The LFFI in Q4 2022 continued a six-quarter slide which started from its highest score of all time, recorded in the second quarter of 2021, and which has now set new all-time lows. While this quick decline in fortunes may have left many legal market observers a bit stunned, it's critical to look at which of Q4's factors signal promise and which point to greater uncertainty.
On the back page of the recent report, we broke down how much yearly profit the average lawyer full time equivalent (FTE) made since the beginning of the pandemic era and how this changed from one quarter to the next. During its rise, we saw an average growth rate of about 3.4% per quarter for eight consecutive quarters, ending in Q4 2021.
Then came 2022, a year that many law firm leaders thought could be a return to more normal times as the pandemic largely waned through most of the world. However, fears of inflation, geopolitical uncertainty, and recession sank much of that optimistic thinking right out of the gate. Indeed, as we've demonstrated in the 2023 Report on the State of the Legal Market, the steep drop-off in corporate and transactional practices helped lead to a substantial slowing in legal demand throughout 2022.
Unsurprisingly, this sour dynamic, in addition to greatly increasing lawyer headcount, began to work its way into the revenue column. Revenue per lawyer (RPL) growth peaked in Q1 2022, with 12.9% growth as compared Q1 2020. With a historic level of rate growth implemented in Q1 2022, history would suggest that RPL should have continued its trend northward. Instead, revenue tapered off due to a drought in demand.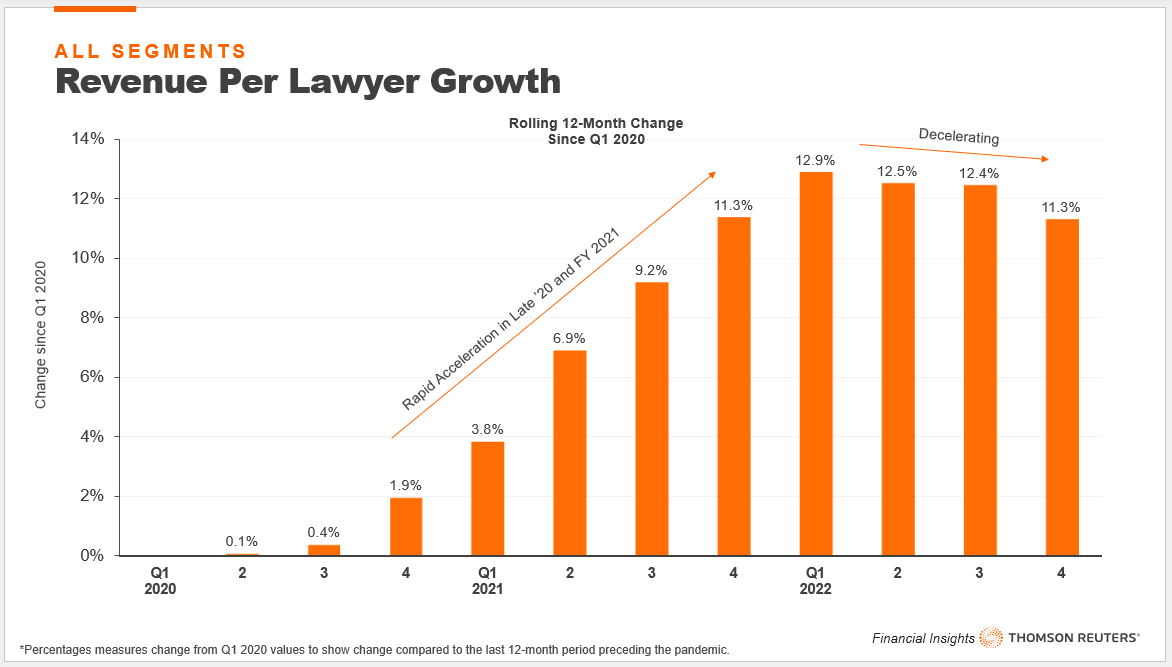 The main culprit for RPL's difficulties is overcapacity. Despite strong hourly gains in rates, firms' revenue per lawyer has sat at similar levels from Q4 2021 to Q4 2022, as the productivity losses of 2022 effectively erased all the gains seen in hourly rates. This is a crucial loss as rate growth has been the primary driver (and specular industry feature) of revenue growth for large law firms, not to mention that inflation meant that a dollar in 2022 was worth less in terms of purchasing power than a dollar in 2021, meaning that firms were losing on two fronts.
This did not just impact revenue figures however, as this overcapacity was notably more expensive than normal. Many lawyers were brought in at increasingly higher salaries during peak demand times in 2021 and early-2022, which led to dramatic increases in direct expenses (those expenses related to lawyer compensation). In addition, return-to-office plans resulted in a rapid acceleration in overhead expenses (expenses related to everything else). As a result, lawyers became innately more expensive over the last two years.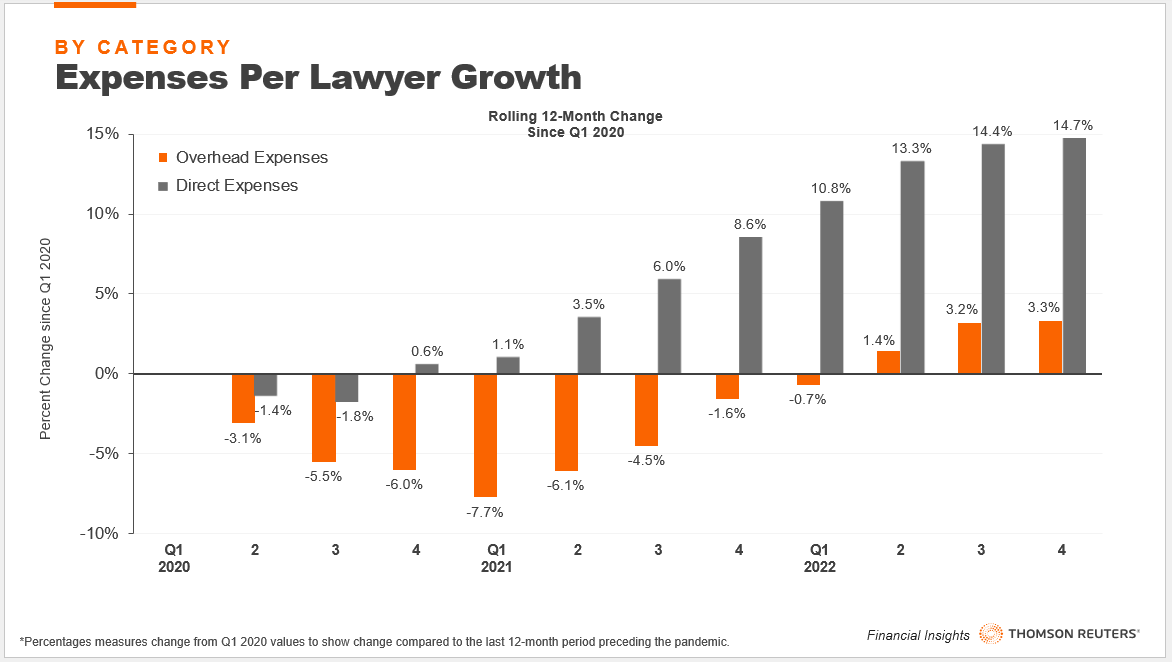 If you look at the acceleration in direct expenses, you see that the average lawyer's direct compensation at the end of Q4 was 14.7% more expensive than before the pandemic began, while RPL on the same basis is only 11.7% higher. This, of course, led to the deceleration in profit per lawyer through much of last year.
What's interesting is that, again looking at the profit per lawyer chart above, you can clearly see that despite the downdraft, lawyers — and by extension, their law firms — are still more profitable (12.7%) than they've been over the past two years. This is due to the far greater impact revenue has on firms' balance sheets than expenses.
So, what does all this say about the outlook for 2023? For starters, the new year provides another heap of rate increases that appear to be historically high, which may be able to outpace a moderating inflation. And if you look at the expense growth chart between Q3 and Q4 of 2022, you see both categories saw the least amount of acceleration since back in 2020.
This may mean that firms are beginning to get their costs per lawyer under control, which is vital if firms do not want to enact serious measures like layoffs. However, from a seasonal perspective, this trend could be short lived as lighter bonuses and prepayments may be the reason for the slowing pace in Q4 2022, and costs could resume their upward trajectory in 2023.
In conclusion, lawyers are still more profitable than where they were a couple of years ago, making the dour data and trends of 2022 appear less negative in retrospect. And, while the downward trend continues to be worrisome, a new set of rates and some corrective action on the compensation side, may make room for cautious optimism in 2023. However, if the last three years have taught us anything, it is that conditions can change quickly. Thus, the burden is on law firm leaders to have the conviction to judge their operating environment and adjust strategy accordingly.
Facebook
Twitter
Linkedin