Your law firm's brand strategy is a critical component in driving your firm's success, but sometimes, a lack of alignment between branding and business strategy can upend that success
In professional services, your brand is what helps your firm carve out a distinctive place in the minds of buyers and separates your firm from other providers offering similar services. Law firms with strong, favorable brand perceptions earn, on average, 38% more of their clients' external legal spend than the typical firm.
Yet, many law firm leaders fall into the trap of thinking their firm's brand strategy is a nice-to-have element rather than a necessity. They talk about brand positioning as an exercise for the marketing department to tackle — and one that is typically separate from the strategic business planning conducted by the firm's Executive Committee.
When brand strategy is separate from business strategy it is typically less embraced by lawyers, and that results in individuals focused on building their own personal brand at the (unintended) expense of a differentiated firm-wide market position.
What does a distinctive brand look like?
Understanding where your firm sits in the minds of clients is the critical first step to ensuring your brand and business strategy are working together and not undermining your firm's true growth potential.
Measuring business success is largely a straightforward undertaking. There are scores of financial and operational metrics that help law firms understand how they are performing year-over-year and against others in the market.
Measuring brand success is more complicated because not every firm takes the same path to reaching their goals. You wouldn't assess the brand success of Hyundai and Ferrari using the same metrics. Despite both being car manufacturers, the underlying business strategies and value propositions of these two companies require looking at different brand metrics to understand how well each is positioned for future success.
The same is true for law firms.
Below we will walk through a few variations on how a law firm might assess brand positioning based on their business strategy. At the end of this article, there is an interactive brand strategy landscape to create a custom view of the metrics most strongly aligned with your firm's growth strategy.
The common denominator for each market landscape is the horizontal axis. This represents top-of-mind awareness, which is defined as how many buyers of legal services name a particular law firm when asked which five law firms they think of first. This metric is critical to understand how "sticky" your firm is in the minds of buyers.
Legal services buyers are more likely to hire the firms they think of first. Additionally, as a firm's top-of-mind awareness grows, there is a correlated growth in revenue. This makes monitoring the trajectory of your firm's top-of-mind awareness over time a fundamental component of any brand tracking.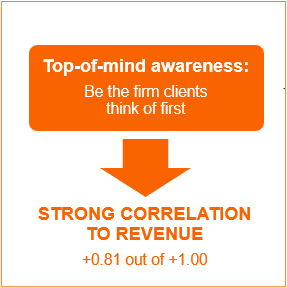 The key difference in each brand landscape below is in its illustration of how well a firm converts its awareness into consideration for specific work types. The vertical axis in each chart shows the proportion of clients that think of a firm top-of-mind and say they use that firm for the work type listed. Conversion metrics are particularly effective at taking the firm's size out of the picture and can further illustrate if your firm is building relationships with the type of clients your strategy is targeting for growth.
For example, Figure 1 below focuses on cross-border litigation needs through the eyes of global organizations with $1 billion or more in annual revenue.
In this chart, more than 18% of global legal buyers name Baker McKenzie as one of the five firms they think of first when asked as an open-ended question — this is shown on the horizontal axis. The vertical axis shows that 80% of that 18% also consider Baker McKenzie for their cross-border litigation needs. The takeaway: Baker McKenzie has built a strong differentiated brand for this work type.
In contrast, the law firm Quinn Emanuel sits on the left-hand side of the chart. This means the firm doesn't generate as much top-of-mind awareness as Baker McKenzie (not surprising when you look at the headcounts of both firms on a global scale.) However, Quinn Emanuel garners more consideration for cross-border litigation than the firm generates for top-of-mind awareness. Hardly an earth-shattering analysis when you consider that Quinn Emanuel's core strategy is to be the litigation boutique that clients call for their most pressing — albeit not every day — legal needs.
Which is precisely why this view of the market is one way for these firms to test if their brand position truly reflects their business strategy. Alignment between brand and business strategy drives more efficient growth. However, those firms with a misalignment in brand and business strategy can struggle to overcome pre-conceived perceptions of the firm and often leave the market confused as to what differentiates the firm from other market leaders.
Figure 2 below is a more focused view of the legal market, looking only at the firms that legal buyers based in the United States think of as top-of-mind and how well those firms convert this awareness into consideration for top-level M&A work.
However, many law firms can be even more granularly focused on their market segmentation. Figure 3 goes a step further to look at this same set of variables and shows the firms mentioned by buyers based in the Western part of the U.S.
The right metrics for your firm
The link below will take you to an interactive chart built on data Thomson Reuters collected from more than 1,500 General Counsel and senior legal decision-makers at companies with $1 billion or more in annual revenue.
At the top of the chart are filters you can apply to align the data to the market segments upon which your firm is most focused for 2023.
This allows you to look at the data by:
Region — Either global, Asia-Pacific, Canada, Mainland Europe, the United Kingdom, or the U.S.
Buyer type — General Counsel or other legal decision-makers. (Firms focused on more transactional work types tend to build stronger relationships with secondary decision-makers, such as the Assistant General Counsel for litigation or Deputy General Counsel for transactions.)
Work type — We've provided a select list of the metrics Thomson Reuters tracks in our ongoing research with legal buyers including cross-border litigation, top-level M&A, and firms most-used for high-value work.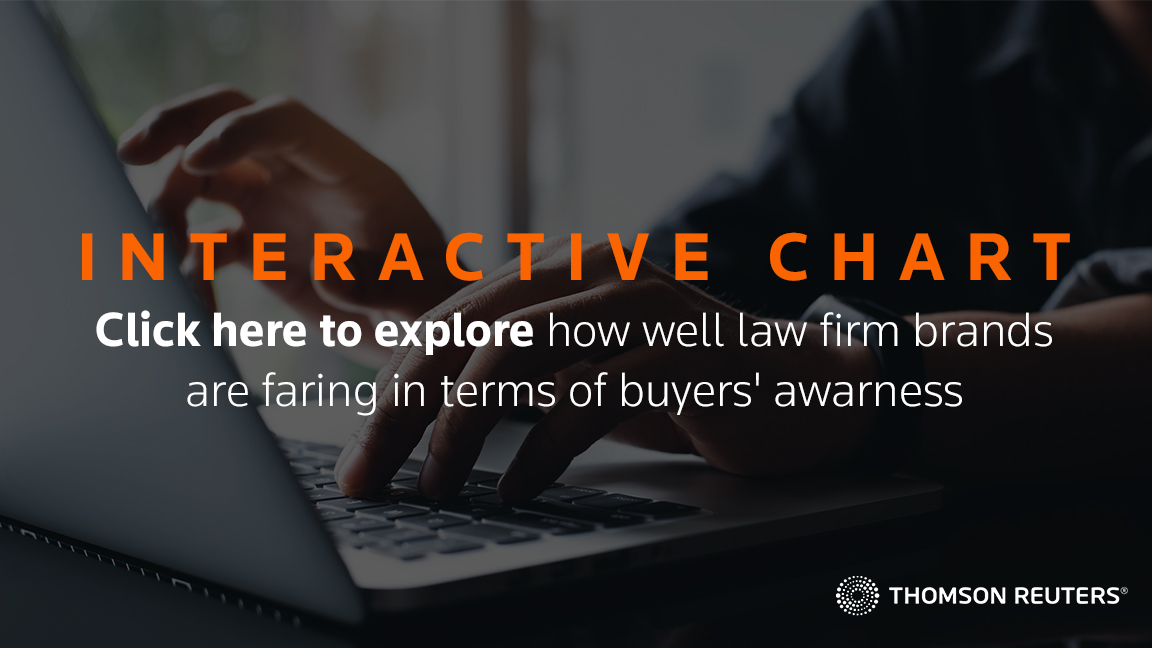 Once you've determined where within the market your firm is positioned, the next step is to make any needed adjustments. For example, if your firm is not as strongly positioned in certain segments in which it is looking to drive growth, provide your lawyers with the brand message that you want them reinforcing in the market. As the firm's brand ambassadors, lawyers have the biggest impact on how a firm is perceived in the market.
When business and brand strategy align, a more differentiated position in the market is established, making it more difficult for competitors to beat your firm in its market segment.
---
If you're interested in learning more about taking our insights to the next level and advancing your firm's brand strategy, please reach out to Jen Dezso, Director of Client Relations, for next steps on how you can elevate your firm's market position with current, unbiased, and irrefutable competitive intelligence.
Facebook
Twitter
Linkedin