Continuously climbing expenses may be a big challenge for the midsize law firm sector, even more so than the rest of the legal industry
We've written extensively about the current state of affairs for Midsize law firms at the midpoint of this year, exploring their key performance indicators, trends both in the demand for their services and their headcount, and how they've been able to grow rates in a today's competitive environment. Without doubt, much of the news for Midsize law firms has been favorable, a relatively consistent condition since at least middle of last year.
However, at least one large area of concern looms for Midsize law firms that could well put a damper on their 2023 results — expenses.
We track and report two broad categories of expenses: direct expenses — those associated with attorney compensation and benefits (other than equity partners); and overhead expenses — those associated with everything else, from non-lawyer staff, to office rent and office supplies. In some areas of managing their expenses, Midsize law firms are outperforming the market average; in other areas, however, Midsize firms may need to be a bit more concerned.
Industry averages
The average law firm in the industry has experienced high rates of growth in both their direct and overhead expenses since early 2022. For the average firm, direct expense growth peaked at 13.1% in Q1 2022 as calculated on a rolling-12-month average. Overhead expenses for the average firm peaked one quarter later in Q2 2022 at 13.2%.
Across the industry, both metrics have been gradually decreasing from these high-water marks, settling at 6.8% and 7.9%, respectively, at the midpoint of this year.
For direct expenses, much of the prior high level of growth was driven by a combination of two factors: increasing attorney compensation and expanding headcount. Direct expenses have moderated in the past year because, while many law firms have continued hiring, the market has not seen an acceleration in attorney compensation akin to what was seen in much of 2021 and early 2022.
For overhead expenses, recent analysis shows that much of the jump was attributable to those expenditure categories more heavily impacted by the global pandemic and return-to-office volatility, most of which has now tempered out of the market.
Expenses for Midsize law firms
Midsize law firms appear to depart from these industry averages in a few key ways, including:
Direct expenses
The average Midsize law firm continues to experience direct expense growth that is higher than the industry average at 7.9% growth compared to 7.1% for the average firm. This is likely due to the fact that Midsize law firms are still feeling more of the two-factor push driving direct expenses compared to other law firm segments.
For example, the average Midsize law firm saw associate compensation grow by 2.2% in Q2 2023, on top of 7.3% growth in compensation at the same point last year. This means that associates at Midsize law firms have gotten much more costly over the past two years — along with other titles — and they continue to do so. While this will settle out over time, the extent to which compensation growth slows may not, by itself, be enough to offset the effects of the other factor driving direct expense growth, that of increasing attorney headcount.
As discussed in a prior installment in this series, Midsize law firms led the market in headcount growth through the midyear point, increasing attorney counts by an average of 5.1%. In contrast, Am Law Second Hundred law firms increased their headcount by a more modest 3.3%, and Am Law 100 law firms increase lawyer numbers by only 2.8% during the same time period.
For Midsize law firms, each of these new attorneys comes at an increased cost. Midsize law firms could be poised to show higher-than-market direct expense growth for some time, particularly as we near another hiring season.
Overhead expenses
The overhead expense picture, on the other hand, shows a bit more favorability to Midsize law firms compared to the market average. While average overhead expenses in the market grew by 7.9% through midyear 2023, the average Midsize law firm saw their overhead expenses grow by only 7.1%. Of course, in this context, only is a relative term; the figure still represents growth well above pre-pandemic averages, but it is better than that of other law firm segments.
The average Midsize law firm saw healthy, but more conservative growth in a number of key expense categories as compared to their larger law firm peers.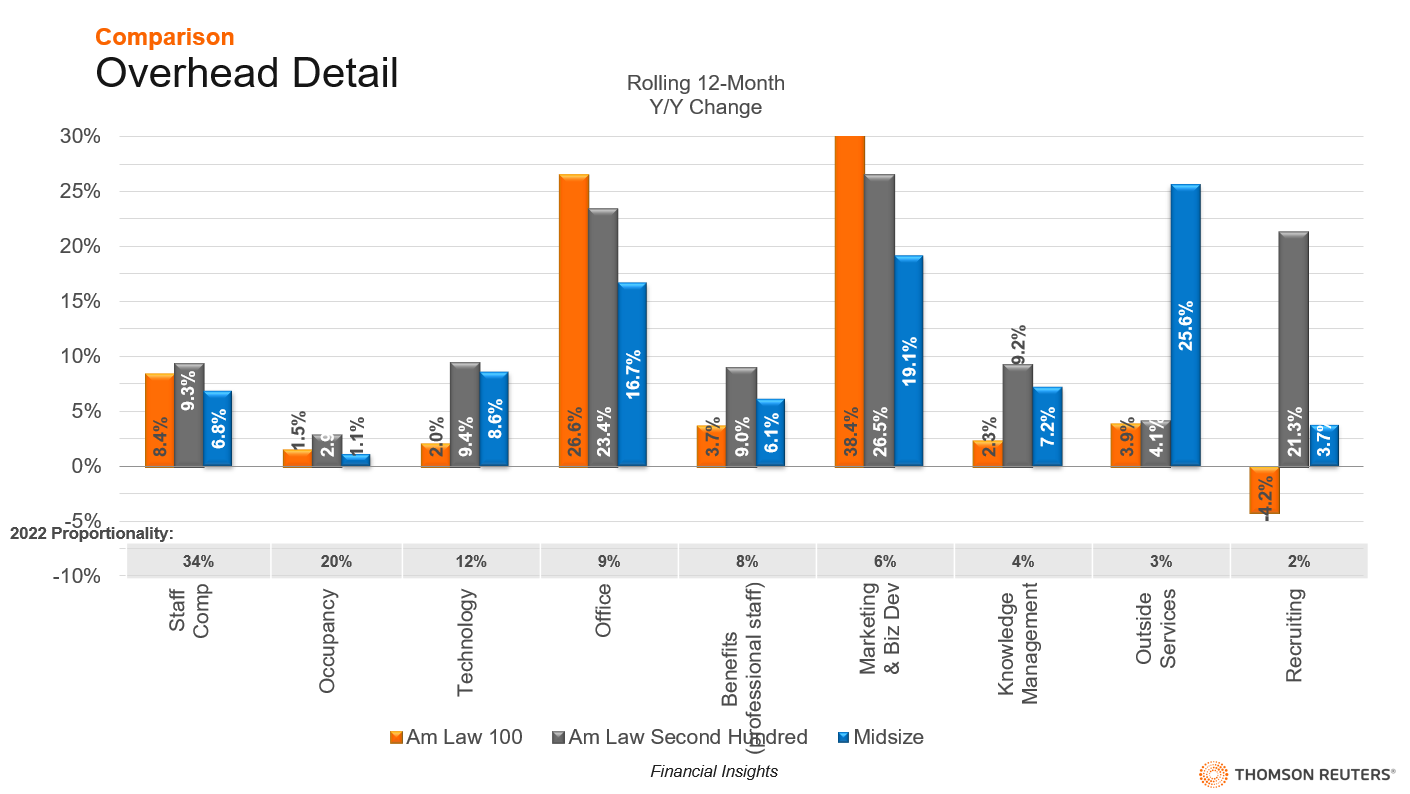 Specifically, Midsize law firms saw their expenditures in staff compensation, occupancy, and office expenses grow at a slower pace than their competitor segments, while also posting a more conservative mark for professional staff benefits than their Am Law Second Hundred counterparts.
On the whole, the overhead expense picture appears to be slightly more favorable to the average Midsize law firm.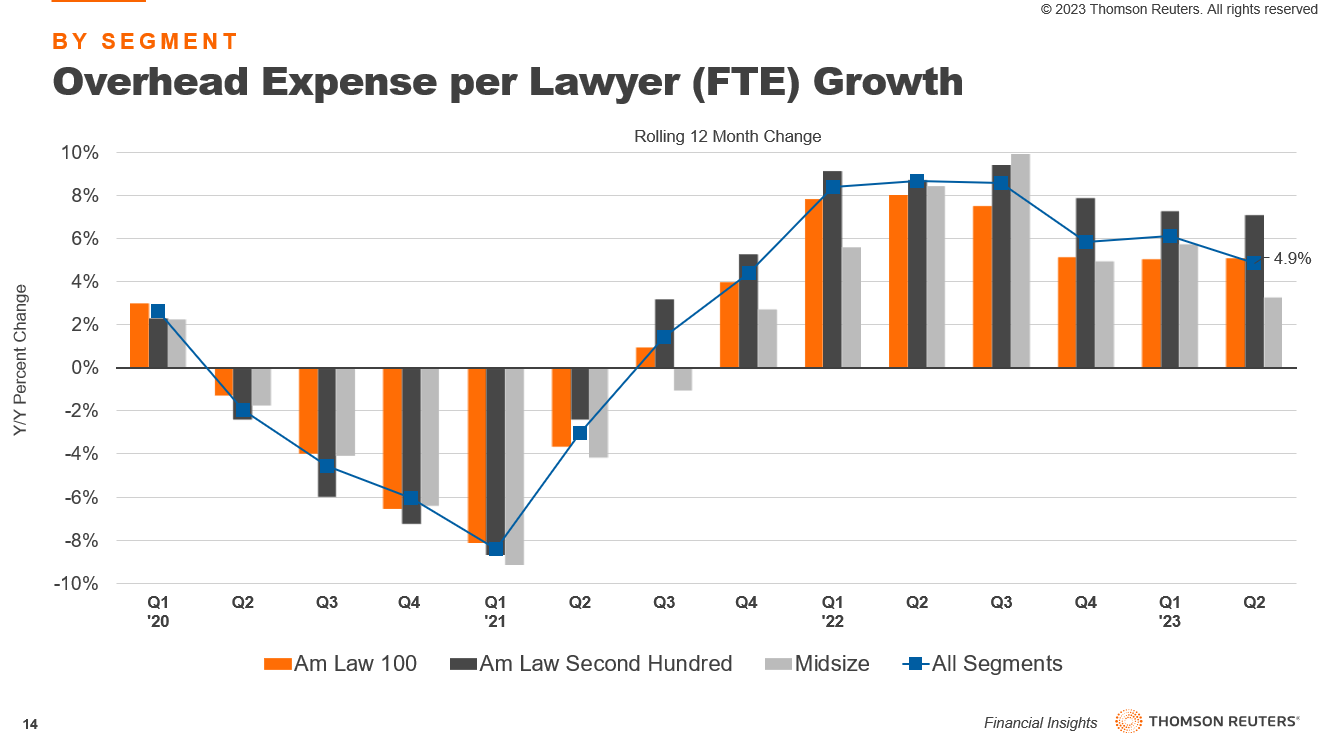 With only a few exceptions, Midsize law firms have held a solid position of third among the three segments for overhead expense growth as calculated on a per-lawyer-FTE (full-time equivalent) basis. This is due in part to the more controlled growth of expenses in the key areas already discussed, but also to expanding headcount. While Midsize law firms should be commended for keeping expenses well in check, the per-lawyer-FTE comparisons are potentially a bit deceiving because Midsize law firms have been among the market's most aggressive in increasing the denominator in that metric through their continuing hiring practices.
The effect on the bottom line
The warning flags waved by Midsize law firms' expenditures, particularly their direct expenses, are not necessarily cause for great concern. However, leaders of these Midsize law firms would be well cautioned to consider how quickly fortunes can change.
Prior to 2022, the Am Law 100 had enjoyed their position as market leaders for demand growth for the prior five years or more. In 2022, that momentum quickly shifted in favor of Midsize law firms. It can just as readily shift back. If, or perhaps when it does, Midsize law firms may find themselves caught flatfooted with increased expenditures on a larger number of more expensive lawyers, but with insufficient demand to keep those lawyers sufficiently productive.
Any such potential drop in productivity would hurt a firm's revenue potential, meaning the average Midsize firm would be bringing in less money even as its staffing costs remain high, a recipe for diminishing profitability.
Midsize law firms should be engaging their clients, new and existing, to understand why those clients chose the firm and what will encourage them to stay. At the same time, firm leaders should be looking at creating strategic plans for staffing, factoring in potential retirements and attrition, so that their overall staff remains engaged, productive, and profitable.
---
Facebook
Twitter
Linkedin