Black Employee Network Beacons of Light Podcast 2: Arleen Huggins, Partner, Koskie Minsky LLP
Throughout Black History Month, our Black Employee Network (BEN) Canada chapter interviewed Canadian legal professionals on their perspectives on the path forward in our communities in a three-part podcast series, Beacons of Light.
Our BEN Canada co-chairs, Maxeen Mitchell-Hill and Theodora Lindsey, asked Canadian legal professionals four main questions based on the social awakening on race that started with the George Floyd murder in 2020:
Last year was tough; did anything positive stem from 2020?
How do you stay positive despite negative reactions to anti-Black racism awareness?
How can we affect change in the legal industry?
What gives you hope that can inspire others?
As we reflect on the verdict of the Derek Chauvin trial and Juneteenth approaches, please listen to these enlightening responses and think about what you can do as a leader, employee, and ally to combat the issues brought up in this podcast. We need to continue conversations like these all year round.
Meet our second guest, Arleen Huggins, Partner, Koskie Minsky LLP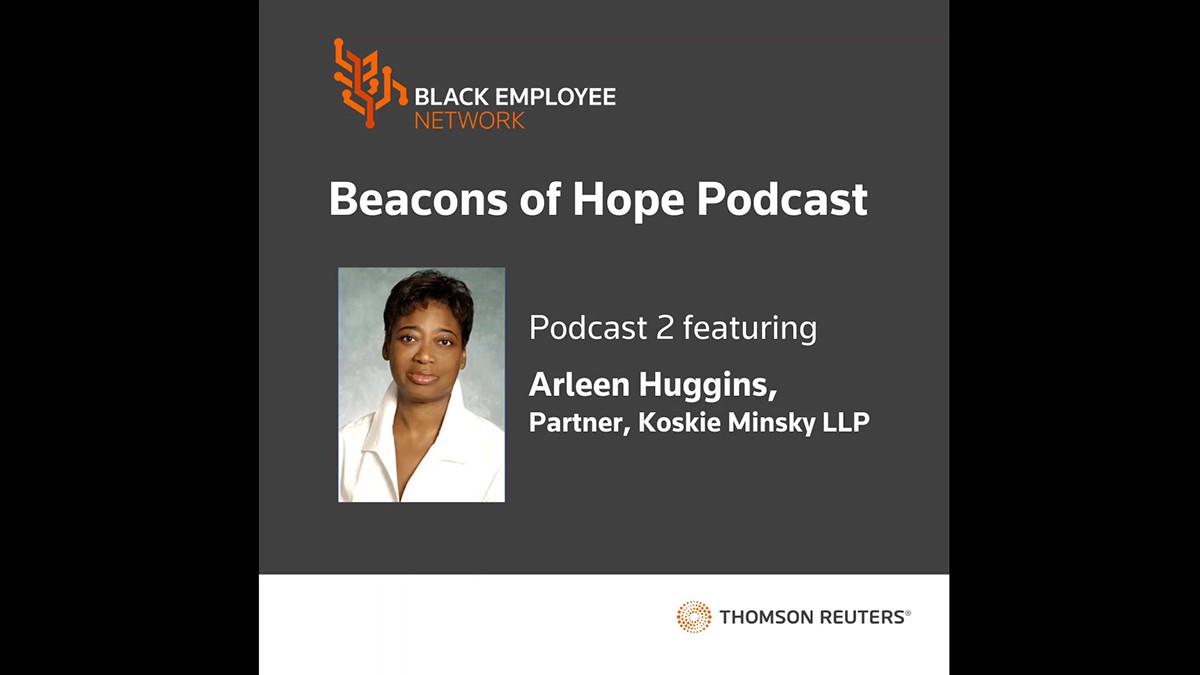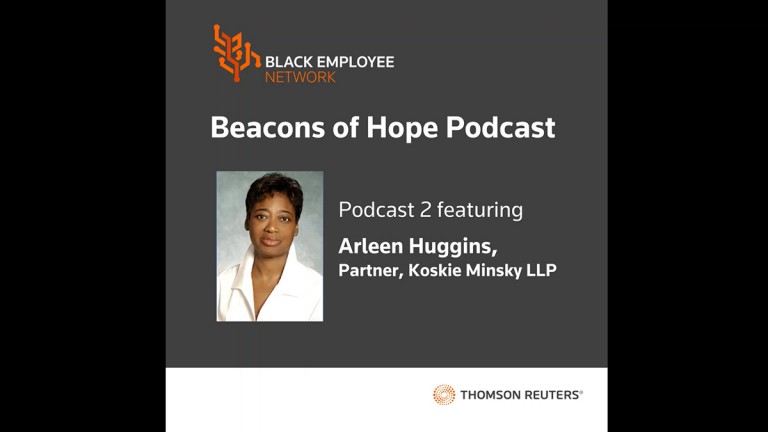 17:40
Arleen Huggins is a Partner at Koskie Minsky LLP and the head of the firm's Employment Law Group. She has expertise in employment law, human rights law, with an emphasis on discrimination on the basis of race and anti-Black racism. Arleen also practices general and commercial litigation.
Careers blog subscription
Sign up to receive new posts by email
Arleen has been a speaker for the Ontario Bar Association, the Law Society of Upper Canada, Osgoode Hall Law School Professional Development, the Advocates' Society and others, presenting at a variety of seminars on employment law, human rights, diversity and inclusion, anti-Black racism as well civil matters. She has authored various articles, papers and reports in her areas of expertise.
Ms. Huggins won a 2016 Lexpert Zenith Award: Celebrating Diversity and Inclusion for her work as a long time Board Member and former President of the Canadian Association of Black Lawyers. She was a five-year member and Former Chair of the Canadian Bar Association Standing Committee on Equity and a former committee member and Chair of the Ontario Bar Association Equal Opportunity Committee (for which she won an OBA Linda Adlam Manning Award for Volunteerism). Ms. Huggins was named the recipient of the 2018 Women's Law Association of Ontario (WLAO) President's Award for her work throughout her career relating to the promotion and advancement of racialized women in the law and a 2020 recipient of the Law Society of Ontario's prestigious Law Society Medal for her significant contribution to the profession
About
Our Black Employee Network is one of eight voluntary, employee-driven business resource groups that foster the inclusion and advancement of employees that identify as Black of or African descent at Thomson Reuters.